3 Economic Factors Americans Say Impacted Them the Most This Year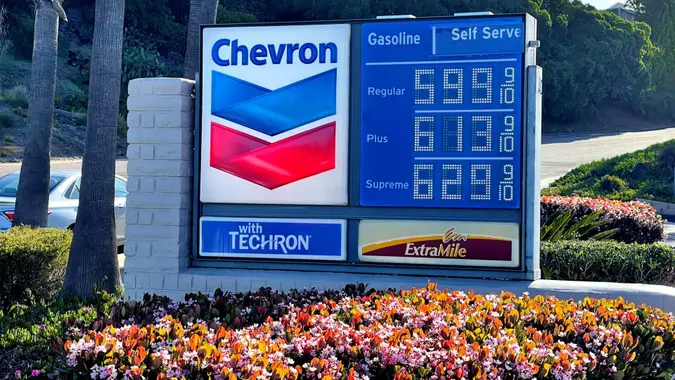 skodonnell / Getty Images
It is quite possible you can guess at least one of the top economic factors that impacted the wallets of Americans most in 2022. In a GOBankingRates survey of 1,028 Americans, three specific factors rose to the top of the list: food costs, gas prices and rent. 
Take a Look Back: 2022 Year in Review
Explore: GOBankingRates' Best Credit Cards for 2023
Let's break down the financial impact of these rising expenses and what Americans have been doing throughout the year to fight inflation. 
Rising Food Prices
Of those surveyed by GOBankingRates, 42% said the rising cost of food was the top economic factor that impacted them financially. Few, if any, grocery staples have been immune to rising prices. Various factors have contributed to this, including Russia's invasion of Ukraine, supply chain disruptions and extreme weather conditions. The HPAI outbreak also impacted essentials like meat and eggs, elevating their price tags and reducing the U.S. egg-layer bird flock.
Make Your Money Work for You
To combat rising food prices, shoppers have been pulling out all the budgeting stops when visiting the grocery store. Many shoppers now head to inexpensive supermarket chains, stick to a list to avoid purchasing items they don't need, and swap store brand products over name brand. 
Others are finding even more clever ways to whittle down grocery bills. An increasing number of shoppers are picking up groceries at the dollar store, buying pantry staples in bulk when there's a good sale, swapping fresh produce in favor of frozen and freezing items they may not use before the expiration date. 
Take Our Poll: How Long Do You Think It Will Take You To Pay Off Your Credit Card Debt?
Rising Gas Prices
For nearly 25% of Americans polled by GOBankingRates, rising gas prices impacted their finances the most this year.
"Pain at the pump" became a frequently quoted headline throughout 2022. Gas prices soared so high that many Americans canceled their travel plans this year. Others decided to utilize public transportation, rideshare services or biking to get to their destination.
Dealing with expensive gas may be a bit different than trimming a grocery bill, but determined drivers found several ways to save on fuel. A popular tactic for many involved downloading gas apps, like Gas Buddy, where you could find affordable gas stations and their prices in your area. Others turned to Costco, Sam's Club and Walmart+ memberships to fill their tanks for much less at the stores' gas stations.
Make Your Money Work for You
High Rents
Nearly 12% of respondents in the GOBankingRates survey stated that high rent was a significant economic factor for them, and 2022 was dominated by headline news about the rising cost of living and a housing crisis. 
Fortunately, many tenants facing rent hikes did not need to agree to exceptionally high rent increases. Several cities, counties and states across the United States offer rent control laws to assist individuals and families in need. 
Renters also got strategic about the rising cost by checking the terms of their lease to see if drastic increases were legal. Renters also searched for more affordable options by negotiating the terms of their lease, such as signing a longer-term lease locked in at a lower price, or researching the market to determine other housing opportunities available in their price range.
More From GOBankingRates
Make Your Money Work for You