Durable Goods Spending and What It Means for the Economy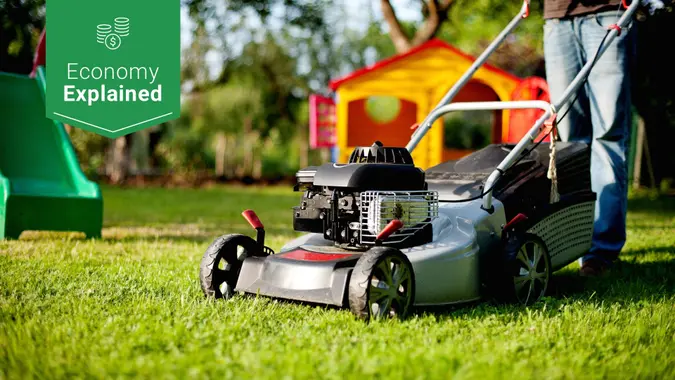 Loban Alex / iStock.com
As the name implies, durable goods refer to merchandise that's built to last. You know that old lawn mower that amazes you every time it starts? Or that dryer you can't believe is still kicking? Or that AC unit that somehow found its way through to yet another season? They're all durable goods, and they're important for reasons beyond your lawn, clothes or sweltering living room on a hot summer day. The tally of what consumers are spending or not spending on durable goods in any given month is an important economic indicator that can tell economists a lot about the country's fiscal health.
The Economy and Your Money: All You Need To Know
Discover: What To Expect From an Economic Boom

What Are Durable Goods?
Generally, durable goods — also called durables or consumer durables — are items that are designed to last for at least three years. Consumers purchase them with the expectation that they won't have to worry about buying the same thing again for a long time, despite using it over and over again. Examples of durable goods include:
Appliances
Vehicles and vehicle parts
Lawn and garden equipment
Tools
Consumer electronics
Sporting goods
Furniture
Make Your Money Work for You
As you can see, they tend to be expensive, big-ticket purchases that often have to be financed. That's exactly what makes this segment of the economy something analysts watch so closely — more on that shortly.
Cost of Living: What's Included & How's It Calculated?
See: What Do Credit Reporting Agencies Do? 
On the other end of the spectrum are nondurable goods. These include items such as eggs, milk and bread. Unlike durables, nondurable goods lose all their economic value in the hours and days immediately following purchase.
Who's Keeping Track — and Who Cares?
The U.S. Census Bureau tracks shipments, inventories and orders of durable goods and releases its findings in a monthly report. That report provides unique and reliable insight into which direction the economy is moving that few other indicators can match. That's because of the big-ticket, high-cost nature of things that are designed not to wear out.
When money is tight and people are anxious about their future prospects, they don't stop buying bread, eggs and milk — at least not right away. But they do postpone replacing that sluggish computer, upgrading to a more efficient refrigerator or buying a new car.
Make Your Money Work for You
Related: Restaurant Spending Reaches All-Time High As Americans Begin to Head Out Again
Check Out: What Do the New Home Sales Reports Mean and What Is Measured?
When orders for durables are up, it's an indication that the economy is growing and expanding. When they're down, it tells economists and investors that the economy is contracting. It's a lagging indicator, meaning that by the time the Census Bureau reports an increase or decrease in orders for durables, that increase or decrease has already happened. Since durables can be volatile, investors and economists usually wait until they have data compiled from several months' worth of reports before issuing a judgment.
The Economic Tentacles of Durable Goods Reach Far and Wide
Aside from what they reveal about the direction of the economy, durable goods also provide important crossover data. A key component of core retail spending, durable goods are also used in the Consumer Price Index (CPI). The CPI is an important indicator that tells economists about the rate of inflation, as well as the cost of living from one place to the next. Finally, durable goods are important because the indicator sheds light on so many different segments of the economy, including tech, transportation, manufacturing, machinery, residential and commercial construction and real estate, and shipping.
Make Your Money Work for You
This article is part of GOBankingRates' 'Economy Explained' series to help readers navigate the complexities of our financial system.
More From GOBankingRates
Last updated: June 30, 2021
Make Your Money Work for You