Experts: How the Economy Will Change by the End of 2023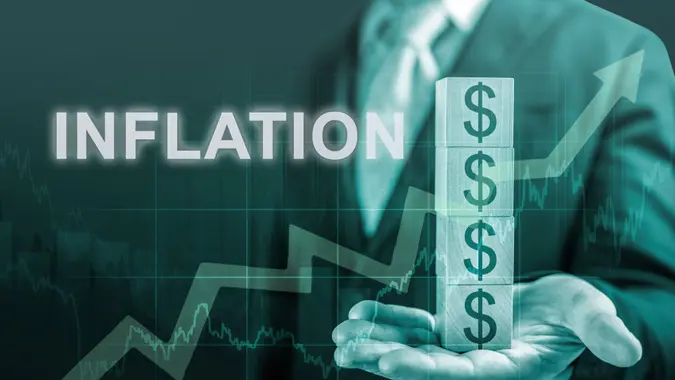 Pavel Muravev / Getty Images/iStockphoto
One of the most consequential years in recent economic history is in the books.
Few could have predicted how it would all unfold, but that's no reason to hold back from prognosticating about how 2023 will play out.
See: States Whose Economies Are Failing vs. States Whose Economies Are Thriving
Find Out: 7 Florida Cities That Could Be Headed for a Housing Crisis
While no one can predict the future, experts can make educated guesses based on current trends and historical patterns — and GOBankingRates asked the experts to do exactly that in regard to the prospects for the economy in the coming year. 
Inflation Will Continue To Fade To a Healthy Level by Year's End
The big story of 2022 was runaway inflation, and the story appears to be moving toward a happy ending. The inflation rate is still higher than it has been in decades, but the November CPI report brought excellent news that leaves plenty of reason for optimism in 2023.
Make Your Money Work for You
Consumer prices increased by 7.1%, down from October and lower than the 7.3% that analysts had predicted. It was the smallest 12-month increase since December 2021.
"I expect that the Fed's monetary tightening will start to have a strong impact next year, and I would expect inflation to be substantially reduced from current levels," said Mikael C. Bergbrant, Ph.D., associate professor of finance at St. John's University.
Both Forbes and The New York Times report that analysts are echoing the Fed in predicting that the inflation rate likely will fall to 3% by the end of 2023 — but the Times points out that many of those same analysts were wrong about 2022.
Take Our Poll: Do You Think Student Loan Debt Should Be Forgiven?
The Stock Market's Fate Will Hinge on Fed
According to Forbes, at the end of 2022, the stock market was on pace for its worst year in more than a decade. Down by 17% at the time, the S&P 500 hasn't sustained double-digit losses since the Great Recession of 2008.
As for 2023, CNBC quoted an expert from Morgan Stanley who predicts another year of double-digit percentage drops. On the other hand, Business Insider quoted a respected Wharton professor who expects gains of at least 20%.
Make Your Money Work for You
When it comes to predicting the stock market's future performance, such wild variations are par for the course.
"Stock returns are notoriously difficult to forecast, as stock prices respond to changes in expectations," Bergbrant said. 
Most experts agree that the stock market's performance in 2023 will depend on the Fed's ability to pull off a so-called "soft landing" — reducing inflation by tightening the money supply without triggering a recession.
"To the extent that the Fed manages to carry out monetary policy in a controlled way, and consistent with how they have communicated their plan," Bergbrant said, "I would not expect large changes to market expectation, and therefore prices."
Housing Market Will Continue To Cool — in Most Places
Nowhere has the Fed's aggressive rate hikes been more evident than in the housing market, and the cooling effects of its actions aren't likely to slow down in 2023. 
"We have seen a significant slowdown in activity since the progressive rise in interest rates over the past few months," said Jonathan Faccone, a full-time real estate investor and managing member of Halo Homebuyers. "Typically the market slows down during the holiday season, so we will have a better gauge of what will happen after the New Year holidays.
Make Your Money Work for You
"However, interest rates have more than doubled from where they were earlier in 2022. The purchasing power of most buyers has significantly decreased. As a result, prices will decrease throughout the country, beginning at the higher price points first." 
Faccone pointed out that inventory shortages are still a problem in many markets, which will keep those markets warm despite decreasing buyer demand. The national trend, however, will be one of falling prices and fewer sales.
"Some real estate markets will be hit harder than others," Faccone said. "But overall we will see lower prices in most markets throughout the country."
The Seemingly Indestructible Job Market Finally Will Weaken
Despite the bear stock market, runaway inflation and rapidly rising interest rates, Americans did not have to worry about their jobs in 2022. The unemployment rate has been under 4% throughout 2022 and, according to Forbes, employers are adding hundreds of thousands of workers to their payrolls every month and there are 11 million open jobs.
Bergbrant expects the job market "to cool off substantially" in the coming year. Melanie Musson, a finance expert with Clearsurance, agrees.
"The job market will be in a slump," Musson said. "Large tech companies have already started laying off employees in preparation for a recession. Those layoffs indicate the start of massive layoffs in many sectors. So, the unemployment rate will be high at the end of next year."
More From GOBankingRates
Make Your Money Work for You