Fed Hints At Lower Interest Rate Hike in February — What Does It Mean?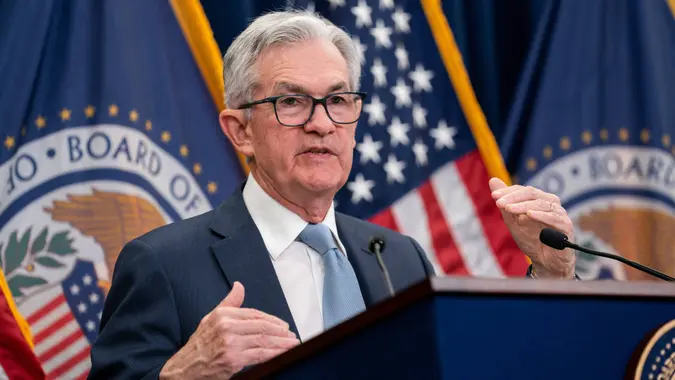 Liu Jie/SIPA/Shutterstock / Liu Jie/SIPA/Shutterstock
The Federal Reserve's Federal Open Market Committee (FOMC) will meet for the first time this year on Jan. 31 and Feb. 1 to decide on the next interest rate hike.
See: 2023's Housing Correction Could Be the Largest Since Post-WWII
Find: Get Your Credit Score On Track With These 3 Tips for Success
Learn: How To Stay Safe When Using Mobile Banking Apps
Several Fed officials have hinted at a slowing of hikes in recent days, including Gov. Christopher Waller, who said in a speech at the Council on Foreign Relations on Jan 20 that he currently favors a 25 basis point increase at the next FOMC meeting.
"Beyond that, we still have a considerable way to go toward our 2% inflation goal, and I expect to support continued tightening of monetary policy, " he said, according to his prepared remarks.
At the December 2022 meeting, in a move that was widely anticipated, the Fed Reserve unanimously raised interest rates by half a point for its last meeting of the year. This latest, smallest hike followed four consecutive 75 bps hikes.  
Make Your Money Work for You
"Year-over-year inflation is still far above 2% and the unemployment rate is at a half-century low, so the Fed will probably keep raising rates in early 2023, but by much less than in 2022," said Bill Adams, Chief Economist for Comerica Bank. 
Adams added that Comerica forecasts quarter percentage point rate hikes at the Fed's first two meetings of 2023, in early February and mid-March, and then for the central bank to go on hold until the fall.
"Comerica forecasts for the Fed to gradually begin reducing interest rates starting in September as the unemployment rate moves above 4% and inflation continues to cool," added Adams.
Fed officials have also acknowledged that it takes time to fully assess how high rate hikes can affect the overall economy, and the need to balance fighting inflation while avoiding a recession. Dallas Fed President Lorie Logan said on Jan. 18, 2023, at The University of Texas at Austin said that in the current environment, "we need a strategy that is both flexible and robust."
Take Our Poll: How Do You Think the Economy Will Perform in 2023?
"To put ourselves in the best position to manage the risks, I believe we shouldn't lock in on a peak interest rate. Rather, we need to continually and carefully assess what the incoming data imply about the economic outlook and adjust course accordingly," she said, according to her prepared remarks, adding that the assessment will not be simple because of the mixed messages in the labor market data.
Make Your Money Work for You
"Now, if you're on a road trip and you encounter foggy weather or a dangerous highway, it's a good idea to slow down. Likewise, if you're a policymaker in today's complex economic and financial environment. That's why I supported the FOMC's decision last month to reduce the pace of rate increases. And the same considerations suggest slowing the pace further at the upcoming meeting," she said.
More From GOBankingRates
Make Your Money Work for You