Fed Won't Raise Interest Rates in March, Goldman Sachs Predicts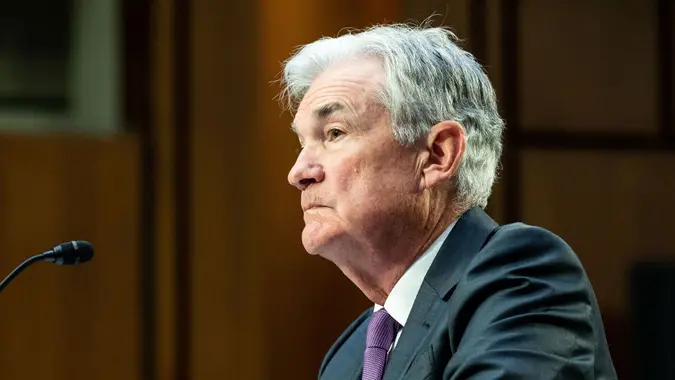 Michael Brochstein/SOPA Images/Shutterstock / Michael Brochstein/SOPA Images/Shutterstock
The Federal Reserve is set to announce its rate decisions on March 22, and while signs had been pointing to a continued hawkish stance, some analysts and economists now believe that the Silicon Valley Bank collapse will force a softer position on continued rate hikes.
"In light of recent stress in the banking system, we no longer expect the FOMC to deliver a rate hike at its March 22 meeting with considerable uncertainty about the path beyond March," stated Goldman Sachs chief economist Jan Hatzius in a March 12 note to clients.
Hatzius added that Goldman Sachs' previous expectation was of a 25 basis point hike. "We have left unchanged our expectation that the FOMC will deliver 25bp hikes in May, June, and July and now expect a 5.25-5.5% terminal rate, though we see considerable uncertainty about the path," Hatzius added in the note.
Other analysts also believe that Fed officials will reverse course and lower their hikes.
"In the aftermath of SIVB, Signature Bank, and the extraordinary measures put in place over the weekend to calm the public over the banking system, interest rates are plunging. The markets are now pricing in zero chance of a 50bp hike, and approximately 2/3 chance of a 25bp hike and 1/3 chance of no hike at all," said Jeffrey Rosenkranz, portfolio manager at Shelton Capital Management. This represents a significant change from just a few days ago, when the tossup was between 25 and 50 basis points, according to Rosenkranz. 
Make Your Money Work for You
"These banking shocks are reminders that there are real-world effects to significant increases in interest rates and tightening of financial conditions. The knock-on implications may not be known for some time, but it is unlikely that these will be the last episodes," he said.
Per Rosenkranz, the Fed is now likely to move more slowly in order to continuously examine whether monetary policy changes are finally starting to show up — and whether these shocks are going to help modulate the economy and chill demand.
"A lot can change between now and next week's Fed meeting, but a coin-flip between no hike and 25bp would seem like a reasonable probability based on where we sit today," he said.
At its last meeting on Feb. 1, the Federal Reserve dialed back its hike, unanimously stating it would raise interest rates by a quarter point for its first meeting of 2023. This was the eighth — and smallest — rate increase since March 2022.
However, Fed officials tempered the welcomed move, saying in a statement that "inflation has eased somewhat but remains elevated." This latest, smallest hike followed December's 50 basis point hike and four consecutive 75 basis point hikes.
Several other factors will also impact the Fed's decision, including the latest consumer price index (CPI) data, set to be released March 14.
"While the weekend news was reassuring to many, expectations for another move higher in the Fed Funds rate plummeted this morning.  While another 25 bps hike at the March 22nd meeting still seems more likely than not, the market has now shifted the expectation of perhaps seeing a 50 bps increase instead to no increase at all," said Rusty Vanneman, chief investment strategist at Orion Advisor Solutions. "Either way, market volatility is a given this week as investors digest the weekend news and what it means moving forward. Tuesday's CPI number will be critical."
Make Your Money Work for You
According to Quincy Krosby, chief global strategist for LPL Financial, while the Fed's move remains unclear (and while it's in its quiet period before the meeting), "it is possible that an announcement will be telegraphed to markets this week, especially if attempts to shore up confidence in the banking system fails."
While the direction of the Fed is unclear, one thing seems certain: volatility will continue and some economists are blaming the regulator for the way it has handled inflation.
"The Fed kept interest rates too low for too long and now the difficulties of a smooth exit strategy are manifesting themselves," said Stephen P. Barrows, Ph. D. and COO of The Acton Institute. "As the price of its sizeable bond holdings declined, SVB's exposure became evident. Reversing excessive expansionary monetary policy can come back to bite you in unforeseen ways, and the potential for similar episodes will likely factor into the Fed's assessment of the pace of future rate increases."
More From GOBankingRates