12 Female Financial Leaders Share Their Best Tips for Women To Thrive Amid Inflation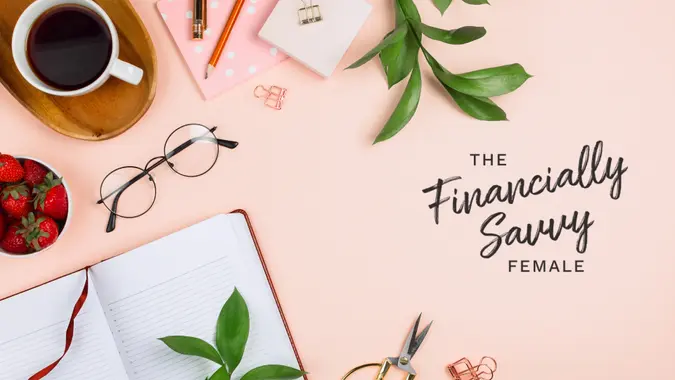 Natalia Lavrenkova / iStock.com
Inflation is currently the biggest financial stressor for women in America. A recent GOBankingRates survey of over 1,000 adult women in the U.S. found that the majority (39%) are worried about inflation and not being able to afford everyday expenses.
Check Your $2 Bills: They Could Be Worth Upwards of $4,500
With a Recession Looming: Make These 3 Retirement Moves To Stay On Track
This beats out not having enough money to pay for emergencies (18%), not having enough money to retire (15%) and potential job loss (9%) as the No. 1 financial concern. Although inflation has been slowing down, it's clear that rising prices have been taking a major toll on women's finances. To help you survive — and thrive — during this inflationary period, I spoke to female financial leaders to get their best tips. Here's what they had to say.
"The cost of eggs is overwhelming enough, not to mention inflation impacting everywhere else in our daily lives. But it's important to focus on the things you can control, like your budget. Take the time to go through your spending and distinguish your needs versus wants. A Netflix subscription or food deliveries might feel like needs, but when you're looking for margin, those are places you need to cut. It's also important to remember that these are short-term sacrifices. I do believe being aware of every single dollar going in and coming out is the best way to not only thrive with your money, but also plan for the future."
Make Your Money Work for You
Michelle Moore, EVP, Head of Digital, Wells Fargo
"Planning for various economic scenarios such as inflation is important. I suggest building an emergency fund so that you'll be covered in the event that you have an unexpected urgent need such as replacing your water heater or having a new roof installed on your house. And if an emergency occurs while you're still building up your emergency fund, you can use savings, a credit card or open a line of credit. The option that you really want to avoid is dipping into your 401(k) fund."
Lorna Kapusta, Head of Women & Engagement, Fidelity
"There are small steps you can take to manage your finances that can help alleviate stress. One of the easiest ways to start tackling these concerns and set yourself up for a successful future is to get your arms around what you owe and what you are spending. Taking this approach creates a good foundation for women to work on where they are today and begin to tackle other goals, so they can feel more secure in their finances. If money is feeling tight, this is also a good opportunity to think about ways you can cut down on non-essential expenses, like eating out or streaming services.
Make Your Money Work for You
"Once you have a good sense of your income and expenses, Fidelity generally recommends using the 50-15-5 guideline as an easy way to organize your money. This is broken down so 50% of your income goes toward essentials like rent, utilities, insurance and groceries; 15% goes toward your retirement savings; and 5% is what you should aim to save towards any short-term savings goals, such as setting up an emergency fund. The remaining 30% can be [used] however you want, whether that's treating yourself or putting more money toward a specific savings goal. By using this approach, women can create a solid foundation to thrive financially, even during times of inflation."
Take Our Poll: Are You Planning To Buy or Sell a House This Year?
Heather Hunt-Ruddy, Head of National Sales, Wells Fargo Advisors
"My advice includes a few money moves that I've made personally over the last few years. First, I recommend getting help from experts, such as a CPA who can help with tax-saving strategies or a financial advisor who can help ensure that your money is allocated in a way that outpaces the rate of inflation. Although getting professional support costs money, I've found that the savings have by far surpassed the initial cost.
Make Your Money Work for You
"On the personal side, I love to travel so I maximize my travel credit cards, my airline and hotel loyalty programs, and even leverage points gained from restaurant dining to help reduce the cost of my favorite activity. Last year, I was able to fulfill my son's dream of attending a Premier League game in Liverpool, England — all funded by my credit card rewards program!"
"There's been a lot of discussion about the impact of higher interest rates on things like mortgages, but there are some advantages that haven't gotten the same attention. Higher interest rates generally mean higher returns on money market funds, certificates of deposit and Treasuries. If you have some extra cash that you don't need for at least three months, consider investing in one of these."
"Regarding inflation, the common thought is often solely that the general price of goods and services increase. While prices do increase, the flipside is that the returns in your safest investments, such as cash deposits, municipal bonds and money market accounts, also increase. During an inflationary environment, some investors may panic and liquidate their investments when the rule-of-thumb is to preserve your investments, as well as to identify alternative sources of liquidity, such as a securities-based loan, for example."
Kendall Meade, Financial Planner, SoFi
"With both inflation and rising interest rates, it is a good time to look at any debts you may be carrying and make sure you are getting the best deal. For example, credit card debt and high interest rates can magnify the increased costs people are experiencing, as well as tighter budgets. Sometimes a personal loan could be much more efficient, whereas other times making extra payments or even tapping into home equity makes more sense."
"In times like these, many investors might question the wisdom of starting or staying invested. However, time and again the answer to whether one should invest is a resounding 'yes.' The most important advice I can give women who are looking to build their portfolios and retirement nest eggs is to have a plan and invest for the long term. And as a rule of thumb, they should make sure they have three to six months of living expenses in an emergency savings or liquid cash account. Expenses may change over time, monthly spending might increase and everyone should make sure their emergency fund reflects this. Once an emergency fund is in place and higher-interest debt is paid off, it likely makes sense to invest for your life goals."
Mary Mack, CEO of Consumer and Small Business Banking, Wells Fargo
"Making your money work hard for you during times of inflation shouldn't be a guessing game. As a mother of three daughters, I'm passionate about women of all ages taking charge of their own financial futures. Don't be shy about seeking guidance or advice. There are a lot of resources out there to help you manage your finances through all sorts of economic trends, and I encourage you to ensure you're getting the information and help you need."
Maja Neable, Chief Marketing Officer, Banking & Chief Data and Analytics Officer, BMO
"The key is to understand your own spending habits. Once you have this knowledge, you will have the power to impact your habits. How much money are you bringing in versus out, and what categories are you spending on? Use this understanding to identify your must-have versus nice-to-have spending to allow you to save more and spend without feeling guilty or worrying about it."
Samantha Melting, SVP, Head of Consumer Bank, Synchrony
"To reduce the impact of inflation on my grocery bills, I like to meal plan for the upcoming week and buy my groceries online for pickup. This helps me stick to my meal plan without being tempted to spend money on items not on my list that I could walk past while in the grocery store. It also gives me the opportunity to plan meals around sales or specials, too."
Julie Tutkovics, Chief Marketing and Communications Officer, Huntington National Bank
"During times of uncertainty, I encourage women to find and pursue opportunity in whatever challenging environment they're facing. In tough situations like we're experiencing now with inflation, I also find strength in the wise words of Huntington Bank's founder from over a century ago: 'In times of prosperity, be prudent; in adversity, be patient.'"
More From GOBankingRates
Gabrielle Olya contributed to the reporting for this article.
Make Your Money Work for You