What Financial Help Countries Around the World Gave To Their Citizens During the Pandemic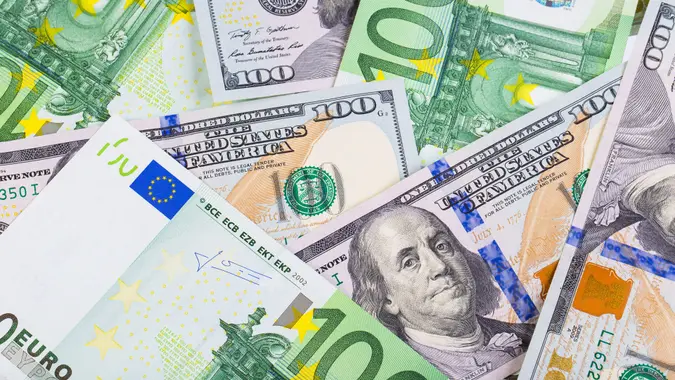 Elena Crk / Shutterstock.com
Over the past year, COVID-19 has infected tens of millions of people and taken millions of lives. Additionally, those who have managed to evade infection have suffered unprecedented economic turmoil. The IMF estimates that the global economy shrank by 4.4% in 2020, calling it "the worst crisis since the Great Depression."
Check Out: COVID's Financial Impact After 1 Year: See All Our Coverage
As a result of the economic disaster, many countries have decided to help their citizens. The United States offered checks of $1,200 and $600 to individuals with more to come in 2021, but the U.S. has not been the only country to offer financial assistance. In this article, we will take a look at some of the countries around the world that have provided aid to their citizens and what those countries have done to help.
See: A Fourth Stimulus Check Might Be on the Way
Germany
Germany has had some of the most robust coronavirus responses globally, offering several expansive aid packages to its citizens. In March, the country offered grants of up to 5,000 Euros to individuals and up to 15,000 Euros to small businesses. Claims were processed remarkably quickly, too, with many receiving their payments in just a few business days.
Make Your Money Work for You
Struggles: 22% of Americans Who Lost Their Jobs During the Pandemic Remain Unemployed, Survey Reveals
Despite being a generous package, that amount wouldn't last forever. Thus, Germany announced more help to its citizens in August. One part of that relief was to allow 5.6 million furloughed workers to receive up to 87% of their previous pay while working reduced hours, or not working at all.
Canada
Canada has offered payments similar to those seen in the U.S., though they have been more targeted thus far. In February 2020, Alberta announced it would issue one-time $1,200 payments to front-line workers. The bill for this aid was $465 million and was to assist about 380,000 public and private-sector employees.

Read: Biden's $1,400 Stimulus Checks Won't Work – How Economists Think We Should Use the Money Instead
The country later announced it would spend C$100 billion on post-pandemic recovery efforts. Although the specifics of the plan have not yet been announced, it would focus on getting Canada's economy back on track. The details of the plan will be part of Canada's 2021-2022 budget, to be presented in March or April 2021.
Japan
In April 2020, Japan issued direct payments of 100,000 yen (about $930). Japan had originally planned to issue payments of 300,000 yen ($2,784) only to citizens whose income had been significantly impacted by the pandemic. However, that was later changed to 100,000 yen for all citizens, as Japanese Prime Minister Shinzo Abe faced growing calls to take greater steps to help Japan's economy. Although Japan has seen far fewer cases of COVID-19 than the U.S., the disease has nevertheless led to a recession in Japan.
Make Your Money Work for You
More: Basic Income: Could This Out-There Idea Get America Out of the COVID Crisis?
Spain
Spain also took a strong stance in responding to the pandemic, establishing a basic income for its most vulnerable households. Under the plan, 850,000 of Spain's poorest households became eligible for monthly payments of up to $1,145.
Spain is governed by the Socialist Workers' Party and had considered a similar plan even before the pandemic. Thus, the unprecedented economic turmoil caused by the pandemic led to the country pushing through its plan for universal basic income.
More From GOBankingRates
Last updated: March 12, 2021
Make Your Money Work for You