22% of Americans Who Lost Their Jobs During the Pandemic Remain Unemployed, Survey Reveals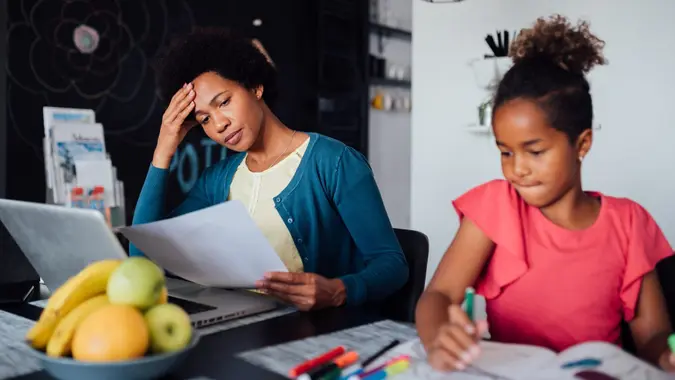 Brothers91 / Getty Images
The pandemic has taken an enormous toll on workers. From layoffs to reduced work hours, many Americans are still reeling from the consequences.  
A new GOBankingRates survey finds that 22% of Americans lost their jobs due to the pandemic and are still unemployed a year later.
Related: Nearly Half of All Americans Missed Rent or Mortgage Payments Due to COVID-19, New Study Reveals
"This could be because the business they worked at had to close permanently due to financial struggles caused by COVID lockdowns or since schools have been closed they have had to stay home and take care of their young children," GOBankingRates content data researcher Andrew Murray says.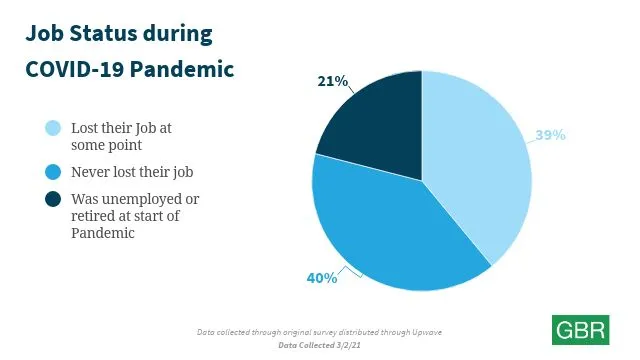 Breaking down this figure further, the survey notes that 39% of Americans say they lost their jobs.  Only 16.83% have returned to work.
In terms of age groups, 25% of those aged 18 -24 said they are still unemployed, the survey notes. 
Read More: Here's How Americans Really Spent Their First Two Stimulus Checks
"Those who are in the entry level jobs at most companies are usually seen as the most dispensable, so the logic follows that if they were let go at the beginning of the pandemic, they would also in most cases be the last to be rehired," GOBankingRates associate researcher Julia O'Brien says. "There could also be some cases where those aged 18 to 24 are the eldest siblings and made the sacrifice to stay at home and watch younger children so that the parent could still be able to work and make an income," O'Brien adds.
Make Your Money Work Better for You
Regarding gender, 25% of women say they were not employed as the start of COVID, compared to 15% of men. In addition, the survey finds that both women and men had similar rates of losing jobs at 38%, while those who remain out of work are mostly women, at 22%, compared to 21% for men.
Another key finding of the survey is that 27% of Americans received unemployment for the first time, while 46% say they received some sort of unemployment. Once again, the younger generations were hit the hardest:  36% of the 18 to 24 age group and 33% of the 25 to 34 age group say they received unemployment benefits for the first time. On the other hand, 85% of those 65 and over did not collect any, according to the survey.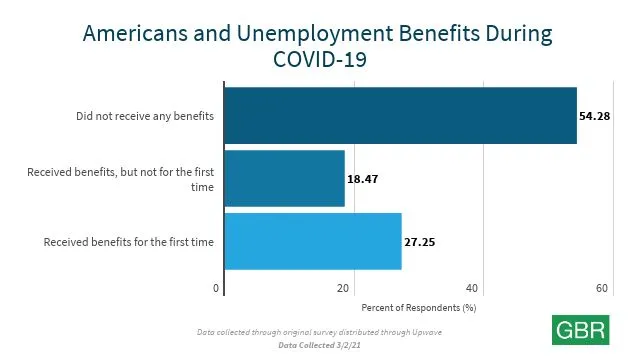 Looking to the future, 61% of the respondents say they are confident in their employment status for the rest of 2021.
"After a full year of what felt like bad news story after bad news story, I guess it is nice to have some optimism about there being a light at the end of the tunnel," Murray says. "All major indicators –new cases, hospitalizations, ICU beds and deaths– have been falling and a little over 80 million doses of vaccines have been administered, so there are definitely signs of hope. I just thought after a year of COVID people might've become a little more jaded. I'm glad I was wrong," he adds.
Make Your Money Work Better for You
There are signs the labor market is on its way to recovery, as the U.S. added 379,000 jobs in February, mostly in the leisure and hospitality sectors, beating economists' expectations. In addition,  the unemployment rate was almost steady at 6.2%, from 6.3% in January, according to the Labor Department.  
Discover: If You Get a Stimulus Check, How Will You Use It? Take Our Poll
However, there is a noted gender gap in optimism, the survey finds.  Men are generally more confident about their employment status for the rest of 2021, with 66%, compared to only 57% of women.
"It's not surprising with all this data at our disposal of how the pandemic has unequally affected women in the workforce that they would feel less secure in their employment status for the rest of 2021," O'Brien says.
Indeed, almost 3 million women left the workforce since the pandemic started. From rearranging work schedules to helping with remote learning, "pandemic parenting" is reshaping the workforce.
Make Your Money Work Better for You
A recently released McKinsey report, "Women in the Workplace,"notes that the pandemic has intensified challenges that women already face in the workplace and "has disrupted corporate America in ways we've never seen before."
Learn More: Nearly 10 Million Working Moms Are Burned Out, Thanks to COVID-19
Women–especially mothers, senior-level women and Black women–have faced distinct challenges. One in four women are considering downshifting their careers or leaving the workforce due to COVID-19.
"Working mothers have always worked a double shift–a full day of work, followed by hours spent caring for children and doing household labor. Now, the supports that made this even possible for women–including school and childcare–have been upended," according to the report.
Weigh In: Do You Think the Minimum Wage Should Be $15? Take Our Poll
Following the Labor Department's February jobs report, White House economists Heather Boushey and Jared Bernstein, said that while the official unemployment rate for women is just below that for men, "once adjusted it is higher for women than it is for men reflecting how many more women have exited the labor force entirely," according to a blog post on the White House website.
The labor force participation rate for women 20 years and over is down 2.2 percentage points relative to February 2020, compared to a decline of 2.0 percentage points for men.
Read: Trillions of Dollars Have Been Spent on COVID-19 Relief – And It's Still Not Enough
It's important to note that the overall male-female difference in labor force participation masks wide variation by race. While white men and women have declines in labor force participation rates that are relatively similar (2.0 percentage points for white men and 1.9 for white women), the labor force participation rate is down 1.8 percentage points for Black men, but 4.2 percentage points for Black women. For Hispanic men it is 1.8 percentage points lower than February 2020, while for Hispanic women it is down by 4.1 percentage points, the economists say.
"Black women were only 14% of the female labor force in February 2020 but have accounted for a disproportionate 26% of female labor force dropouts since then. Hispanic women were only 17% of the female labor force in February 2020 but have accounted for 27%of the female labor force dropouts," they add in the blog post. 
More from GOBankingRates
GOBankingRates surveyed 1,343 Americans aged 18 and older from across the country on March 2, 2020, asking fifteen different questions: (1) Have you lost your job since the COVID-19 pandemic began in March 2020?; (2) Did you have to miss rent or mortgage payments during the COVID-19 pandemic?; (3) Have you received some sort of unemployment benefits during the COVID-19 pandemic?; (4) Have you or someone in your household been given the opportunity/choice to work from home during the COVID-19 pandemic?; (5) Do you feel confident in your employment status for the rest of 2021?; (6) Have you had to adjust your work hours or job status due to any of the following during the COVID-19 pandemic? (Select all that apply); (7) If you are a parent, which of the following has your child/children been enrolled in at some point during the COVID-19 pandemic? (Select all that apply); (8) Which of the following best describes you?; (9) Has your overall spending increased during the COVID-19 pandemic?; (10) How much debt have you taken on due to the COVID-19 pandemic?; (11) If you received a stimulus payment(s) during the COVID-19 pandemic, how did you spend it?; (12) Which political party do you feel has been more helpful during the COVID-19 pandemic?; (13) Which of the following have you done since the COVID-19 pandemic started? (Select all that apply); (14) Which of the following statements best describes your recent moving history?; and (15) What's the highest level of education you have completed?. GOBankingRates used Upwave's digital survey platform to conduct the poll. Upwave's Digital Network, respondents are interviewed in exchange for access to content or a service. Respondents receive no monetary payment for their participation.
Make Your Money Work Better for You