Food and Gas Prices Impacted People Most in 2022 — How To Fix That in 2023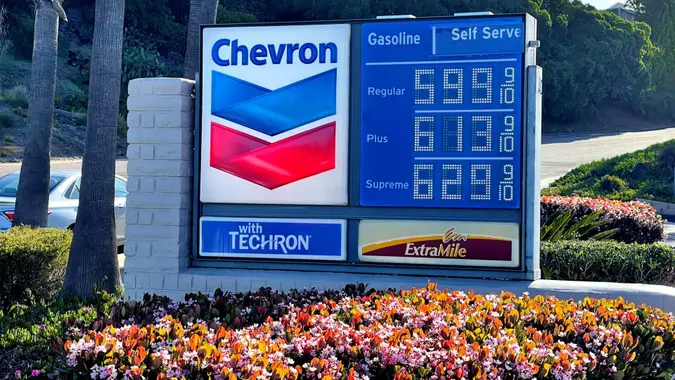 skodonnell / Getty Images
Inflation has been plaguing Americans throughout 2022. While it cooled down in October, at 7.7%, consumers are feeling the pinch every day.
Gas and food prices soared notably. Not surprisingly, 42% of Americans said rising food costs impacted their finances the most in 2022, while 24% said rising gas costs affected them the most, according to a new GOBankingRates survey.
These two items have seen their prices steadily creeping up throughout the year. Here's a look at the numbers and what can be done to alleviate these financial hits in 2023.
Food Costs Are Up Over 10%
For the month of October, the Consumer Price Index (CPI) food index increased 0.6%, bringing it to a whopping 10.9% annual increase, according to the latest Bureau of Labor Statistics (BLS) data. The food-at-home index was up 12.4% over the past 12 months.
Eating out got more expensive, too. The food-away-from-home index also increased in October — up 0.9%, rising 8.6% over the last year.
In October, the index for meats, poultry, fish and eggs increased 0.6% and the index for cereals and bakery products was up 0.8%. Over the past 12 months, egg prices have increased an eye-popping 43%.
On the other hand, the food indexes decreasing for the month include fruits and vegetables, which fell 0.9%, as well as dairy and related products, which fell 0.1%.
Gas Prices Are Up 17.5% since 2021
The other item that saw notable price increases in 2022 is gas, partly due to inflation, supply and demand imbalances and the Russian invasion of Ukraine.
In October, the gasoline index rose 3% over the month, rising 17.5% over the past 12 months, BLS data shows.
Make Your Money Work for You
Some experts also blame price gouging by oil companies.
"A windfall profits tax is badly needed if we hope to end the blatant price gouging of American consumers by the largest oil and gas companies," said Jordan Schreiber, director of energy and environment at Accountable.US. "For far too long, Big Oil's price gouging has gone unchallenged, allowing the industry to artificially inflate prices and give billions of dollars to their already wealthy shareholders — all at the expense of hard-working consumers."
How To Lower Food Costs
Gretchen Scheiman, VP of marketing at DailyPay, said that with the soaring food prices — either at home or at restaurants — it's time to pare down costs with smart shopping strategies.
"Buy in bulk when you can and avoid paying for brand names when a generic brand might provide the same quality," Scheiman said. "Also, keep an eye out for coupons or store discounts that can lower those costs even further."
"Food is not elastic. You need to eat, but it is possible to squeeze some savings around the margins," said Chris Motola, economic analyst at MerchantMaverick.com. "Unfortunately, this takes a fair amount of your time. You can keep track of specific items and switch your buying and eating habits in response. Compare the value proposition of dining out versus at home. You can even adopt dietary changes that can reduce costs."
Working Around High Gas Prices
Not surprisingly, when asked what Americans would like to have happen the most in 2023, the No. 1 answer in the GOBankingRates survey was for inflation to ease substantially (38% listed that first). Not far behind, 30% of consumers want gas prices to drop substantially.
Make Your Money Work for You
Soaring gas prices had a devastating effect on people's finances earlier this year — especially for hourly workers, Scheiman said. One solution people have used to mitigate the impact and cut down on gas expenses is carpooling to work.
"Others turned to mass transit or even bikes/electric scooters for their daily commute," Scheiman added. "Some companies offered creative perks such as commuting stipends, gas vouchers or on-demand pay to help manage high travel costs."
In terms of solutions for the coming year to cut down on gas expenses, some experts say a unique "fix" for some Americans has been to move abroad.
"More and more people than before are moving on a semi-temporary basis to countries that are more affordable and that provide a better quality of life," said Orestes Fintiklis, chief of corporate strategy at Mondee. "This trend is magnified by the strength of the U.S. dollar, which is inducing more Americans not only to consider living abroad as digital nomads — and still continue to earn their living in U.S. dollars — but also allocating a larger portion of their holidays to international destinations vs. domestic ones."
More From GOBankingRates