How Inflation Has Affected the Coffee Bean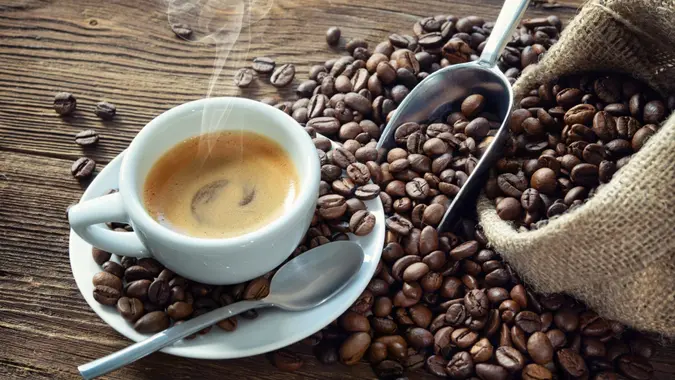 AlexRaths / Getty Images/iStockphoto
Although the coronavirus pandemic is stubbornly hanging on throughout 2021, the economy has been slowly reopening and more and more people have been going back to work. Consumers have also begun spending again. While all of these are positive signs, they are starting to create inflationary pressures in the economy. Coupled with a global supply chain shortage, the costs of many common items have already begun to rise. The price of the coffee bean has not escaped, and prices may continue to climb from here. Here's a look at the specific factors that are making coffee bean prices in particular skyrocket.
Find Out: When Will the Chip Shortage End? Experts Weigh In
See: Pandemic Shortages: Buy This, Not That
Damaged Crops
Brazil is the world's largest producer of coffee, particularly when it comes to the most popular coffee bean, the arabica. So when a sudden, unexpected frost hit the country in July 2021, coffee bean prices immediately spiked. With temperatures dropping below freezing, many trees "burned," and farmers had to remove them. One Brazilian farmer estimated his 2022 crop would fall from 5,500 bags to just 1,500, according to Reuters. This means that customers should expect higher prices of coffee beans throughout next year, as shortages will persist. 
Make Your Money Work for You
Just Wing It: National Chicken Wing Shortage Causes Prices To Rise
Related: Manufacturing Delays Are Making It Harder to Get These 6 Things

Global Supply Chain Issues
On top of the weather issues, global supply chain shortages will make delivering the beans that are available even more expensive. According to Bloomberg, high freight costs and shortages of shipping containers will continue to drive prices high across the supply chain. This translates into inflationary pressures on all goods, including coffee beans. In addition to high prices, you might be less likely to find your favorite type of coffee in your local store, as dwindling supplies mean shelves will be hard to keep stocked.
Read More: Costco Customers Cannot Get This Staple Item
Good News: As Americans Prepare for Higher Inflation, Food and Gas Prices May Soon Fall
Unrelenting Demand
One of the basic principles of economics is that supply and demand are what set prices. Coffee is one of the most popular drinks in America, indeed in the world, and that demand has only been growing. According to no less than Starbucks itself, the world market will grow to over $400 billion over the next three years, marking a 9% annual growth rate. 
Make Your Money Work for You
When coupled with a smaller supply of arabica coffee beans, it's inevitable that coffee drinking will remain expensive for the foreseeable future. Prices have already hit their highest level since 2016, according to The Wall Street Journal, and future price hikes may be in store as well, as global demand in places such as China, Indonesia and India is expected to grow rapidly as well. 
Goodbye, Seafood? Inflation and Shortages Have Restaurants Taking Items Off the Menu

Options for Coffee Drinkers
Coffee drinkers are unlikely to begin giving up their favorite drink. This means that consumers faced with the combination of factors affecting the arabica coffee bean will ultimately have to make a choice. Either they'll have to pay up for the arabica coffee they want, or they'll have to switch to lower-cost beans that haven't been as affected by the supply chain and/or weather issues. If the demand for arabica persists, the cost of that coffee bean won't go down until a flood of supply returns to the market, which may not be for years.
More From GOBankingRates
Last updated: Sept. 28, 2021 
Make Your Money Work for You