Just Wing It: National Chicken Wing Shortage Causes Prices To Rise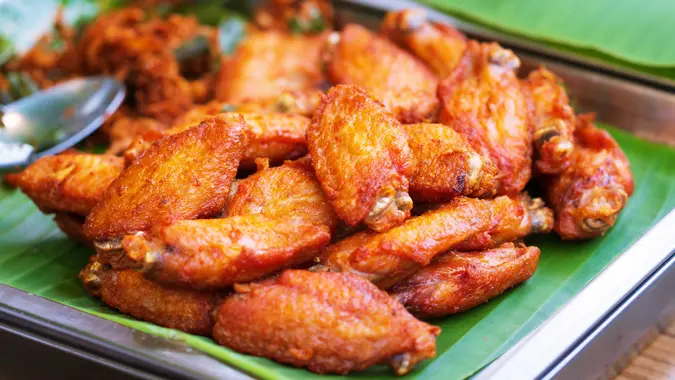 amynapaloha / Getty Images/iStockphoto
Chicken wing prices have been surging in the U.S. A favorite for many Americans, wing prices are higher than ever, creating a price crunch for the entire industry. While the pandemic is a big factor, it's not the only reason for the higher prices.
These higher prices are felt more by suppliers and restaurants than by consumers. Thus, the industry is pushing cheaper alternatives that are not quite so in-demand. But will consumers respond positively to anything other than their favorite? That is yet to be seen.
See: Pandemic Shortages: Buy This, Not That
Goodbye, Seafood? Inflation and Shortages Have Restaurants Taking Items Off the Menu

Prices Rising Rapidly
The price of chicken rose rapidly in 2020, which is not something we typically see in this industry. Bureau of Labor Statistics data shows that the price per pound for whole chicken rose from $1.59 in June 2019 to $1.75 in June 2020. That represents a 16-cent increase, or 10% year-over-year. For comparison, the price in June 2018 was $1.51, meaning the price increased by just 8 cents over that time period.

Read More: Costco Customers Cannot Get This Staple Item
However, it isn't all bad news. In fact, the price per pound for whole chicken actually decreased sharply in August 2020 and continued to slowly drop. The price in June 2021 was just $1.47, lower than the cost even before the pandemic began.
Hopefully, prices remain stable relative to inflation. Higher cost for suppliers and restaurants is a problem because there are so many restaurants that offer them. This makes consumers sensitive to price increases, causing restaurants to bear the brunt of higher prices. However, in some cases, restaurants are indeed raising prices. The Associated Press reported some restaurants that increased prices for consumers by $3 since the year before.
Make Your Money Work for You
Costs: How Well Do You Know How Much These Common Items Cost in the US?
Don't Waste Your Money: Supermarket Buys That Are a Waste of Money
Why Are Wings So Expensive Right Now?
There are a few key factors that have contributed to higher prices. As you might expect, the pandemic played a big role. Restaurants that offer items like pizza and wings are popular takeout and delivery options, and delivery has soared in popularity during the pandemic. With so many people ordering wings during the pandemic, demand has far outstripped supply. Shortages then follow, which results in higher prices. The AP also reported a 7% increase in wing sales year-over-year.
But the pandemic was not the only factor in throwing the supply/demand equation off balance. For example, the Texas power outage in 2021 left nearly 200 of the 1,900 chicken houses in Texas without power. Unfortunately, this resulted in the death of a large number of chickens, further squeezing the supply chain.
Save Your Money: 50 Purchases Buyers Almost Always Regret
What Are the Alternatives?
There are a few alternatives to chicken wings. One that restaurants and suppliers have been pushing is other parts of the chicken, such as thigh meat. For example, restaurant chain Wingstop launched Thighstop, which sells thighs as an alternative. Thighs are considered dark meat, and not all Americans have a taste for it. However, white meat, such as chicken breast and wings, was popularized because it was easier for restaurants to work with — not necessarily because it is superior. Thus, some believe the same can be done with dark meat.
Other alternatives exist, too. Several stores, for example, sell plant-based chicken alternatives. If that makes you cringe, I can tell you that these products have come a long way. I have tried them myself, and I don't have nearly the craving for chicken that I used to.
Make Your Money Work for You
More From GOBankingRates
Last updated: Aug. 4, 2021