How Inflation Is Impacting College Students Heading Into the New School Year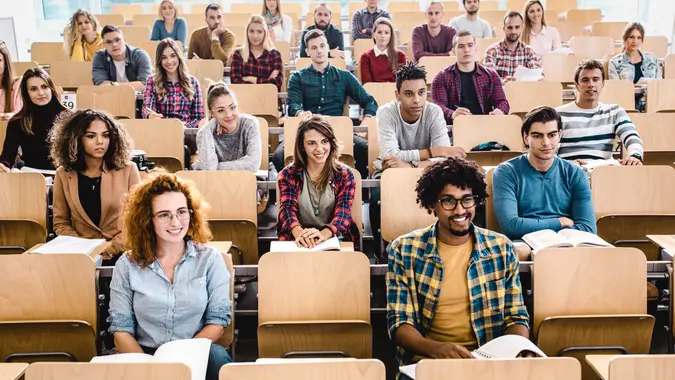 skynesher / Getty Images
Jo Ann Oravec, a professor at the University of Wisconsin-Whitewater College of Business and Economics, asked her students to write about how rising prices were affecting their daily lives. The results showed that the worst inflation in 40 years could actually change campus culture for the better.
Several students reported drinking less at bars, eating less at restaurants, and organizing potlucks, picnics and other low-cost alternative gatherings instead.
"This academic tailgating brings them closer to each other as friends and fellow students," said Oravec. "At least this is one positive outcome of these stressful economic conditions. Binge drinking at taverns has been replaced by sharing, comradery, and friendship."
While Oravec's perspective is refreshing, the reality for many students has not been so rosy. This year's inflation has made the already prohibitive cost of college even more so — and the stereotypical broke college student is now a whole lot broker.
There's Inflation, and Then There's Education Inflation
According to the Education Data Initiative, the cost of college has increased by 196% in the 21st century. That's an annual growth rate of 9.8%, more than double the sub-5% CPI inflation rate that dominated most of the last two decades.
But when it comes to the cost of college, that's par for the course.
According to FinAid, "A good rule of thumb is that tuition rates will increase at about twice the general inflation rate." If inflation is 4%, college inflation is 8% — and 8% inflation means that the cost of college doubles every nine years.
Make Your Money Work for You
Today, however, the inflation rate is not 4%. It's 9.1%, which puts college inflation above 18% — and there aren't enough ramen noodles in the world to sustain a typical university student trying to keep up with that.
Dorms as a Shelter From High Housing, Food and Fuel Costs
On-campus housing was once a luxury that many students couldn't afford. But rising rents, brutal gas prices and bigger supermarket bills are forcing off-campus students to reconsider dorm life.
"More and more students are seeing the value of the on-campus residential experience," said John Capo, assistant professor of corporate communication at Lycoming College. "They're choosing to live on campus rather than in off-campus housing because things like meal plans can be folded into the overall cost of attending college. It's not just food. Many other expenses go down or even go away when you live on campus. Gas usage becomes minimal because you're not driving to class each day. You don't have to send money to the electric or cable companies each month."
Don't forget, entertainment also costs more now, and dorm life can offer relief there, too.
"Colleges that place a premium on providing a high-quality residential experience offer robust on-campus activities like concerts and intramural sports that do not require the student to leave campus and pay for their leisure activities," Capo said.
State Schools and Community Colleges Are Getting a Second Look
For many families, academic choices dwindle as prices rise. One strategy is to earn cheaper credits at a two-year school and then transfer them to save money on a four-year degree.
"Today, more students are opting to complete as many credits as possible through junior college in order to get more college coursework done at a cheaper rate," said Lissett Bohannon of Niche, an education professional, high school counselor and founder of the social media platform ThatSchoolCounselor.
Make Your Money Work for You
Dr. Ronnie Gladden, a tenured professor of English and author of "White Girl Within," concurs.
"Many of my students are happy to leverage the economical price points afforded to them via community college," he said. "In fact, some students who are already enrolled in four-year institutions opt to complete some of their general education requirements at a two-year institution as a cost-savings measure — particularly since the class credits will transfer to their university."
While today's inflation is clearly accelerating the trend, it's been moving in that direction since the pandemic made remote learning the norm.
"During COVID, when many classes were only offered virtually, I saw a big uptick in students deferring their acceptance for a year," said Bohannon. "During that year, they would register at a local, cheaper state college or junior college to earn credits early and make their four-year degree more affordable."
Bigger Bills Mean Bigger Loans
College was already something that most families had to borrow money to achieve. Now, they're borrowing more.
"For many college students, there isn't much of a choice here," said Melanie Hanson, editor in chief of EDI Refinance. "They have to take out more student loans in order to stay afloat during college. Even in cases where students are able to work part-time or even full-time during college, their earnings potential is limited — that's why they're going to college. If it's a choice between taking on more debt now to finish a degree and dropping out, most people will choose to stay and finish."
In other cases, borrowing more just isn't an option, and many students are simply waiting out the storm.
Make Your Money Work for You
"Putting off college for a year can let them build up some savings and wait for prices to stabilize," said Hanson.
Will the Degree Pay Off?
For many students, the decision to pursue college or not now comes down to simple arithmetic — the degree's potential earning power vs. the price of attendance and loans.
"Students are looking much more closely at their return on investment when choosing their college," said Bohannon. "An increasing number of students are scrutinizing the cost of college compared to income expectations after graduation."
Inflation has forced some students to shy away from fluffier degrees with less impressive earning potential.
"The concern from parents of children who want to pursue more traditional academic interests such as education, public services, or fine arts is increasing anxiety over the possibility of not making enough income to afford loan repayments, independent living, and the transition to working life," said Denard Jones, lead counselor at admissions counseling firm Empowerly and a former admissions officer at Saint Joseph's University and Elon University.
At least incoming freshmen can still alter their path. There are surely plenty of art history majors who graduated this June who now wish they had studied engineering instead.
"We are seeing more and more graduates come home to make ends meet as they begin their careers," said Jones. "This is more prevalent in families of students who are already coming from modest household incomes. As the basic necessity costs rise with inflation, so will the difficulties of finding balance for many college students."
More From GOBankingRates
Make Your Money Work for You