How Much You Could Save by Moving To the Midwest
Find out how America's heartland compares to other regions.
If you're searching for the most affordable part of the country to live, look to the Midwest. From housing to transportation, Midwestern cities offer a cheaper cost of living compared to the rest of the U.S. On average, you can expect annual savings of $3,098 on rent and $4,454 on mortgage costs if you choose to live in the Midwest — and even bigger savings if you're uprooting from a more expensive region like the West.
To break down exactly how much you'll save by moving to the heartland, GOBankingRates weighed the average costs of mortgage payments, renting a home, groceries, transportation and healthcare on regional, state and city levels. As defined by the U.S. Census Bureau, the Midwest consists of these states:
Illinois
Indiana
Iowa
Kansas
Michigan
Minnesota
Missouri
Nebraska
North Dakota
Ohio
South Dakota
Wisconsin
Here's an expenditure breakdown of how much Americans save in the Midwest compared to the South, Northeast and West.
Midwestern Living Will Save You Thousands
Housing is much cheaper in the Midwest, and this is the biggest factor in the region's overall affordability. All 12 Midwestern states offer below-average mortgage payments compared to the U.S. average — it's the only region that can claim this fact. However, housing isn't the only area that will save you money if you decide to settle down in the Midwest.
Homebuying Costs in the Midwest Are Dirt Cheap
First-time homebuyers facing sticker shock in the housing markets on the U.S. coasts would do well to start looking in the Midwest.
Make Your Money Work for You
The average mortgage payment in the U.S. as a whole — based on the median home list price of $289,900, a 20% down payment and a 30-year fixed-rate mortgage with an annual percentage rate of 3.99% — is $1,523 per month. In contrast, the average monthly mortgage payment in the Midwest is only $1,152. That difference of nearly $400 per month can really add up over time.
In the Midwest, inexpensive median home prices keep mortgage payments and down payments relatively cheap, and the average salary needed to afford homes even in the best Midwest cities is lower than it is in other areas.
| | | | | |
| --- | --- | --- | --- | --- |
| City | Median Home List Price | Down Payment | Monthly Mortgage Payment | Annual Salary Needed To Afford Home |
| Indianapolis | $176,500 | $35,300 | $848 | $33,920 |
| Kansas City, Missouri | $210,000 | $42,000 | $998 | $39,920 |
| St. Louis | $159,900 | $31,980 | $774 | $30,960 |
| Milwaukee | $129,900 | $25,980 | $641 | $25,640 |
| Minneapolis | $324,500 | $64,900 | $1,508 | $60,320 |
| Columbus, Ohio | $189,900 | $37,980 | $908 | $36,320 |
| Cincinnati | $219,900 | $43,980 | $1,042 | $41,680 |
| Detroit | $200,000 | $40,000 | $953 | $38,120 |
| Cleveland | $79,900 | $15,980 | $418 | $16,720 |
| Chicago | $349,900 | $69,980 | $1,621 | $64,680 |
Of these 10 major Midwest cities, eight of them have cheaper median home list prices than the U.S. average — Minneapolis and Chicago are the only exceptions. Overall, Indianapolis is the most affordable major city for first-time homebuyers in the country, based on the cost to buy and finance a home on the median household income. Kansas City, Missouri, and St. Louis also made the top five nationwide in affordability for first-time homebuyers, which means these cities are among the best places to live in the Midwest.
Don't Miss: Here's the Cost of Living in America's 50 Biggest Cities
Rent Is Very Reasonable in 10 Midwestern States
Living in the Midwest is affordable even if you don't own your home. Out of the 12 Midwestern states, just two — Illinois and Minnesota — have annual rent costs higher than the U.S. average. Kansas has the lowest average rent among all the Midwest states at $1,052 per month, followed closely by Iowa at $1,065 per month.
Make Your Money Work for You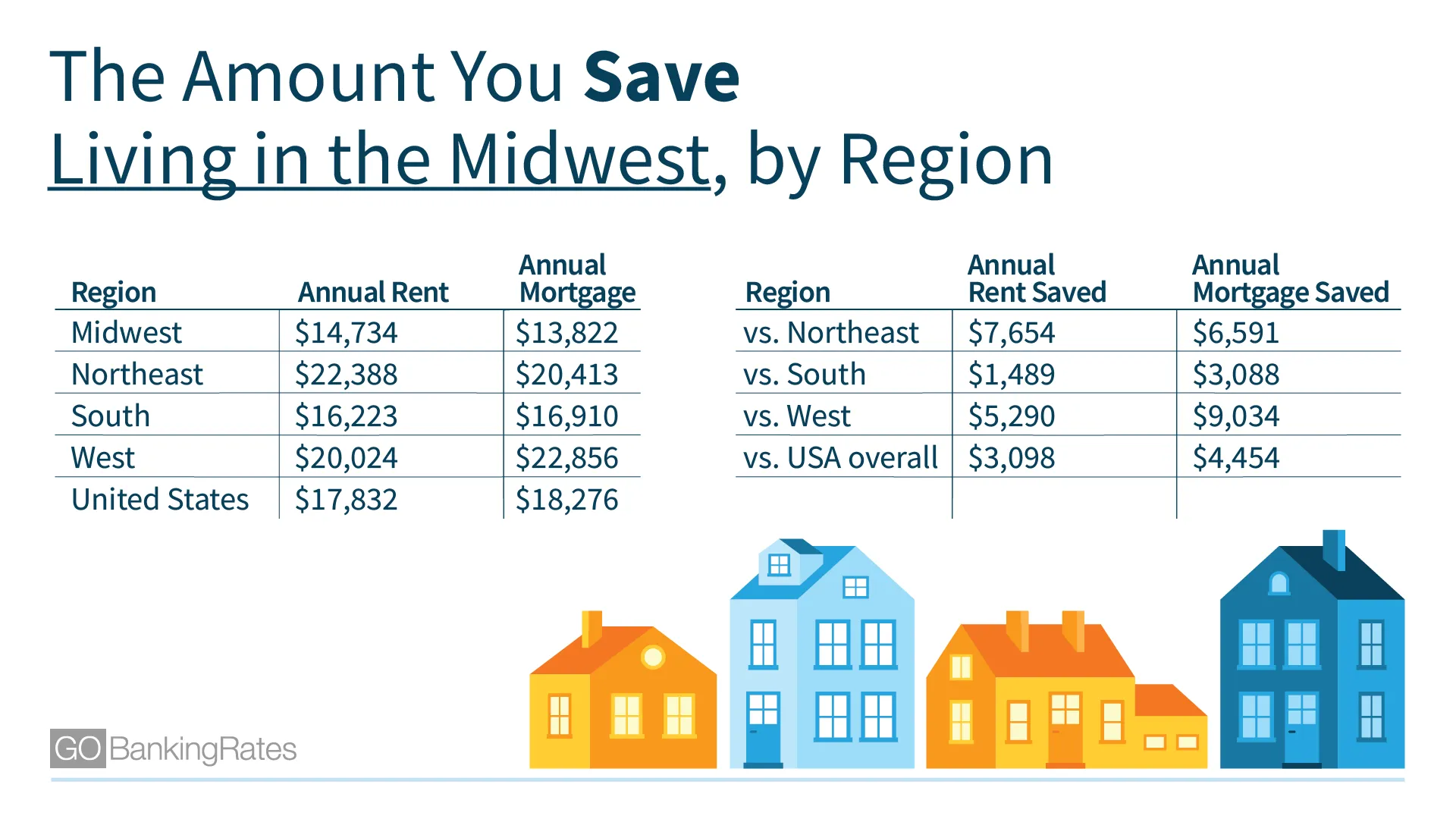 Compared to other areas in the country, the Midwest region offers significant savings in rent payments. If you choose to rent in the Midwest, you'll pay $14,734 annually versus $22,388 annually in the Northeast — saving $7,654 each year. Renters in the Midwest also save $5,290 per year compared to renters in the West. The difference isn't as significant when you compare to the South, but you'll still save $1,489 in rent annually.
Where to Put the Money You Save: Best Short Term Investments
Transportation Around the Midwest Is Less Expensive Than the US Average
You'll pay more to get around the Midwest than you will in the Northeast or the South, on average, but transportation costs in the Midwest are still cheaper than the U.S. average of $9,576 per year. In the Midwest, your annual transportation bill will cost $9,548, whereas it'll cost only $8,867 in the Northeast and $9,347 in the South. On the other side, Americans living in the West pay the most for transportation at $10,570 per year.
Among the Midwestern states, South Dakota offers the least expensive transportation costs — you can expect to pay an average of $5,927 annually.
But One Region Beats the Midwest in Affordable Groceries
The Midwest isn't the cheapest region of the country for groceries, but it comes in a respectable second place, and groceries in the Midwest are also less expensive than the national average of $4,363 per year. The South boasts the cheapest average grocery costs at $3,988 per year, with the Midwest following close behind at $4,100 annually. In the Northeast, the average annual cost for groceries is $4,707, and the West tops the list at $4,987 per year.
For the cheapest groceries in the Midwest, look to Missouri — the average annual grocery cost of $2,697 is jaw-droppingly cheap.
Make Your Money Work for You
The Midwest Fares Poorly in Healthcare Costs
Healthcare is the one area where the Midwest doesn't shine — in fact, healthcare is more expensive in the Midwest compared to any other region in the country. In South Dakota, for example, the average resident pays $8,989 for healthcare every year.
Midwesterners spend an average of $5,262 per year on healthcare, which is much higher than the national yearly average of $4,928. Meanwhile, Southerners pay the least, with an average healthcare bill of $4,669 per year, and people living in the West pay the second least, at $4,892 annually. In the Northeast, the average annual healthcare cost is $5,126.
| | | | |
| --- | --- | --- | --- |
| State | Average Annual Transportation Costs | Average Annual Grocery Costs | Average Annual Healthcare Costs |
| Illinois | $6,691 | $2,715 | $7,129 |
| Indiana | $6,241 | $2,702 | $7,773 |
| Iowa | $6,286 | $3,053 | $6,502 |
| Kansas | $6,151 | $2,998 | $6,418 |
| Michigan | $6,485 | $2,961 | $6,869 |
| Minnesota | $6,588 | $3,077 | $8,277 |
| Missouri | $6,023 | $2,697 | $7,086 |
| Nebraska | $6,415 | $2,894 | $7,230 |
| North Dakota | $6,684 | $3,138 | $8,538 |
| Ohio | $6,511 | $2,754 | $7,526 |
| South Dakota | $5,927 | $2,959 | $8,989 |
| Wisconsin | $6,530 | $3,047 | $7,818 |
Where Should You Live in the Midwest?
If you're seeking a lower-cost lifestyle, moving to a Midwestern city may be the way to go. However, though the Midwest is the most affordable region of the country, expenses can still vary considerably by state.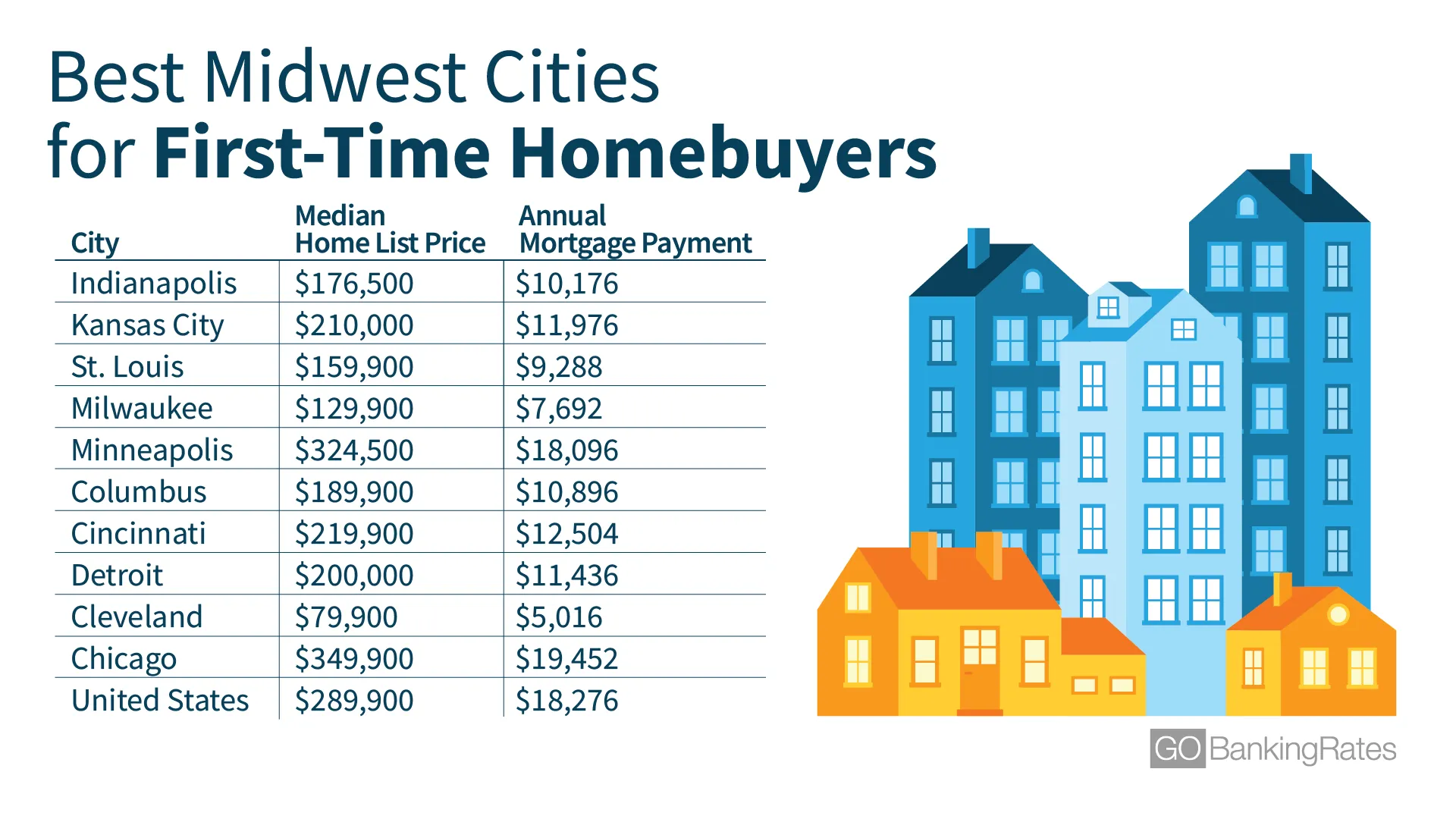 For example, groceries in Missouri average just $2,697 annually, but in North Dakota, you'll pay $3,138. Transportation costs are the cheapest in South Dakota at $5,927 per year, and they're the highest in Illinois at $6,691 per year. And, annual healthcare costs range from $6,418 in Kansas to $8,989 in South Dakota. So, if you anticipate higher-than-average expenses in certain areas, it's wise to take these figures into consideration.
Beyond budget concerns, you should enjoy living in the city that you choose to settle down in. Here are some of the attractions and entertainment that major Midwestern cities offer:
Minneapolis, Chicago and Detroit have busy downtown areas and major league sports teams that can allow you to thrive in an urban environment.
If you're looking for a slightly smaller city, try Cincinnati, where you'll find Reds baseball and nationally renowned chili.
Milwaukee, on the other hand, is home to the MLB's Brewers and the NBA's Bucks and can boast about brewing both beer and coffee.
Indianapolis is renowned for U.S. auto racing with the world-famous Indianapolis 500, as well as professional sports teams with the NBA's Pacers and the NFL's Colts. It's also known as the "crossroads of America," with straight shots to Chicago; Cincinnati; Columbus, Ohio; Detroit; Louisville, Kentucky; Nashville, Tennessee; and St. Louis.
Cleveland hosts the Rock & Roll Hall of Fame, while Columbus is known for the Columbus Zoo and Aquarium, as well as museums galore.
Missouri is a true haven for sports fans. In St. Louis, you can watch the MLB's Cardinals and the NHL's Blues. Kansas City, Missouri, meanwhile, is home to the MLB's Royals and the NFL's Chiefs, and neighboring Kansas City, Kansas, is where you can enjoy the MLS' Sporting KC and two NASCAR race weekends per year.
Make Your Money Work for You
If you're looking for an affordable place to move, be sure to consider the Midwest. Between its attractions and low cost of living, America's heartland may be the key to a healthy savings account.
Click through to find the 50 cheapest places to retire across Middle America.
More on Cost of Living
Grace Lin contributed to the reporting for this article.
Methodology: To determine how much Americans could save by moving to the Midwest, GOBankingRates analyzed all four Census-designated U.S. geographic regions — (1) Midwest, (2) Northeast, (3) South, (4) West — as well as all 50 states, in terms of (1) annual rent, based on median monthly rent according to Zillow's April 2019 index; (2) annual mortgage payments, based on median home price using the current 3.99% APR for a 30-year fixed-rate mortgage, according to the Federal Reserve Bank of St. Louis on May 30, 2019, and assuming a 20% down payment; (3) annual spending on groceries; (4) transportation; and (5) healthcare. The final three factors were sourced from the Bureau of Labor Statistics and the Bureau of Economic Analysis.