15 Easy-to-Use Budget Templates
Use these simple budget templates for your finances.
Whether you're just getting started with making a budget or you need a specialized budget outside of your monthly spending plan, consider downloading an easy-to-use budget template for free. Several websites offer free templates to help you organize your finances and are pre-formatted with formulas and fields to take the guesswork out of budgeting. Here are 15 easy-to-use budget templates you can download today to help you manage your money.
1. Simple Budget Worksheet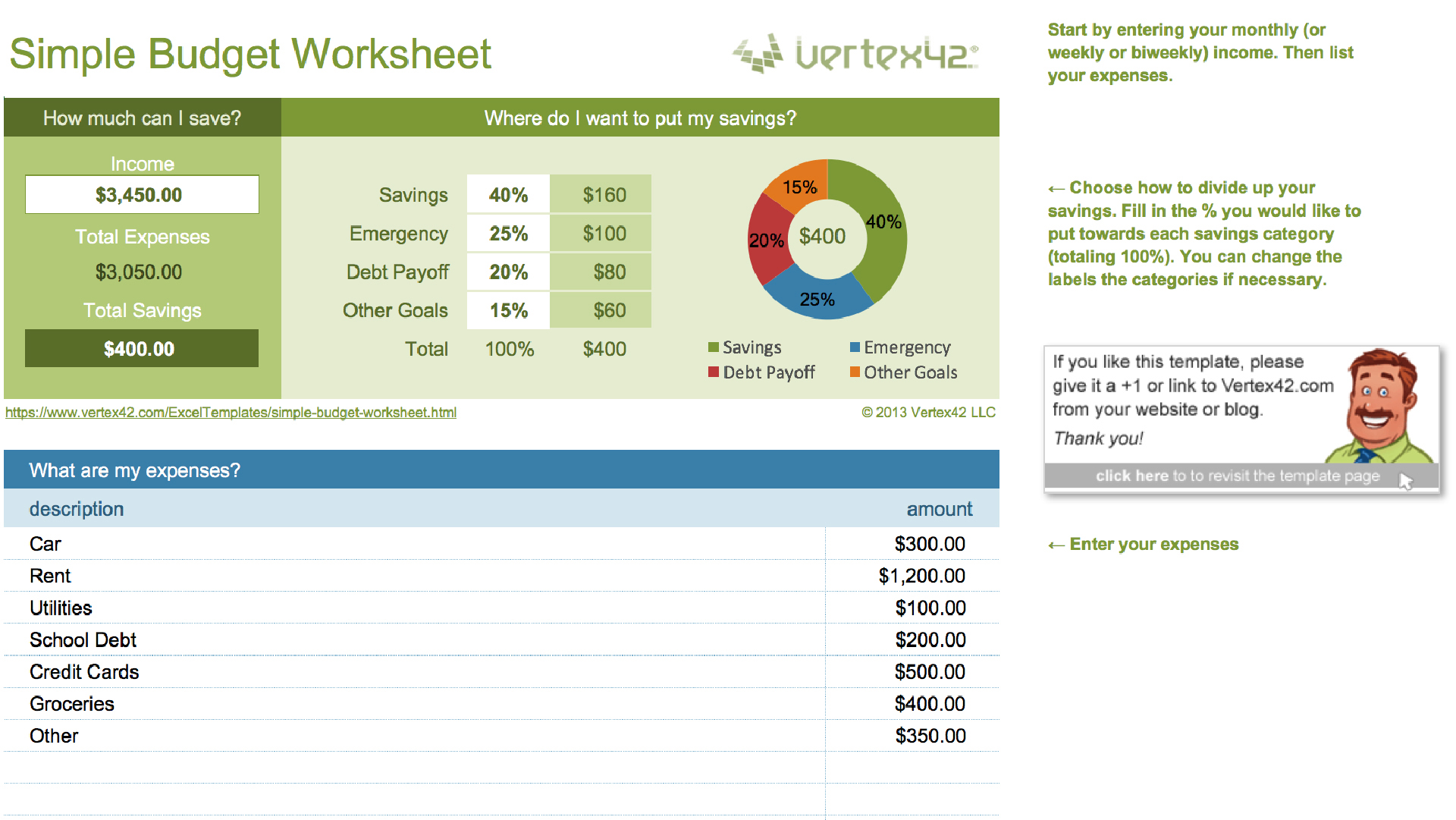 When you just need a simple budget template to start logging monthly expenses and get a better handle on your cash flow, download this simple budget worksheet from Vertex42. Easily list your bills and expenses within each pay period using this monthly budget worksheet. It also allows you to calculate your savings for each month and choose what percentage of your savings goes in which savings category. Download this simple budget worksheet.
2. College Student Budget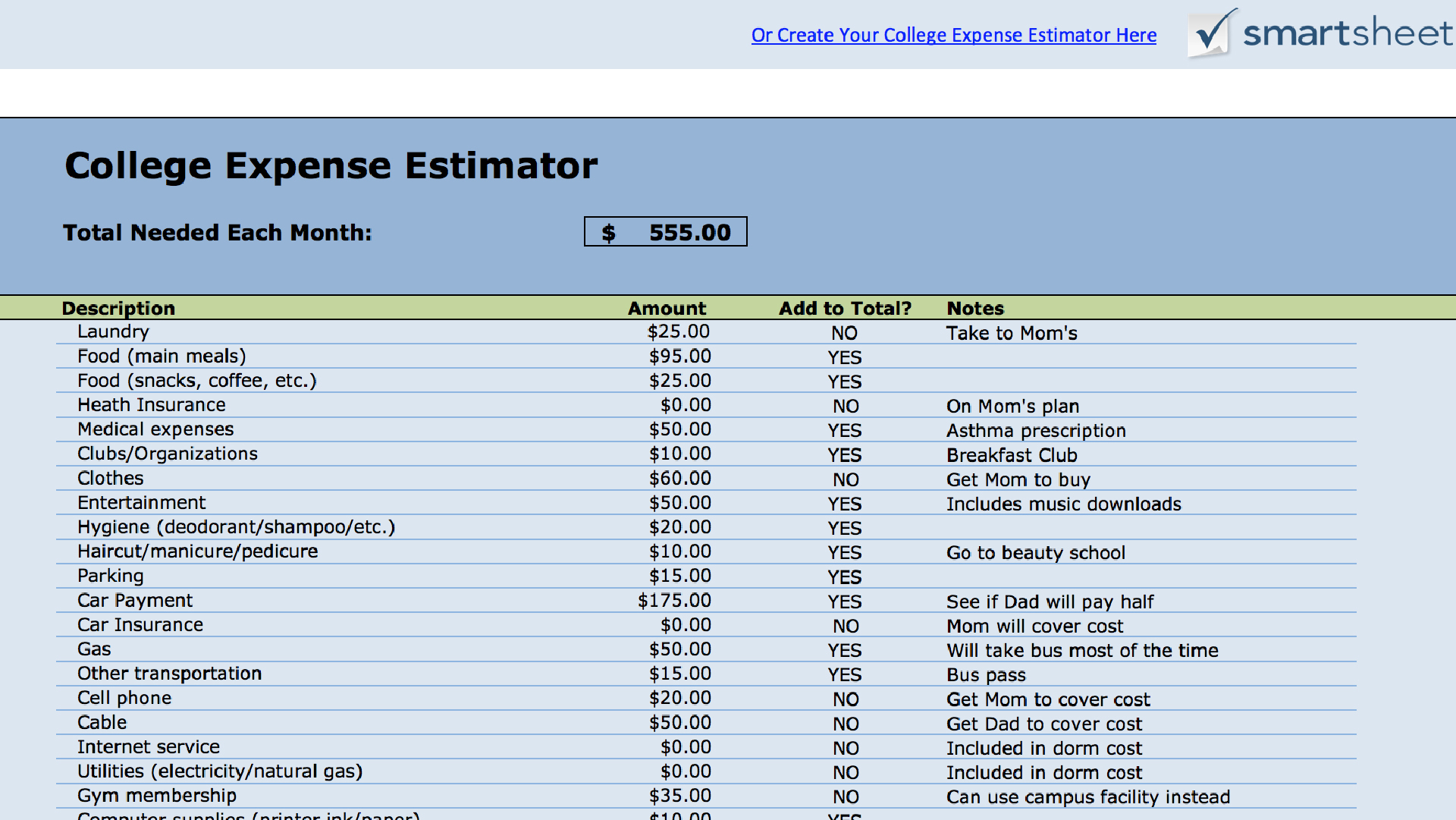 You'll need a personal budget to keep your spending habits in check throughout your college years. You'll want this Excel budget template close by when you're heading to school and want to manage your finances with little effort. Because it's designed with categories that all college students need to keep track of — such as school supplies, food plans and books — all you have to do is fill out your expenses for each semester. Download this college student budget template.
How To: Cut Costs Without Cutting Out Everything You Love
3. Basic Home Budget Template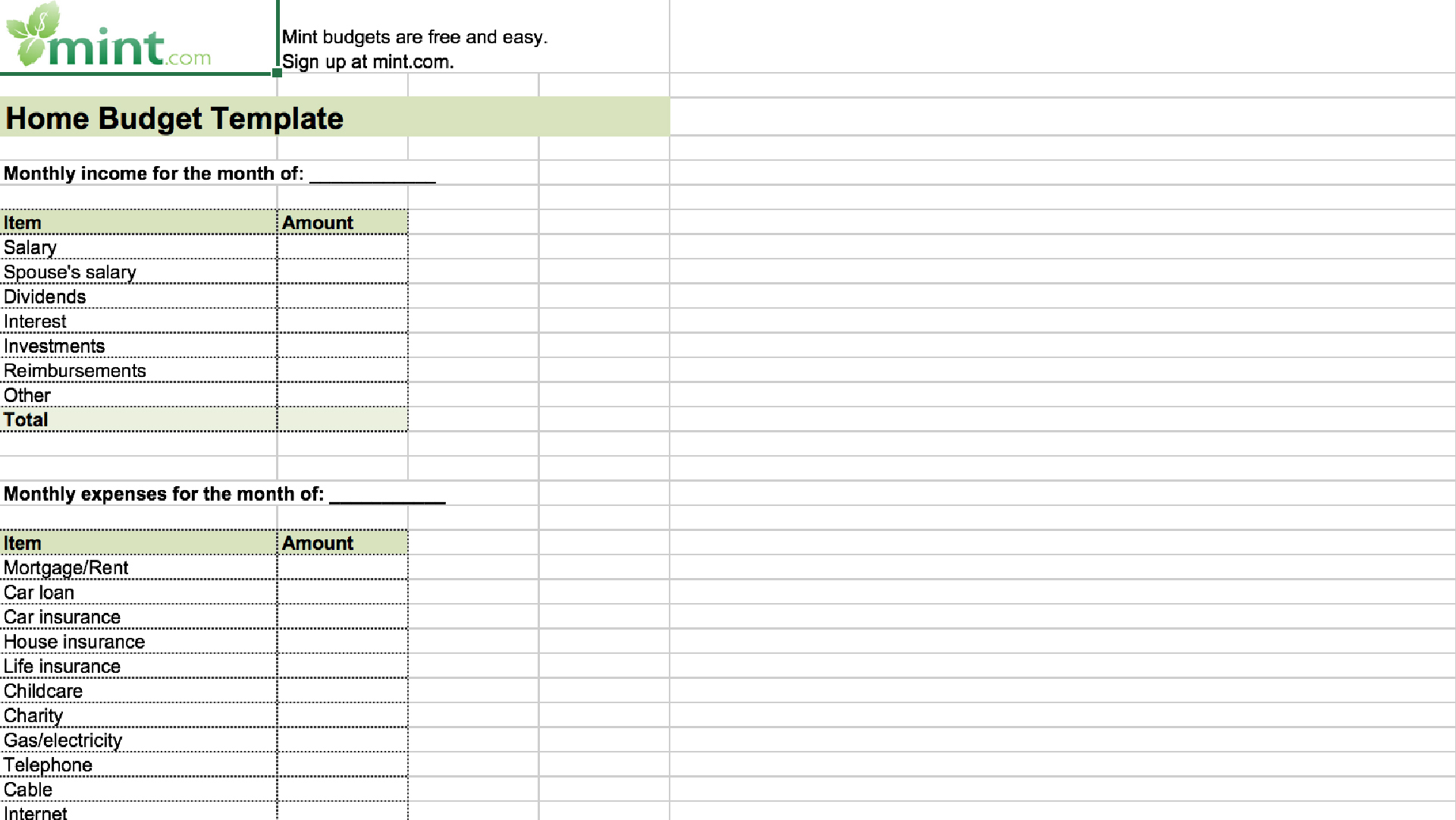 When you need to clean up your spending habits and get a better handle on your household finances, use this basic household budget template to divide your spending into categories and get a clear idea of how much you're really saving each month. The Excel template itemizes common household expenses and lets you see the difference between income and expenses after you fill in the fields. Download this home budget template.
4. Wedding Budget Work Sheet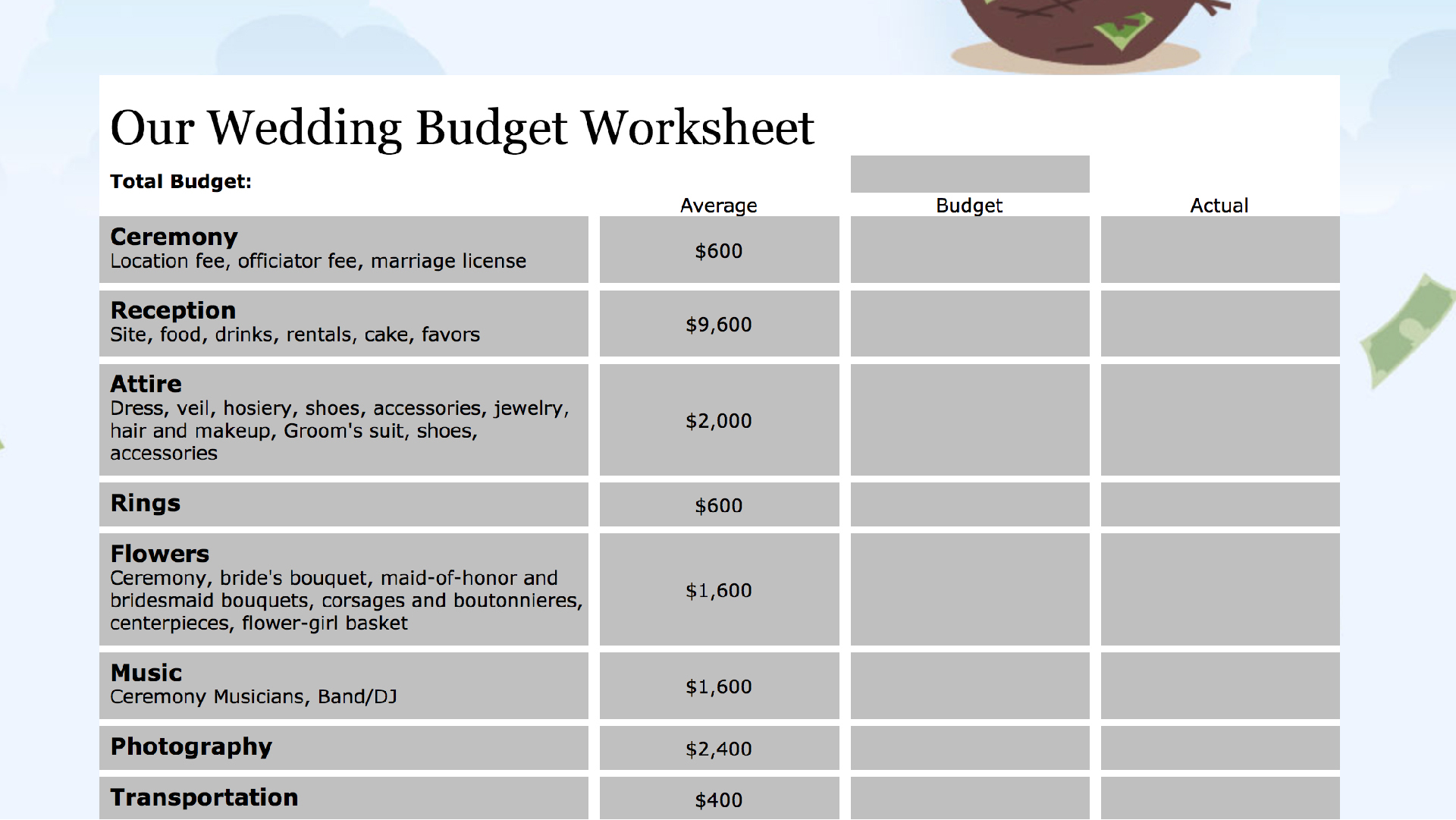 Budgeting for a wedding can be overwhelming — especially since you don't always know what all the categories of expenses will be and how much you should be spending in each. Create a budget for all key categories and compare it to the average spend with this wedding budget planner. You can also log your actual spend to see how well you did with your budgeting efforts. Download this wedding budget worksheet.
5. Retirement Financial Planner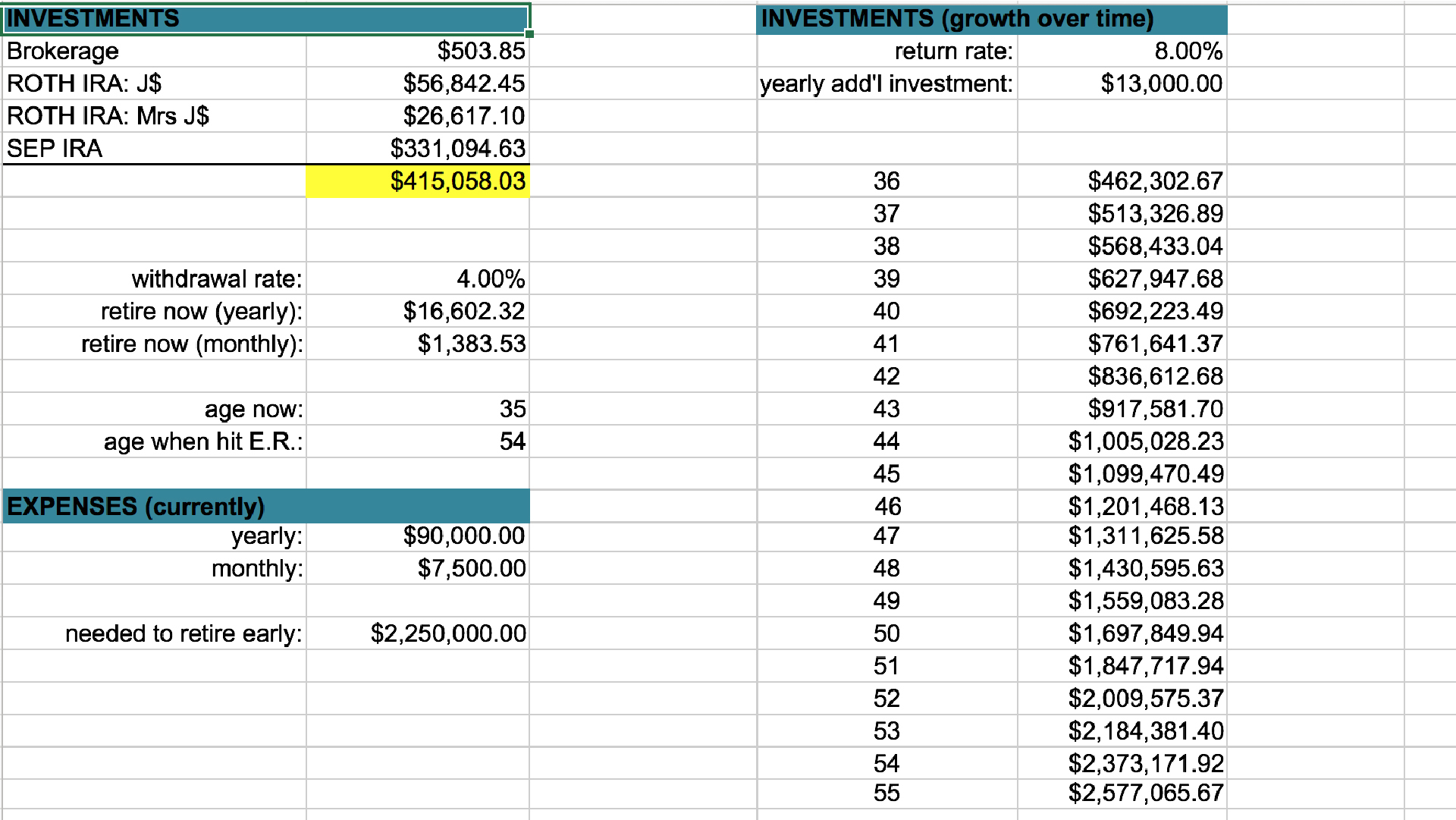 Make sure you have a realistic game plan to reach your retirement goals with this template. You can log your age, annual income, savings and investment return information. You'll also enter your desired retirement age and income, and the template will automatically chart the amount of yearly income and savings you need to reach your retirement goal. Download the retirement financial planner template.
6. Family Budget Planner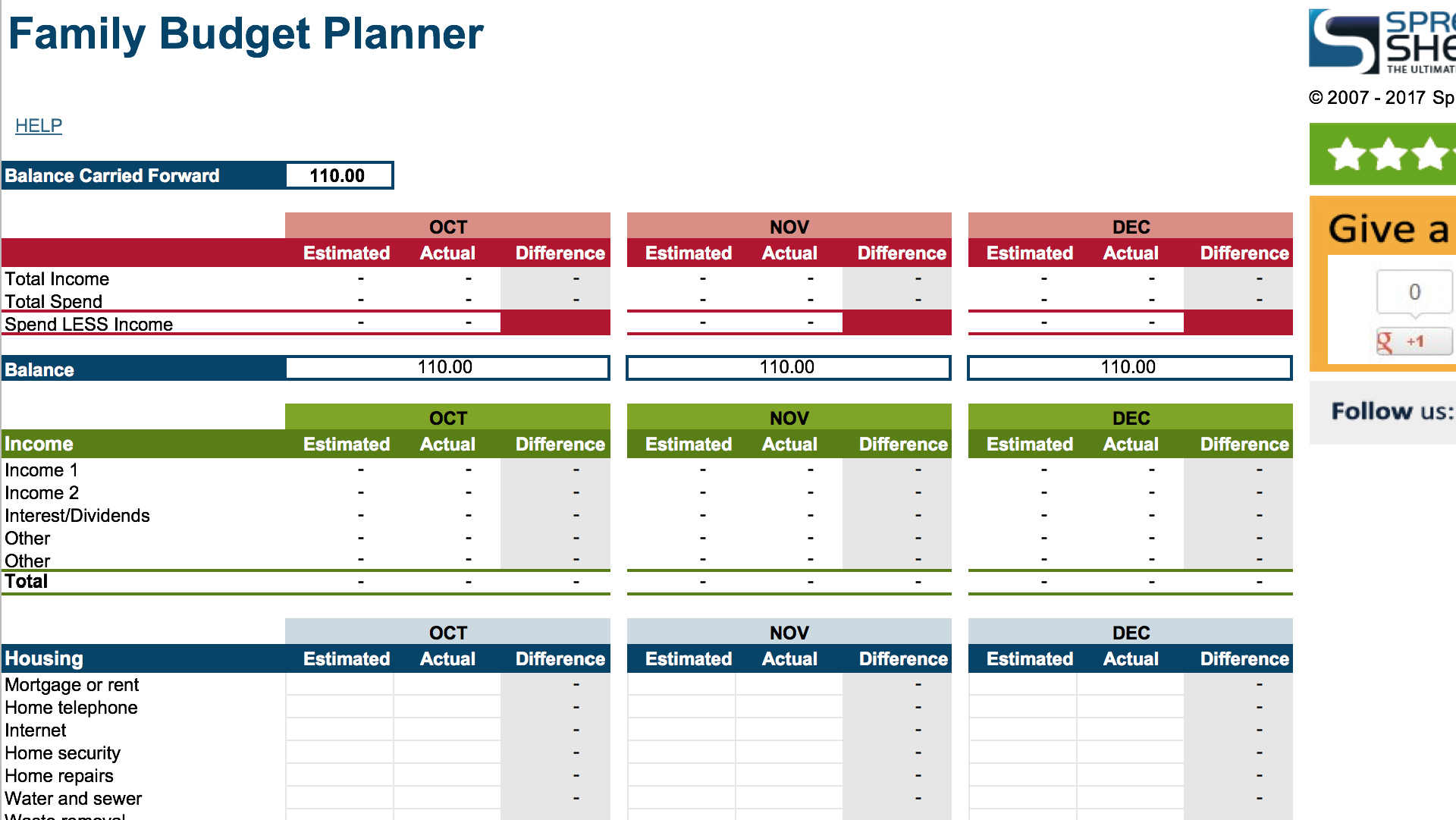 When you want to make an annual budget plan for your family and keep track of your monthly, quarterly and annual expenses, use this simple budget template from Spreadsheet123 designed for households. Color-coded for easy reference, this household budget template breaks things down into several important categories, including transportation costs for all vehicles, insurance, housing maintenance expenses and more. Download this family budget planner.
7. Weekly Money Manager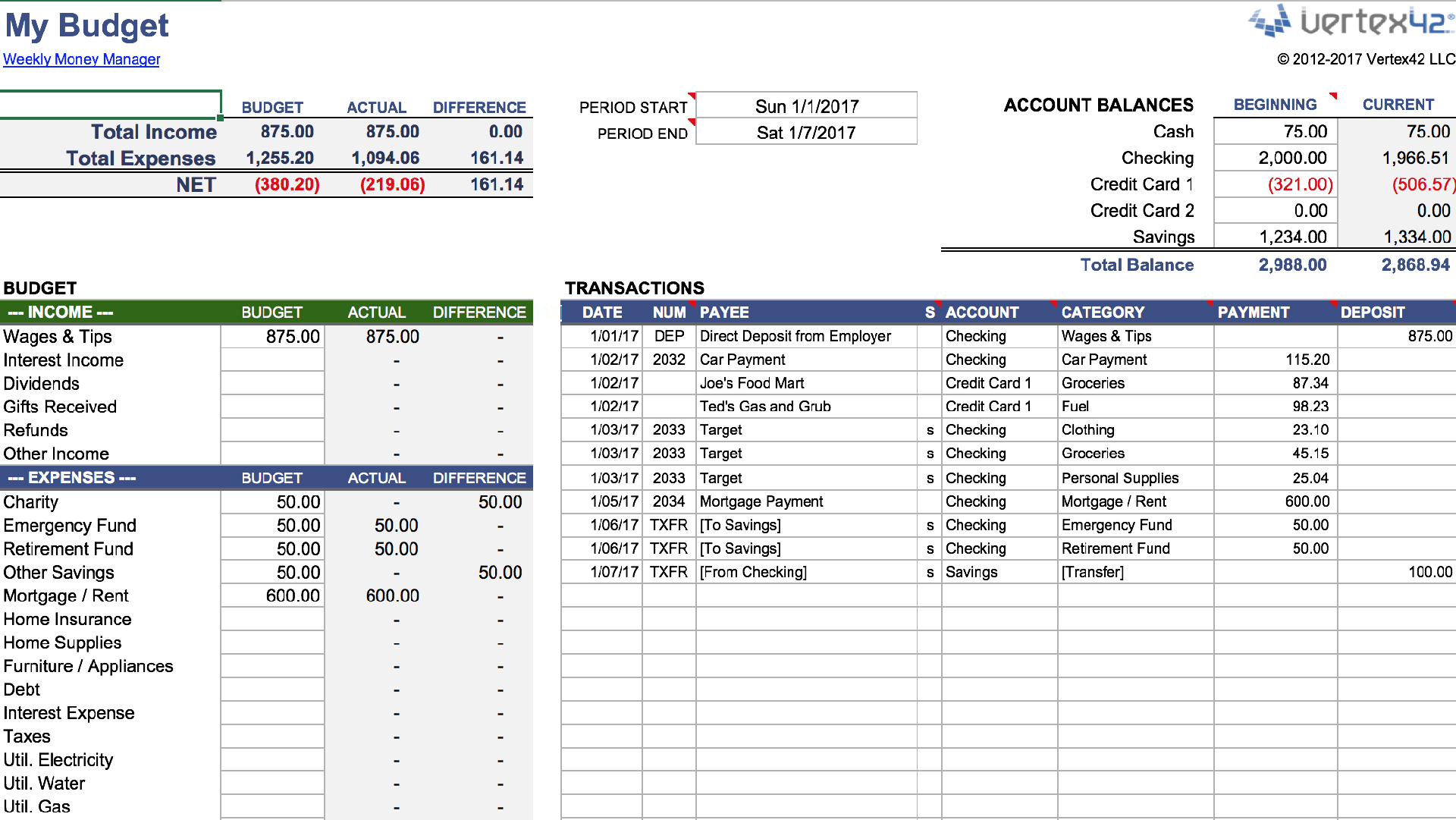 Sometimes handling a weekly budget is more effective than handling a monthly budget — especially if you always seem to come up short at the end of the month. If that's the case, use the Weekly Money Manager from Vertex42 to keep track of every single purchase and expense for the week. And this budget template lets you log your current checking and savings account balances so you can see exactly where you stand in the cash flow department. Download this weekly budget template.
8. Monthly Budget Template
When weekly budgeting feels like overkill, you can use a monthly budget template to check in with yourself. Smartsheet has several monthly budget templates available, and one of the easiest to use is the Monthly Budget Calculator. Just enter all your receipts for the month in each category, and you'll get an idea of how much is going toward your emergency, investment, and retirement accounts after all your monthly expenses. Download this monthly budget template.
9. Advanced Yearly Budget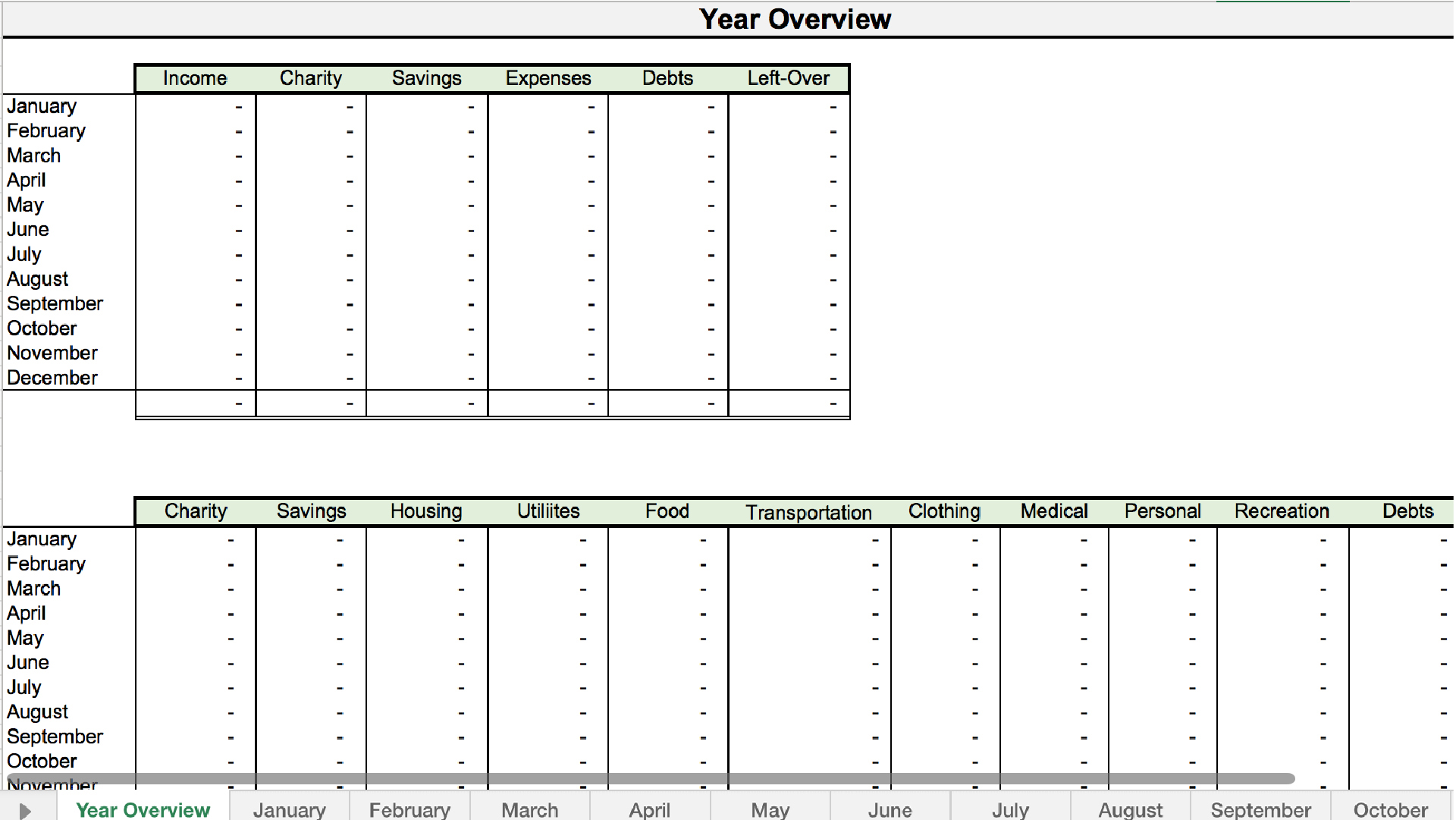 Making a yearly budget can help you get some perspective on your financial standing and set realistic goals for the year ahead. You'll need to estimate your monthly income if you're not getting a consistent paycheck to make this simple budget worksheet work. Use the zero-based budgeting technique for your personal budget — where you account for all expenses in each new period and start each period at zero — to forecast your costs across all major categories. Download this yearly budget template.
Related: 10 Fears That Are Keeping You From Being Rich
10.  Startup Budget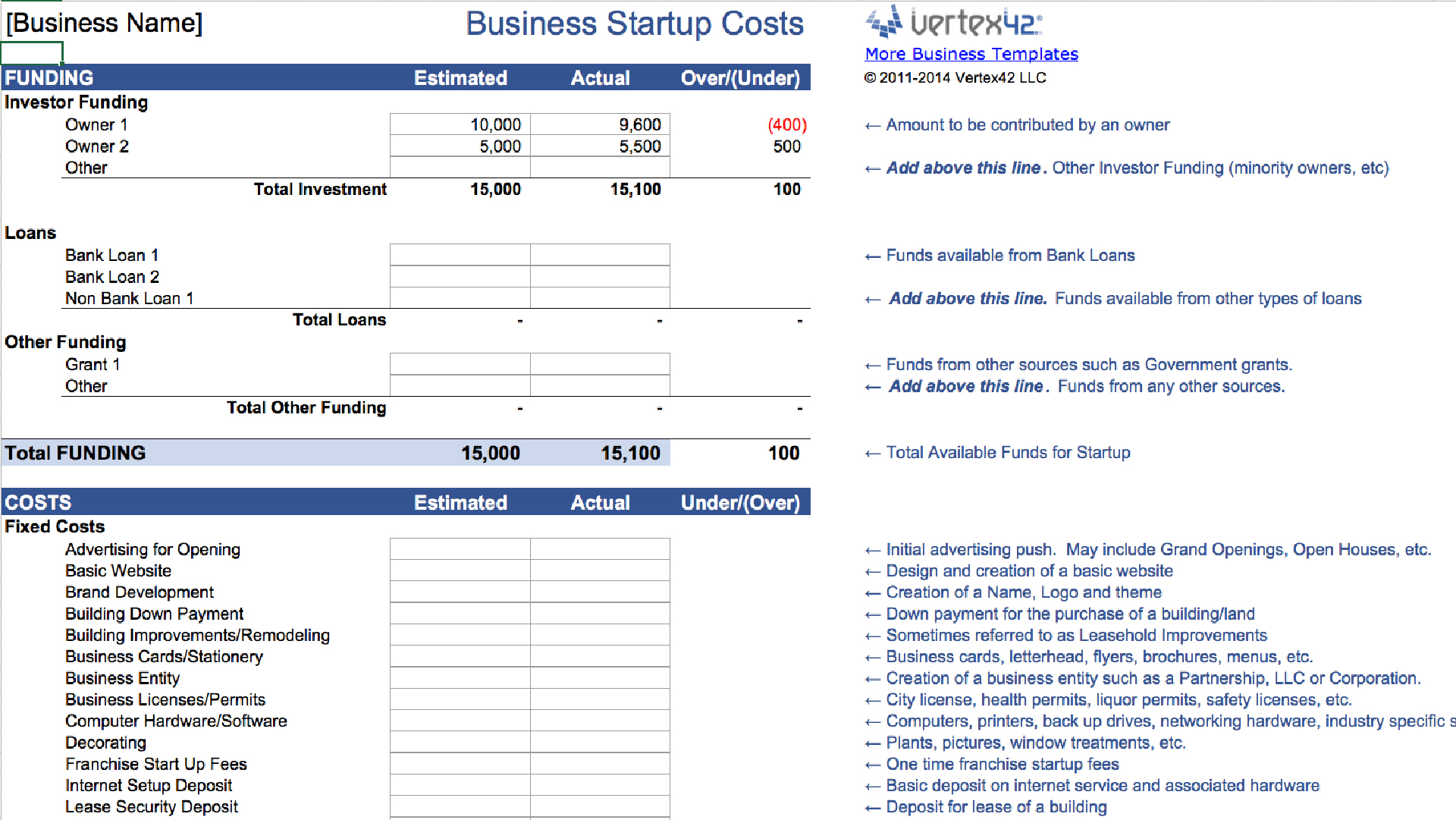 Creating a budget for your startup is a must-do before you launch because it will serve as a guide for managing your capital and cash flow. And if you're a first-time business owner, figuring out all the expenses can be overwhelming and confusing. The Vertex Business Startup Costs Template for Excel makes things easier by itemizing all of your business expenses during the startup period so you can organize all your major purchases. Download this startup budget template.
11. Holiday Shopping Budget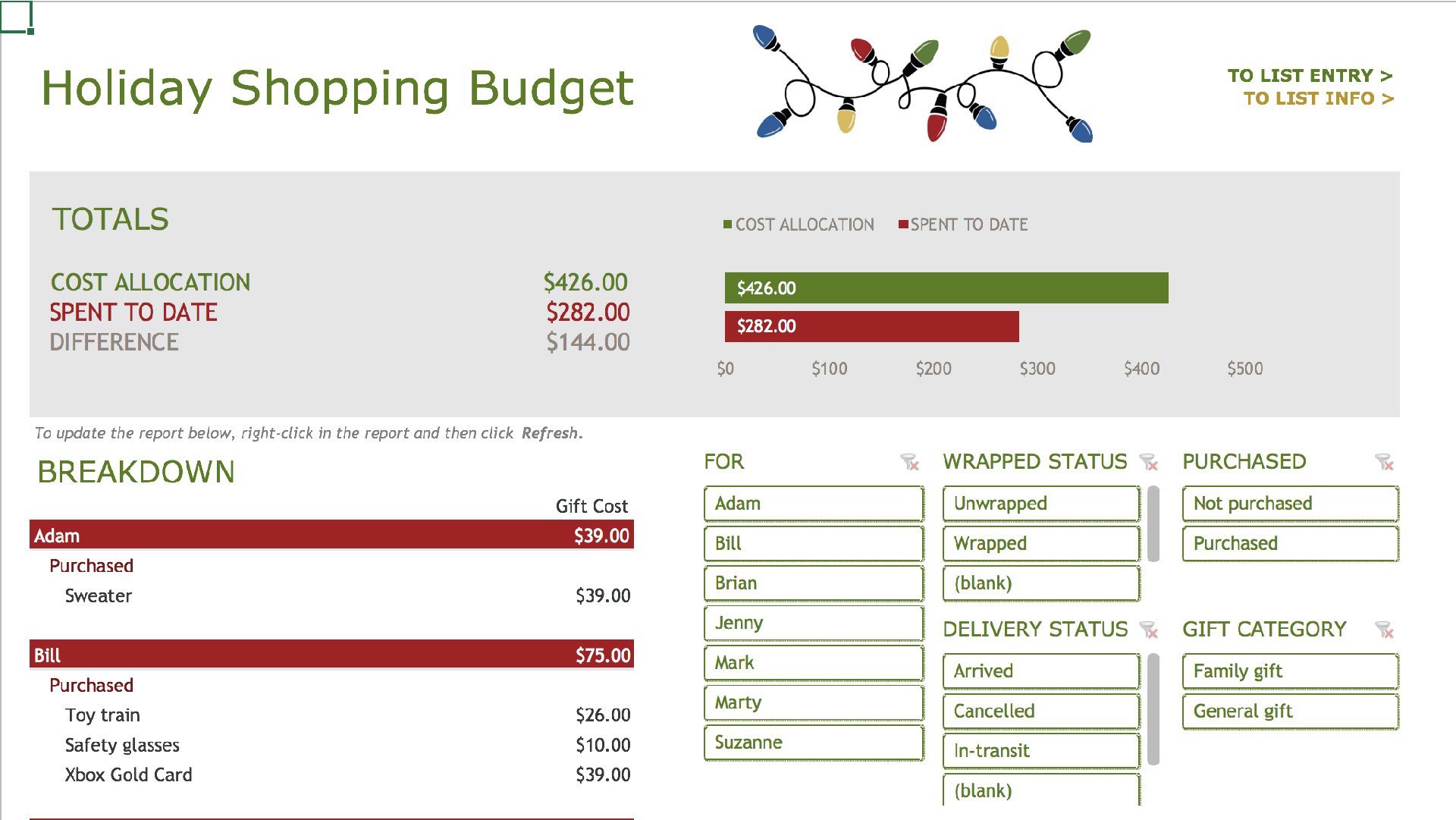 Rein in your spending with your holiday budget this year with the Holiday Shopping Budget from Microsoft. Itemize all your gifts by recipient, keep track of how much you've allocated for each gift and find how much you've spent to date with this simple Excel budget template. You can even note whether each gift has been wrapped. Download this holiday shopping budget template.
12. Event Planning Budget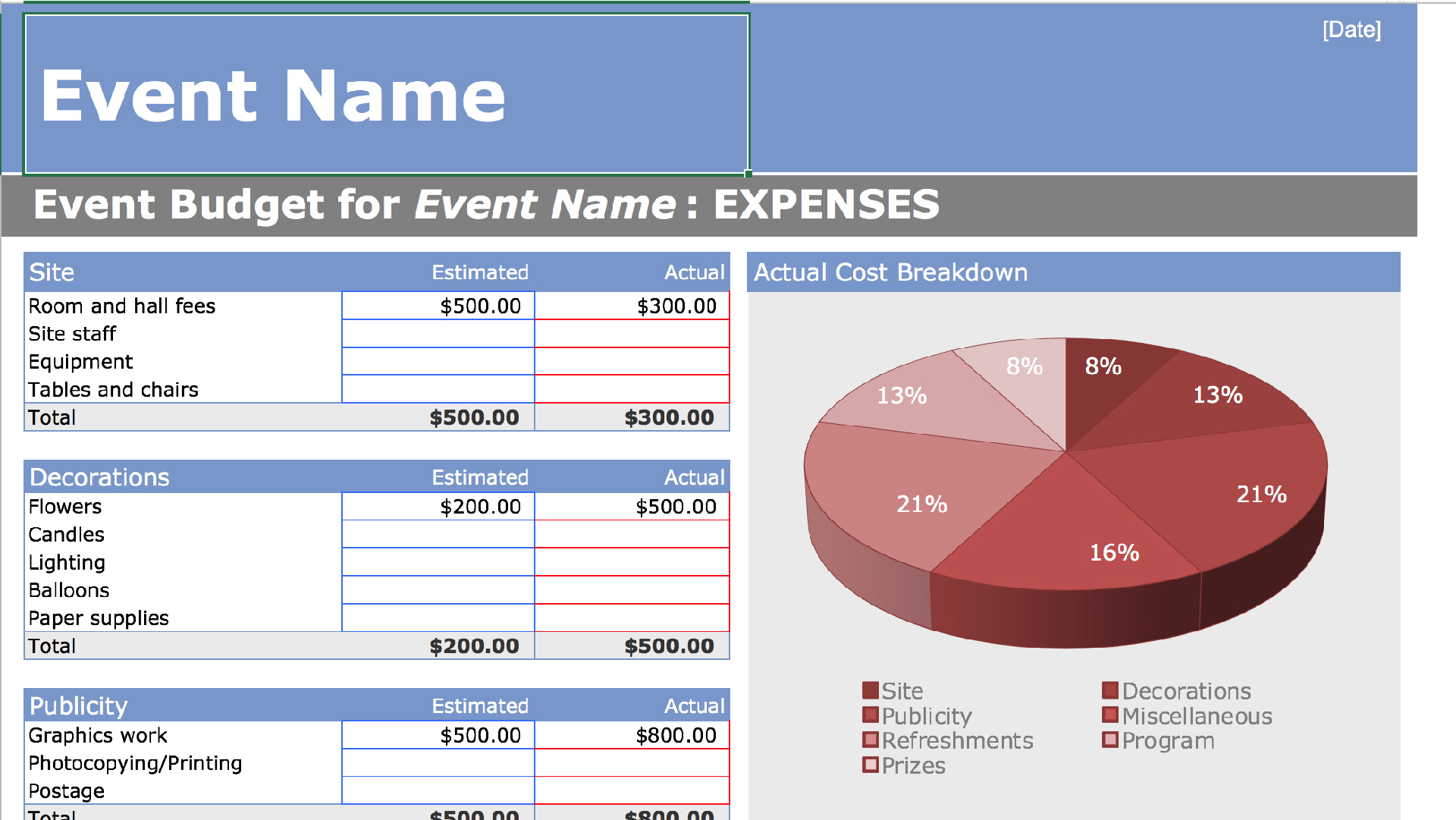 Hosting parties and larger social events can put a dent in your wallet if you don't keep track of all your expenses. Use this Excel budget template to capture all of your event-related costs and see eye-appealing bar graphs and pie charts of the breakdown for easy reference. Download this event planning budget template.
13. Fundraising Event Budget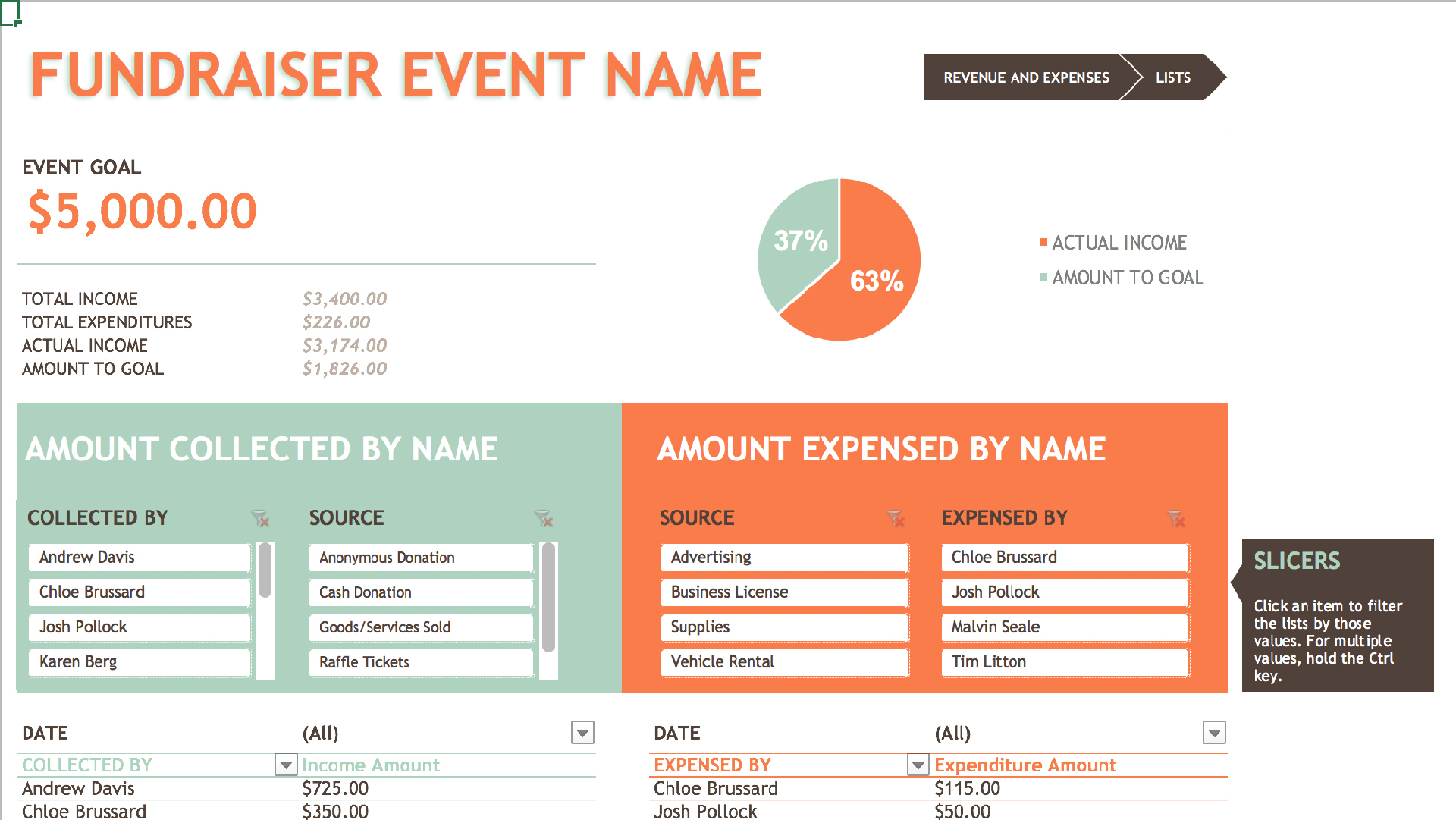 Planning a fundraising event requires some sound budgeting skills. With this fundraiser budgeting template from Microsoft, you can log all of your expenses for the fundraisers, such as vehicle rentals, costs for advertising and business licenses, as well as your incoming donations to see how far you are from your goal. Download this fundraising event budget template.
Find Out: How to Be an Awesome Human Being — Without Spending a Dollar
14. Business Budget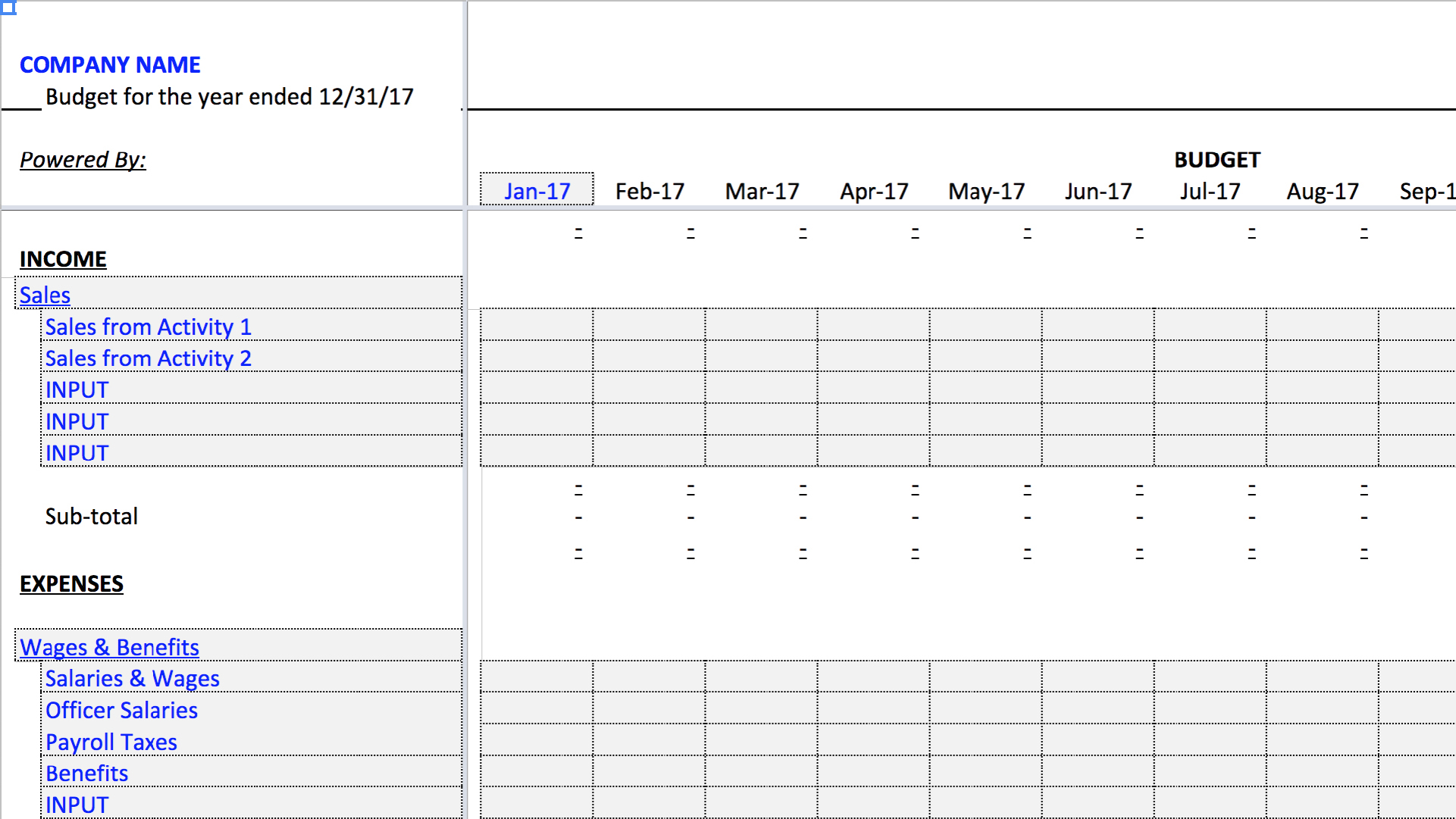 Whether you're a startup or an established business, creating a plan for your expenses can help you make better financial decisions throughout the year. Get a free business budget template from Capterra that will show you a monthly and yearly breakdown of your financial goals and the actual costs incurred, which can help you better manage your spending. Download this business budget template.
15. Project Budget by Task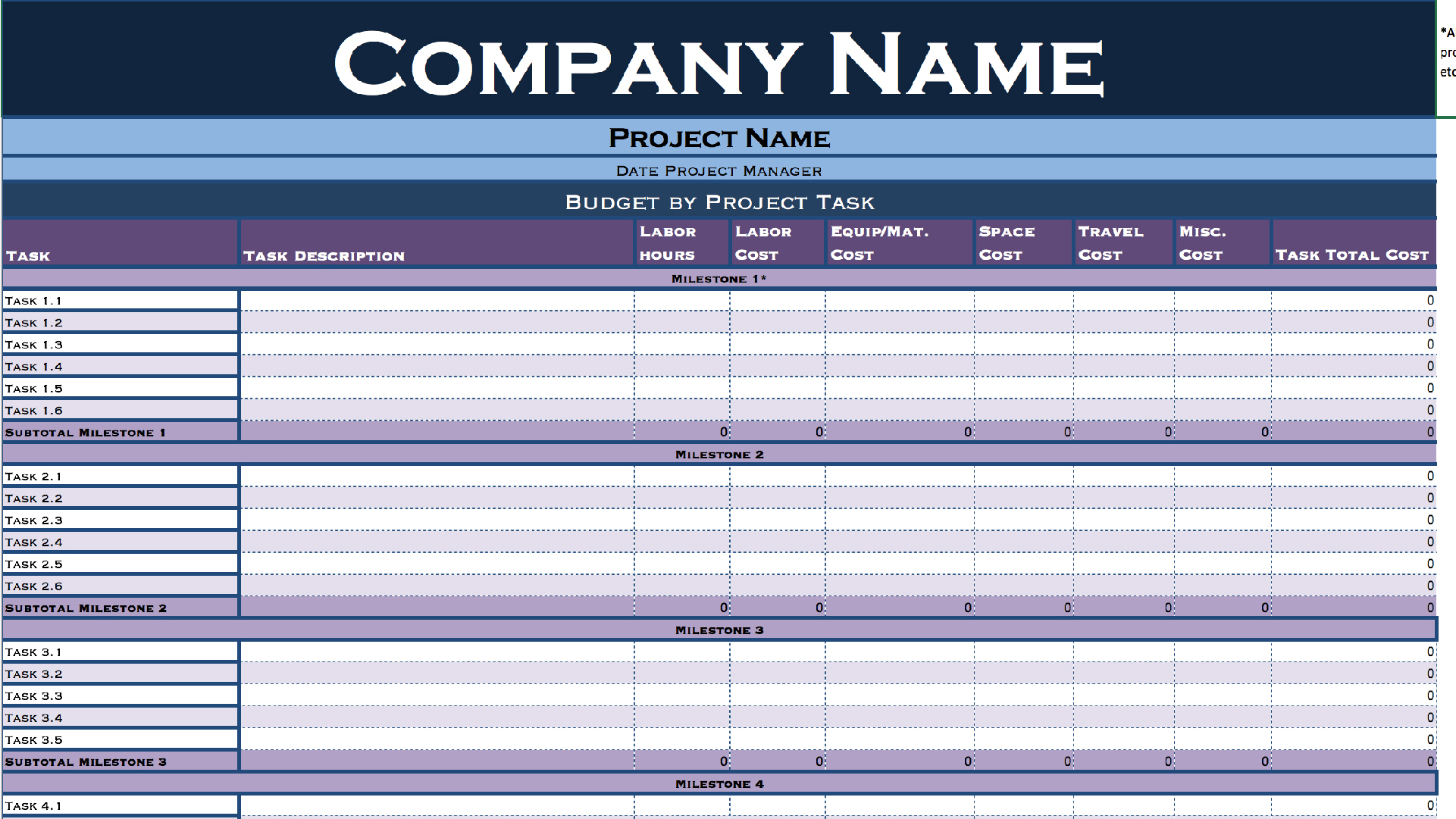 When you're playing the role of project manager for a personal project like home remodeling or a family vacation, you'll need a budget to predict and manage your costs. You can use a Project Budget Template from Vertex42 to keep track of expenses like labor, materials, fixed costs and your actual spend — at every step of the project. Breaking things down this way can help you better monitor your spending over time, so you don't end up being out of money before the project is complete. Download this project budget template.
Up Next: 17 Biggest Budgeting Mistakes You're Making
No matter whether you prefer a weekly or monthly budget, or an Excel or a Google Docs template, the important thing about budgeting is to start now. Getting a handle on where your money goes as soon as possible will give you the information you need to make any necessary changes. Then, you'll be better able to achieve your short- and long-term financial goals.