How the SNAP Program Impacts People and the Economy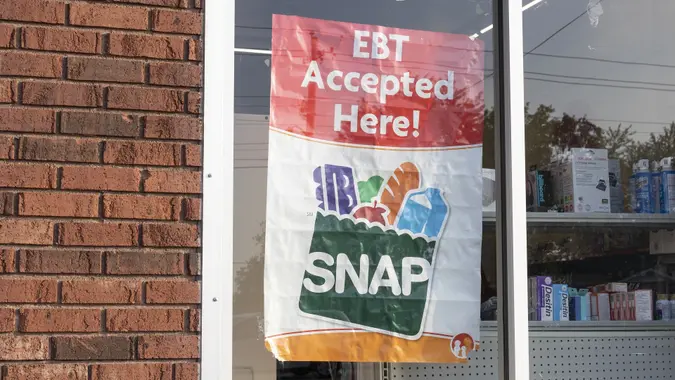 jetcityimage / iStock.com
The number of food stamp recipients has risen sharply in the 21st century. According to the Pew Research Center, about 18 million people were enrolled in the Supplemental Nutrition Assistance Program (SNAP) in 2000, compared to about 42 million now.
A new GOBankingRates study of more than 1,000 people found that half of Americans either currently receive SNAP benefits or have in the past, with the two groups split evenly at 25% each. Older Americans are least likely to have ever collected benefits — nearly three out of four people ages 65 and up aren't enrolled and never were. Those most likely to currently receive benefits are older millennials and young Gen Xers ages 35-44.
Their personal stories illustrate why America's largest anti-hunger initiative is so vital to the millions of households that rely on it, but SNAP also plays a critical role in the economy as a whole.
Food Stamps Are a Lifeline for the Most Vulnerable Households
SNAP's primary function is to prevent hunger among the perilously high percentage of Americans who can't afford sufficient food — and it works.
, author of "A Place Called Home." "As my mother struggled to support her three children, food stamps made all the difference."
Make Your Money Work for You
According to the Food Research and Action Center (FRAC), SNAP supports those in greatest need.
who received her nursing degree from Georgia Southern University. "SNAP benefits help low-income families have access to a more nourishing diet. Many times, low-income individuals face challenges when acquiring healthy foods. SNAP benefits help overcome this problem."
About 86% of SNAP benefits go to households with an elderly person, a child or a person with disabilities, and 92% go to households with income at or below the federal poverty line.
"The Supplemental Nutrition Assistance Program is by far the most effective anti-hunger program," said Stephanie Palacios, director of advocacy and government relations at Second Harvest Food Bank of Central Florida.
Without It, Malnourished Kids Would Pack America's Schools — and Eventually Hospitals
Nearly half the households that receive benefits are home to children.
"Almost 60% of SNAP participants in Florida are families with children," Palacios said.
For the youngest victims of food insecurity, there's a direct connection between EBT cards and academic achievement, mental health and physical wellness.
"From a healthcare standpoint, SNAP benefits are incredibly important," Jones said. "SNAP benefits are critical to child development. Proper nutrition promotes growth, brain development, and well-being. Food security also leads to better school readiness and performance."
Without the program, those problems and challenges would walk through the doors of America's schools every morning — but many kids fall through the cracks.
Make Your Money Work for You
"There are 8.4 million children living in poverty in America today," Ambroz said. "One in eight children are hungry each day in America — and one wonders, what are their parents eating?"
It Provides a Safety Net in Times of Economic Crisis
Unsurprisingly, the SNAP rolls swell when times are hard.
According to Pew, between 7% and 11% of households received SNAP benefits between 1980-2008. But the percentage soared during the Great Recession, eventually peaking at 18.8%.
In March 2020 as pandemic shutdowns started, 37.2 million Americans were enrolled in SNAP. Just one month later, it was 40.9 million and peaked in September at 43 million — 13% of the population.
It Lifts Families Out of Poverty
According to FRAC, more than 9% of households moved above the federal poverty line when their gross income included SNAP benefits. Another 10% of the lowest-income households moved out of deep poverty.
The effect is that fewer families have to choose between eating and paying rent or utilities.
"With grocery prices holding steady at inflated prices, skyrocketing utility bills from record-high heat this summer and already rising rent, it can be a recipe for disaster," Palacios said. "Too many families face the impossible choice of keeping the lights on, the roof overhead, and food on the table. SNAP can be a lifeline for these families if they experience job or income loss."
It Relieves Pressure on Adjacent Programs and Injects Cash Into Local Economies
SNAP gives breathing room to the programs and organizations that serve as the last line of defense against widespread starvation in the richest country in the world.
Make Your Money Work for You
"Without programs like SNAP, working families will rely more and more on the charitable food system and other anti-hunger programs, like The Emergency Food Assistance Program (TEFAP) to feed their families," Palacios said.
But since SNAP recipients almost immediately spend their benefits at local stores, the program also provides ongoing economic stimulus.
"With over 248,000 retailers nationwide accepting SNAP and $1 in SNAP benefits generating about $1.50 in economic activity, SNAP increases access to nutritious food for food-insecure families while simultaneously supporting the economy in their local community," Palacios said.
Benefits Are Insufficient and Have Been for Decades
The program is enormously successful in preventing malnutrition, but contrary to popular mythology, it does not make life easy.
"Even with that support, it was nearly impossible for my mom to make it through the month with enough food," Ambroz said. "We had to go to food banks, church meals, and rummage through grocery store garbages to make ends meet."
Outdated Standards and Unrealistic Cost Criteria
Many children today are experiencing precisely the same food insecurity that defined Ambroz's childhood decades ago.
In July 2021 — six months after COVID-19-relief legislation increased SNAP benefits by 15% — the Center on Budget and Policy Priorities (CBPP) reported that SNAP benefits were insufficient and had been for a long time.
CBPP wrote, "SNAP's relatively modest benefits — which are based on an outdated model and averaged less than $1.40 per person per meal in 2019, before the COVID-19 pandemic — may not be enough to meet the needs of America's poor."
Roughly half of all households enrolled in SNAP were still food insecure, and the pandemic only aggravated the situation. The program's fiscal criteria hadn't been revised since 2006 and had been "held to an unreasonable cost standard for decades." The report found that USDA cost constraints did "not reflect what U.S. households really eat, meet all key nutrient standards, or account for different family types and needs."
Make Your Money Work for You
Could You Survive on $6 a Day?
Two years later, with the emergency allotments now expired, more recipients have to spread their benefits even thinner.
According to an August 2023 Food Research and Action Center report, "Now that these benefit boosts have ended, families are experiencing a hunger cliff like we have never seen with the average SNAP benefit now being less than $6 per person a day. This is unacceptable. Adequate benefits matter."
Despite the USDA's Excellent Record, It Loses Tens of Millions to Waste and Fraud
The USDA follows strict quality control protocols that, by and large, work well in getting the appropriate benefits to the right households. But as with any massive bureaucracy, errors are inevitable. In 2022, states reported an overpayment error rate of 9.84% and an underpayment error rate of 1.7%. The USDA does not classify those misappropriations as fraud, which is rare but consequential.
In 2019, the last year for which data are available, the national food stamp fraud rate was just 1.54%. According to market data firm Gitnux, "This statistic is a testament to the effectiveness of the USDA's efforts to combat food stamp fraud. With a fraud rate of only 1.54%, it is clear that the USDA is doing an admirable job of ensuring that the food stamp program is being used as intended."
But because of the magnifying effect — increased labor costs for fraud detection, investigation and reporting — the losses are staggering. In 2022, research from the consumer reporting agency LexisNexis Risk Solutions found that every dollar lost to SNAP fraud costs taxpayers $3.72.
Times Are Hard — And the Program's Future Is Precarious
Palacios said her organization has seen searches for food assistance on its website surge all summer, with more than 20,000 searches in June and July. People performed just over 14,000 searches during the same period last year.
Make Your Money Work for You
"As more people seek food assistance, Second Harvest is distributing enough food to provide kids, families and seniors with 300,000 meals daily — the same distribution rate as at the height of the pandemic in 2020."
As families increasingly struggle to put food on the table, the program's future is more uncertain than ever.
"With Farm Bill passage still uncertain and USDA commodities — an essential source for nutrition through TEFAP — down about 30% this year, preserving and protecting SNAP benefits is critical for working families," Palacios said.
Any reduction would lead to predictable outcomes for millions of families already struggling to eat.
"Access to food for children and families — and the constant insecurity that you'll have enough — is a moral stain and economic disaster," Ambroz said. "We can make a choice to not have hungry kids. We must expand access to SNAP, and ensure that the funds allocated to each family truly meet those needs."
More From GOBankingRates