Interest Rates and Inflation Could Be Affecting Your Insurance Costs: What You Need To Know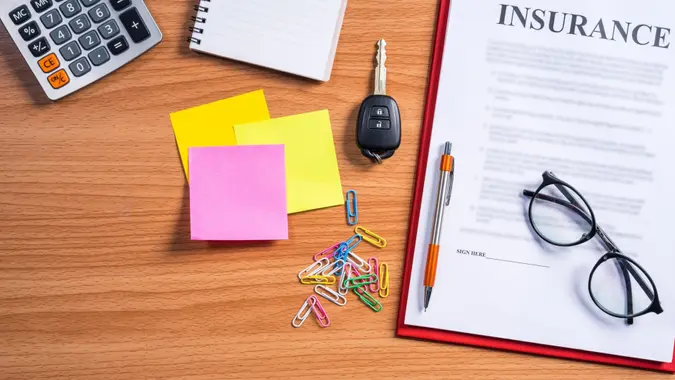 Korrawin / Getty Images/iStockphoto
If your insurance has gotten more expensive in recent months, you're not alone. Rates have been rising for car insurance, homeowners insurance and health insurance due to a variety of economic factors. But, there are still ways to save on your insurance despite rising rates.
Small Business Spotlight 2022: Celebrate Small Businesses Across the US
See: 7 Things You Should Never Do When Planning for Retirement
Here's what you need to know about rising insurance costs.
How Inflation and Rising Interest Rates Are Affecting Insurance Costs
Inflation is making everything more expensive, and insurance companies are passing these rising costs onto the consumer.
"Inflation affects the cost for insurance companies to pay off a claim, where both materials and labor become more expensive," said Brian Pattillo, vice president at Goosehead Insurance. "The same accident that caused $1,500 of damage to your vehicle last year is costing hundreds more this year. The car that was totaled in years past might have found a replacement for $8,000, but now that same car is a few thousand more to replace."
Make Your Money Work for You
"To pay claims, insurers need to invest the money they collect from premiums to pay out future claims," he continued. "These fixed income investments are now worth less, so the company needs to generate more money to pay claims, which are now more expensive. The only way to bridge that gap is to increase premiums for consumers."
Due to these added expenses, insurance rates have increased by an average of 7% for both new business and renewals, Pattillo said.
"However, the actual impact of rate changes could vary wildly at the state level," he said. "For example, in the North Texas market, we are seeing double-digit increases in rates, while Central Texas may see low single digits. This is going to be true in any state. Insurance carriers are having to spend more on claims due to higher prices, which is leading to profitability issues, and they are responding by raising rates for consumers."
Take Our Poll: Do You Tip for Service?
How To Save on Insurance Costs Despite Rising Interest Rates and Inflation
"In this inflationary environment, consumers are re-visiting every part of their household budget. Just because your rates are going up with your current insurance provider doesn't mean that you can't find something more affordable — you just need to leverage all the options out in the market," Pattillo said.
This might mean seeking out options from lesser-known insurance providers.
Make Your Money Work for You
"Many consumers start with the brands they are familiar with, but that can be problematic as these companies are often the most expensive," Pattillo said. "With over 400 different insurance companies offering home or auto insurance in the U.S., it's critical to shop across dozens of options. The best way to do that is by contacting an independent agent who can shop on their behalf. Some independent agents allow consumers to shop online, but be careful, as there are lots of sites that make you think they are comparing rates, but in reality, are selling your data."
What Consumers Should Keep in Mind When Shopping Around for Insurance
When shopping around for insurance, it may be tempting to find the lowest cost coverage possible, but this could end up costing you more in the long run.
"It's critical that consumers avoid removing key coverages, as they could be left in a financially catastrophic situation in the event of a claim," Pattillo said. "Over 60% of consumers get insurance through what are known as 'single carrier' platforms. Examples of this would be companies like State Farm, Farmers or Allstate, where their agents typically only represent one option. The rates at these companies aren't negotiable, so if you call to save money and have exhausted all the discounts you are eligible for, the only option they have is to lower your coverage. Usually, the tradeoff isn't worth it."
Make Your Money Work for You
Instead, contact an independent agent.
"An independent agent can make sure you are covered properly, and then shop across dozens of carriers to find you the most competitive price," Pattillo said.
More From GOBankingRates
Make Your Money Work for You