The Little-Known Financial Benefits to Daylight Saving Time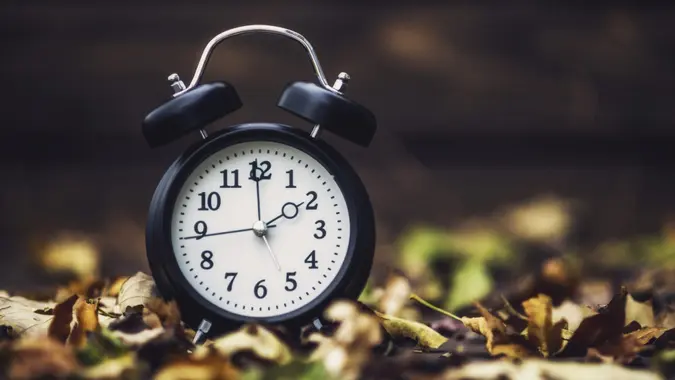 CatLane / Getty Images/iStockphoto
Around 70 countries time travel for an hour twice a year in the spring and in the fall. America is one of them, but only in 48 states — Arizona and Hawaii opt out of daylight saving time.
Find Out: Do Fewer Work Hours Make More Productive Employees?
Keep Reading: Why Being Too Busy Also Affects Your Productivity
There's a common misconception that the changing of the clocks started with Benjamin Franklin because of a satirical letter he wrote about the French tendency to sleep in late. But, according to Reader's Digest, it was the Germans who enacted the first clock-changing policy in 1916 to save energy during World War I. Most of Europe followed suit, and, in 1918, so did the United States. But does DST really save energy — or boost productivity, or increase consumption or have any impact on the economy at all?
Retire Early: 30 Best Jobs If You Want To Retire Early
Well, that depends on who you ask.
A Century Later, the Jury Is Still Out on Energy Consumption
Plenty of people, organizations and elected officials want to ban DST, but just as it was during World War I, the main argument in its defense is that it reduces energy consumption. Extra daylight in the evening, the logic goes, stifles demand for artificial light and therefore energy, taking pressure off the grid and lowering the price of power.
Make Your Money Work for You
But, according to a PNC economist, there's very little evidence to back up that assertion — and a whole lot of mixed data clouds the issue. For example, Department of Energy research from 2008 showed that energy consumption did, in fact, decrease when DST was extended in 2005. But the very next year, Yale University researchers found that energy consumption actually grew in Indiana when the state adopted DST in 2006. Increased demand for heating and cooling power, it turns out, negated any gains from reduced electrical lighting.
Read More: The Top Company Hiring Now in Each State
Some Industries See Dollar Signs in DST
The other big economic argument in favor of DST is that it gives consumers more daylight hours to shop and spend money. The same PNC economist argues that here, too, there's just no conclusive evidence — but there's no denying that certain industries have fought to keep and expand DST because they think it's good for business.
According to Reader's Digest, the candy industry had lobbied hard for an extension of DST since the 1980s. In 2005, it got its wish when President George W. Bush signed a law extending DST by four weeks to the first Sunday in November. The new timeline allowed Halloween to sneak in just under the wire for an extra hour of trick-or-treating.
Make Your Money Work for You
NPR reported in 2007 that the petroleum industry has been aware since at least 1930 that fuel consumption increases during DST, and that the barbecue and golf industries credit DST for hundreds of millions of dollars in increased sales.
Workplace Productivity Plummets One Day in Spring
DST's detractors have plenty of ammunition, too.
In 2014, a series of research studies revealed that on the Monday after the DST changeover in spring, the country goes to work with the equivalent of a hangover. The New York Times reported on the research, which found that even though the 2 a.m. time change happens on Sunday am, it still robs most people of about 40 minutes of sleep the night before work on Monday — and those 40 little lost minutes are a big drain on workplace productivity.
The research showed that mining injuries jumped by 6% the day after the changeover, with many of the extra injuries being severe enough to have a real economic impact. Lost workdays due to injury skyrocketed by 67% — that's 2,600 extra workdays missed thanks to the groggy Monday morning after the DST changeover.
Make Your Money Work for You
Those who weren't injured were much more likely to be mailing it in on the job. What the Times called "cyberloafing" — slacking off online instead of working — increased by 20%. All in all, springing forward robs the economy of around a half-billion dollars, and none of that lost productivity and missed work is regained when the clocks refund the missing hour in the fall.
More From GOBankingRates
Last updated: Nov. 4, 2021
Make Your Money Work for You