What Does a Pandemic Inauguration Cost for D.C.?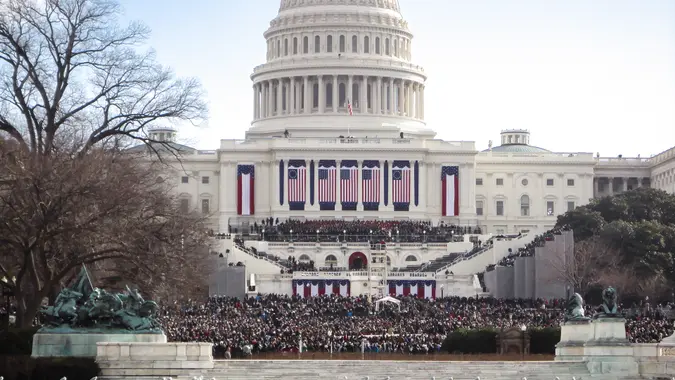 JRAphotographics / Shutterstock.com
Inaugurations are expensive events, with the estimates for recent inauguration festivities sitting at around $200 million, The New York Times reported. The costs to put on the inaugural events are covered by a combination of funding sources, including the Joint Congressional Committee on Inaugural Ceremonies, the Presidential Inaugural Committee, the federal government, and state and local governments — including Washington D.C.'s local government.
Find Out: What Is Joe Biden Costing You This Week?
Although Congress is supposed to reimburse the District of Columbia for some of its costs related to the inauguration events, as of June 2019, D.C. was still owed $7 million in costs stemming from President Donald Trump's 2017 inauguration, The Washington Post reported. The city had spent a total of $27.3 million, including $14 million for D.C. police deployments, $3.6 million for fire and emergency medical services and $2.2 million for transportation services.
Read More: Pence to Attend Biden's Inauguration, But at What Cost?
Although D.C. expends a lot of cash for the inauguration, it's usually a boon for the local economy. The Washington Times reported that the inaugural events for Trump were expected to bring in $1 billion to local businesses, including hotels, restaurants and retail stores, with 1 million people expected to flock to D.C. for the celebrations. For the 2017 inauguration, hotel rooms in Washington, D.C., were going for 927% more than average prices for the week of the ceremony, according to travel website Trivago, MarketWatch reported. In addition, Airbnb reported that 15,100 guests had booked stays for inauguration week.
But, unfortunately for The District, things will be looking very different this year. The Presidential Inaugural Committee has asked that Americans stay home and celebrate virtually amid growing security concerns on top of a raging pandemic. And on Jan. 11, Mayor Muriel Bowser issued an order that would suspend indoor dining and museums through Jan. 22.
Make Your Money Work for You
Keep Reading: How Much White House Staffs Have Been Paid for the Past 18 Years
Airbnb and local hotels also won't bring in their usual inauguration cash. On Jan. 13, Airbnb and its subsidiary HotelTonight announced that it is canceling all booked reservations in the Washington, D.C., metro area during President-elect Joe Biden's inauguration in compliance with officials' pleas to not attend the event in person, USA Today reported.
This year's inauguration will bring less tourism money in, and the city is likely to expend more funds than usual for security and safety. Washington, D.C., has deployed its full police force of 3,700 officers for the event, and city officials are also expending additional resources to prevent the spread of the coronavirus, The Washington Post reported. The extra expenses include staffing for 10 first-aid stations downtown, coronavirus testing for law enforcement traveling to D.C. from other states and contact tracing for emergency responders. Trump has granted an emergency declaration presented by Bowser that will have the federal government reimburse D.C. for costs related to emergency protective measures.
More From GOBankingRates