Pence to Attend Biden's Inauguration, But at What Cost?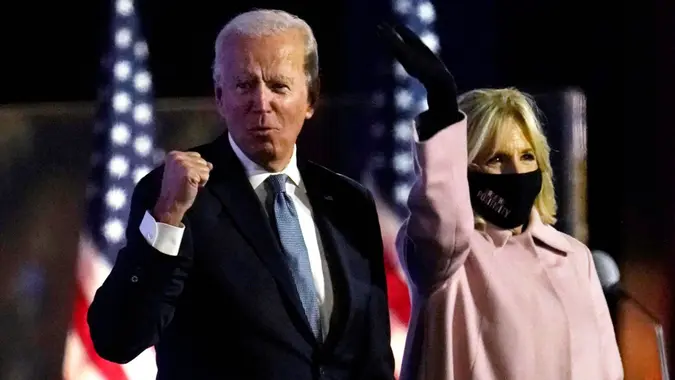 ©Paul Sancya/AP/Shutterstock
Most people have had to forego extravagant events, or even small parties, since March 2020 due to the coronavirus pandemic. Concerts, birthday parties and even weddings faced cancellations in an attempt to slow the spread of COVID-19.
See: Justin Bieber, Billie Eilish and Other Musicians Set to Lose Millions to COVID-19
Find: 8 Momentous Times Sports Were Canceled Throughout History
While Washington, D.C. has vastly scaled back the Jan. 20 presidential inauguration, the event will go on, with in-person attendance limited to members of Congress, each of whom may bring one guest. Outgoing Vice President Mike Pence has reported that he will attend the inauguration, in contrast to President Trump, who tweeted that he would not be going shortly before Twitter permanently suspended his account. Biden told The New York Times that Pence was "welcome" at the event and his presence would help ease the transition.
The inauguration and related activities that go along with the transfer of power, like so many happenings in 2020, will be live-streamed on multiple networks and streaming services for people to view. Biden's inaugural committee chair, Rep. James E. Clyburn (D-S.C.), told The Washington Post that 75% to 80% of the inaugural activities on Jan. 20 will be virtual.
See: Why Streaming Services Will Still Be Worth the Extra Expense in 2021
Find: Cash and 21 Other Things Wiped Out by COVID-19
Even so, the inauguration will carry a hefty price tag. And right now, District of Columbia leaders and Congress are squabbling over who will foot the bill. Back in December, the District requested that Congress allocate $45 million to cover inauguration activities, including a not-so-small, but very necessary, security contingent at the swearing-in ceremony. Traditionally, the federal government pays for these expenses, while the District covers law enforcement, first responders, transportation and communication.
Make Your Money Work for You
Sources speculate that this year's inauguration should cost quite a bit less than the in-person galas of previous years. In July, the Joint Congressional Committee on Inaugural Ceremonies approved a $1.5 million budget for the event. However, that amount is only to cover the brief swearing-in ceremony and not other happenings.
See: The Wildest Things Your Taxes Are Paying For
Find: Crazy Financial Perks of Being President
Even with scaled-back virtual celebrations, increases in spending for crowd control, security and law enforcement could add up to a hefty sum this year. "The safety and security of all those participating in the 59th Presidential Inauguration is of the utmost importance," the Secret Service said in a statement.
As such, more than 6,000 National Guard troops have been called in to support Capitol Police, tall fences were erected around Capitol grounds and the National Nuclear Security Administration has had helicopters with state-of-the-art technology patrolling the area. These measures are expected to continue through Inauguration Day.
Like so many people who pushed planned events back to later dates in recent months, Clyburn revealed to The Washington Post that the administration may plan a "livelier celebration" of Biden's presidency to take place on the Fourth of July.
Make Your Money Work for You
More From GOBankingRates:
Make Your Money Work for You