What Is Joe Biden Costing You This Week?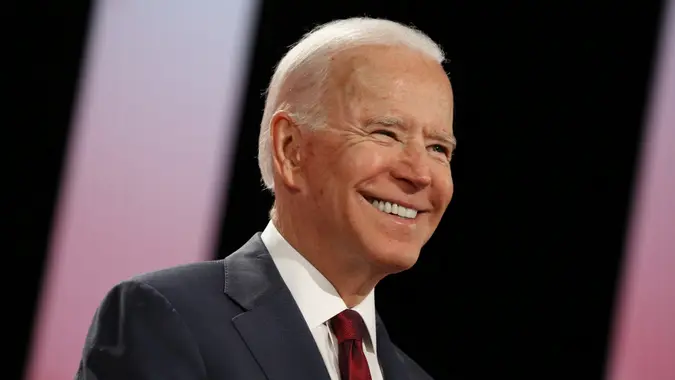 Matt Baron / Shutterstock.com
President-elect Joe Biden's inauguration this week will certainly be scaled-down compared to previous inauguration events — but that doesn't mean it won't take a big chunk of taxpayer dollars. While attendance will be limited and Biden's planning committee has announced that the traditional parade will "be more virtual than physical," there are sure to be added security costs this year, plus extra costs associated with keeping people safe amid a pandemic.
Washington, D.C., has requested $45 million from Congress to cover security in preparation for heightened unrest around Inauguration Day. The city originally requested $35 million, but has since upped its ask by $10 million, The Washington Post reported. Add on the costs for security personnel from other state, local and federal agencies — including the Secret Service, the FBI and the National Guard — and it's easy to rack up a tab of $100 million, The New York Times reported. Those costs will eventually be paid for by the federal government — aka taxpayer dollars.
See the Numbers: What It Costs Taxpayers for the President To Go on Vacation
Taxpayer funds also are used to pay for the actual swearing-in ceremony, which is hosted by the Joint Congressional Committee on Inaugural Ceremonies. This costs slightly over $1 million — which includes the cost to erect an elaborate stage on the Capitol grounds — and is paid for by the federal government, The Washington Post reported.
Make Your Money Work for You
Not everything is paid for via taxes, however. Typically, about $70 million of an inauguration's costs are covered by private donations; taxpayers are left to cover the rest of the bill, which in past years has been in the range of $175 million to $200 million, The Washington Post reported.
Find Out: How the Stock Market Performed Under Each President
If you've donated to Biden's Presidential Inaugural Committee, your funds are being used for the "fun" aspects of an inauguration — typically the dinners, luncheons, concerts and balls. However, because this year's inauguration is being held during a pandemic, these funds are now being used to pay for high-profile virtual events, including a prime-time special hosted by Tom Hanks and a virtual "Parade Across America."
More From GOBankingRates
Make Your Money Work for You