A Look at Joe Biden's Wealth as He Campaigns To Be the Democratic Presidential Nominee
The former VP joins a crowded 2020 Democratic field.
Former Vice President Biden took the stage on the second night of the Democratic debate on June 27.
Biden once described himself as "the poorest man in Congress."
His salary as vice president was $230,700.
Former Vice President Joe Biden took the stage on June 27 for the second night of 2020 Democratic presidential debates, which touched on topics such as race, age and ideology.
He shared the stage with Marianne Williamson; former Colorado Gov. John Hickenlooper; Andrew Yang; South Bend Mayor Pete Buttigieg; Sen. Bernie Sanders, D-Vt.; Sen. Kamala Harris, D-Calif.; Sen. Kirsten Gillibrand, D-N.Y.; Sen. Michael Bennet, D-Colo.; and Rep. Eric Swalwell, D-Calif..
If elected, Biden or Sanders will be the oldest president to serve in office. This was a heated topic of conversation in the debate, with California Rep. Eric Swalwell, 38, criticizing Biden's age.
"Joe Biden was right when he said it was time to pass the torch to a new generation of Americans 32 years ago," Swalwell said.
Biden responded: "I'm still holding onto that torch."
The former vice president also defended the role of private insurance, elaborating on the role it played in the car accident that killed his wife and daughter and injured his sons many years ago.
Biden's name recognition as former President Barack Obama's VP may give him a competitive edge. In a recent Quinnipiac University poll, Biden was ahead 53% to Trump's 40%. And a recent Economist/YouGov poll found that Biden comes out on top: 26% of those polled said that if the Democratic primary were held tonight, they would vote for him. Biden is trailed by Sen. Warren (16%) and Sen. Sanders (12%).
Biden joined the crowded Democratic field for 2020 after he officially announced his candidacy for president on April 25.
"If we give Donald Trump eight years in the White House, he will forever and fundamentally alter the character of this nation — who we are," Biden said in a video posted on social media. "And I cannot stand by and watch that happen."
As Biden plans the next steps of his presidential campaign, take a look at the wealth of America's 47th vice president.
Birthdate: Nov. 20, 1942
Net worth: $900,000
Main sources of income: Vice presidential salary
Career highlights: Helped lead country for eight years under the Obama administration
Find Out: Is Your Representative One of the 10 Poorest People in Congress?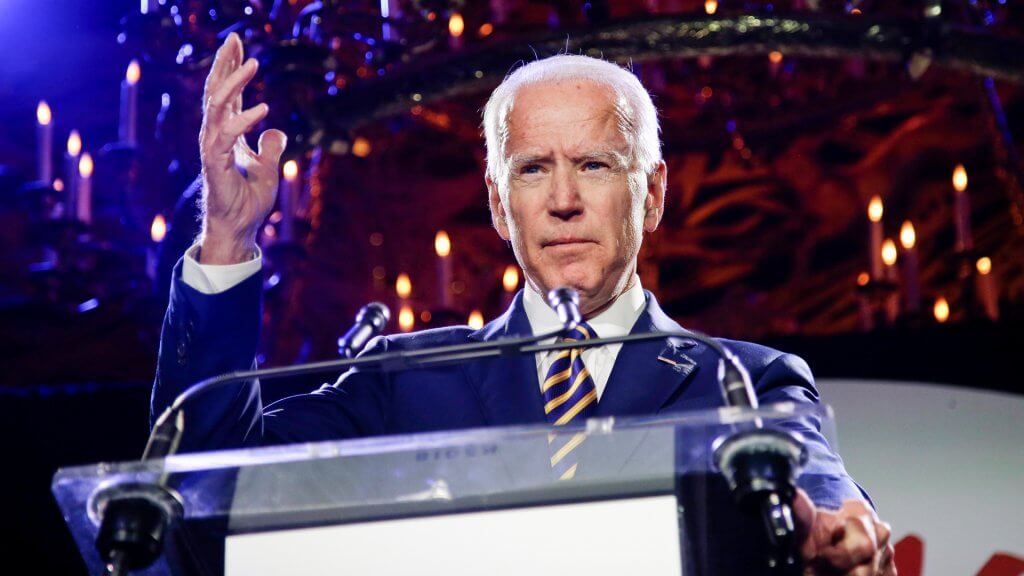 Joe Biden's Net Worth: $900,000
Joe Biden's net worth is $900,000, according to Celebrity Net Worth. Most of his wealth likely comes from his eight years as vice president, during which he received an annual salary of at least $230,700. However, his pension might total more than $248,000 per year.
By Biden's own admission, he considered himself "the poorest man in Congress" and said that he had no listed investments, ABC News reported in 2014. On the other hand, his 2015 tax return, which was filed jointly with his wife, Jill Biden, also showed that they had an adjusted gross income of $392,233.
Also See: From Assistant to Senior Adviser — How Much Trump's Staff Makes
Joe Biden's Political Career
Biden was elected to the Senate from the state of Delaware in 1972 when he was 29, becoming one of the youngest senators in history. His first wife and young daughter were killed in an automobile accident only weeks after his appointment, an event that influenced his decision to commute to the Senate by train.
During his time in the Senate, Biden presided over several governmental boards, serving as chairman of the Senate Foreign Relations Committee and chairman of the Senate Judiciary Committee. He ran for president twice, once for the 1988 race and again for the 2008 presidential election.
Some of Biden's political highlights include:
1990: Introduced the bill that became the Violence Against Women Act, which addressed domestic abuse and violence
2002: Voted to authorize military intervention in Iraq, but later criticized the conflict
2010: Assisted in the passing of the 2010 Affordable Care Act
Keep reading to see how past presidents and vice presidents are staying wealthy.
More on Net Worths
Alexandria Bova contributed to the reporting for this article.
Financial figures are accurate as of Dec. 4, 2018.