How Much Is Barack Obama Worth?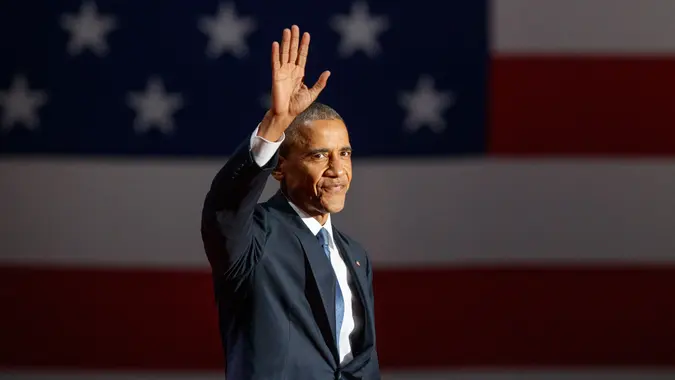 John Gress Media Inc / Shutterstock.com
Since leaving the White House, Barack Obama has continued to do very well for himself financially. The former president released the first volume of his memoir, "A Promised Land," in November 2020; by December 2020, it had sold 3.3 million copies, becoming one of the top-selling political memoirs in history. Aside from the success of his memoir, Obama and former first lady Michelle Obama also signed a lucrative Netflix deal in 2018.
Celebrity Net Worth reported the former president's net worth as $70 million. According to an estimate by Analytics@American, American University's business analytics program, however, Barack and Michelle Obama could make as much as $242.5 million post-presidency.
Net worth: $70 million
Date of birth: Aug. 4, 1961
Primary sources of wealth: Presidential salary and pension, book and Netflix deals
Career highlights: Former president, Nobel Peace Prize
Barack Obama's Net Worth: $70 Million
Obama has an estimated net worth of $70 million, according to Celebrity Net Worth, in part due to earning $400,000 a year throughout his entire eight-year term as president of the United States.  On April 15, 2016, Obama released his 2015 tax returns, which showed that the former president and Michelle Obama filed jointly and reported an adjusted gross income of $436,065. They paid $81,472 in taxes according to their 18.7% tax rate. They also donated a total of $64,066 to more than 30 charities.
Make Your Money Work Better for You
A Timeline of Barack Obama's Wealth
How did Obama grow his fortune? Here's a timeline of his accomplishments that have added to his earnings over the years, as chronicled by Business Insider:
2004: He earned a salary of $80,287 from the Illinois Senate and $32,144 from the University of Chicago Law School, where he lectured. Obama also had investments in three different assets — including the Vanguard Wellington Fund — evaluated between $100,000 and $200,000.
2005: Obama received a multi-book deal with Random House and was given a $1.9 million advance after January 2005 for "The Audacity of Hope," plus royalties, following his appearance at the 2004 Democratic National Convention. He also earned just over $847,000 that year from another book advance for "Dreams From My Father," plus $378,237 from additional book royalties.
2006: Obama reported book royalties for "Dreams From My Father" of a little less than $150,000, plus $425,000 from royalties for "The Audacity of Hope."
2007: Obama earned almost $3.3 million from Random House book royalties and almost $816,000 from Dystel & Goderich for "Dreams From My Father." He acquired U.S. Treasury notes valued between $500,000 and $1 million, and he invested in two 529 college savings plans — valued at between $50,000 and $100,000 each to start — for his daughters.
2008: When Obama was elected president, he owned somewhere between $1.1 million and $5.1 million in U.S. Treasury bills.
2009: Obama won the Nobel Peace Prize, which came with a $1.4 million award. He donated it to a number of different charities.
2009-2015: Obama earned $400,000 a year as president and continued to earn book royalties, as well as interest on his investments.
2016-2017: Newsweek reported that Obama's annual pension after leaving the White House is more than $200,000. He has also received fees as large as $400,000 for public speaking events. The Obamas also signed a book deal together with Penguin Random House reportedly worth more than $65 million for two books — one written by each member of the power couple.
2018: The Obamas founded Higher Ground Productions and signed a production deal with Netflix.
2020: Barack Obama released his latest book, "A Promised Land." The book is part of an unprecedented $65 million deal that also included Michelle Obama's memoir.
Barack Obama's Life Beyond the Presidency
Obama is now one of five living former presidents, and he has returned to his community activist roots, working on issues that were important to him during his presidency, such as gun control, immigration, nuclear nonproliferation, race relations and criminal justice reform. Through various organizations, social media, speaking engagements and his production company, Obama continues to raise awareness of these issues and pursue social change.
According to the 1958 Former Presidents Act, Obama will receive the salary of a cabinet secretary for the rest of his life. That amount is his $205,700 annual pension. Among the other perks are health insurance and round-the-clock Secret Service protection until his death.
Make Your Money Work Better for You
In addition to Secret Service protection, Obama will also receive funds for an office, staff and related expenses.
Barack Obama's Netflix Deal
Obama is gearing up to increase his sphere of influence — and potentially his net worth — as a producer. He and Michelle Obama signed a deal to produce series and films for Netflix in 2018. 
"Barack and I have always believed in the power of storytelling to inspire us," Michelle Obama said in the official announcement.
Netflix did not disclose the financial details; The New York Times, however, reported that similar deals have been valued at tens of millions over several years.
Among other titles, the Obamas have released the following documentaries under the banner of their production company, Higher Ground Productions: "American Factory," which won an Oscar, "Becoming" and "Crip Camp," which has the rare distinction of holding a 100% fresh rating on Rotten Tomatoes. The docuseries "Our Great National Parks," which features Obama as narrator, was released on Netflix last month. Forthcoming titles include a sci-fi film called "Satellite," a YA series called "Firekeeper's Daughter," and several more features. 
Make Your Money Work Better for You
Barack Obama's Speaking Fees
Many presidents establish foundations and enjoy lucrative second careers as in-demand speakers and authors, and the Obamas are as popular as ever. The former president gave a speech in September 2017 at a healthcare conference run by the trading and investment firm Cantor Fitzgerald, according to The New York Times. His fee for that event was reported to be $400,000, the same as his presidential annual salary.
Analytics@American estimated that the Obamas could make about 50 speeches a year, earning "a conservative $200,000" per speech.
Barack Obama's Real Estate
Obama is the first former president in nearly 100 years to remain in Washington, D.C., after leaving office. He and the family remained in town so his youngest daughter, Sasha, could finish high school. She graduated in June 2019.
Their digs are located in the area's posh Kalorama neighborhood. The Obamas bought the house for $8.1 million, according to CNBC. They also kept their Chicago home in the historic Hyde Park neighborhood.
Sam DiSalvo, Stephanie Barbaran and Joel Anderson contributed to the reporting for this article.
Our in-house research team and on-site financial experts work together to create content that's accurate, impartial, and up to date. We fact-check every single statistic, quote and fact using trusted primary resources to make sure the information we provide is correct. You can learn more about GOBankingRates' processes and standards in our editorial policy.
Make Your Money Work Better for You