7 of Trump's Most Valuable Properties Exposed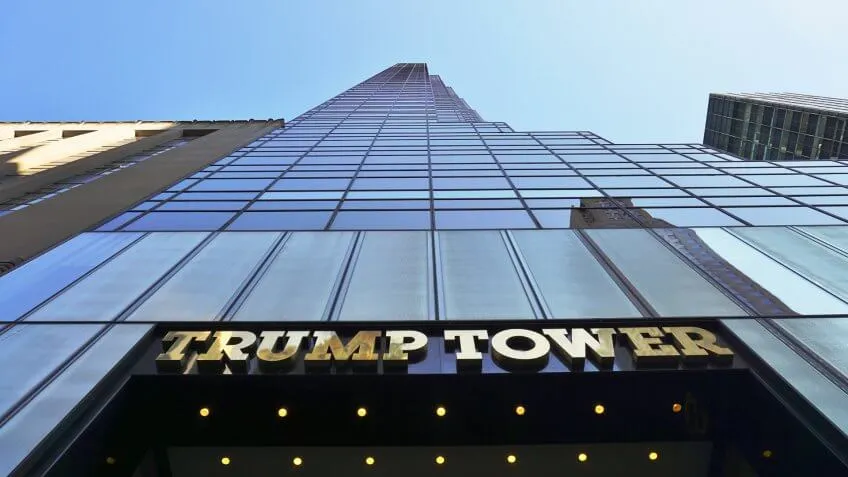 EQRoy / Shutterstock.com
Real estate mogul Donald Trump is about to become the richest president in U.S. history. Forbes estimated his net worth is currently $3.7 billion — largely due to the vast array of Donald Trump properties around the globe.
Properties named after Trump run the gamut from office space and condo buildings to golf clubs, hotels and even a winery. In total, he has an ownership stake in more than 30 U.S. properties, according to The New York Times. Take a look at some of the most expensive buildings in his collection to learn more about Trump's fortune.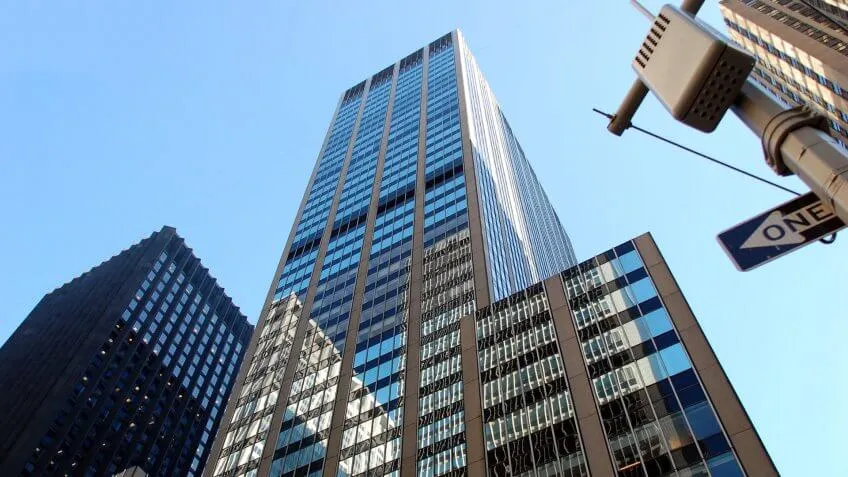 Fletcher6 / Wikimedia Commons
1290 Avenue of the Americas, New York City — $2.31 Billion
The most expensive property in the Donald Trump real estate portfolio is the 45-story office building — with retail space — at 1290 Avenue of the Americas in New York City. A purchase marred by controversy, Trump had a 30 percent stake in the building since 2006, when his Chinese business partners sold a 78-acre piece of land they co-owned with him on New York's Upper West Side for $1.76 billion.
A move vehemently opposed by Trump, the proceeds were used to purchase 1290 Avenue of the Americas and 555 California Street in San Francisco. Forbes estimated his share of the building is currently worth $409 million.
Built in 1964 and restored in 2013, the office building encompasses an entire Manhattan block. The lavish space has an all-white lobby and the upper floors of the building feature Central Park views.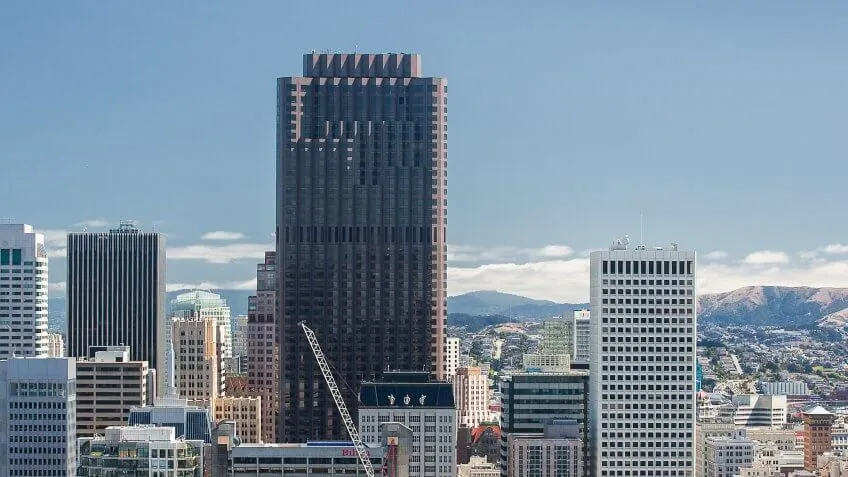 Capture Light / Shutterstock.com
555 California Street, San Francisco — $1.6 Billion
The other property Trump passively acquired from his partnership with Chinese investors is 555 California Street in San Francisco. He officially became a 30 percent owner in 2006. The value of his stake is estimated at $317 million.
Vornado Realty Trust now owns 70 percent of this building and 1290 Avenue of the Americas. The partnership between Trump and the publicly traded real estate investment trust is expected to remain intact until 2044.
Formerly the Bank of America building, 555 California Street is one of the Bay Area's tallest. The 52-story skyscraper has been towering over the city since 1969.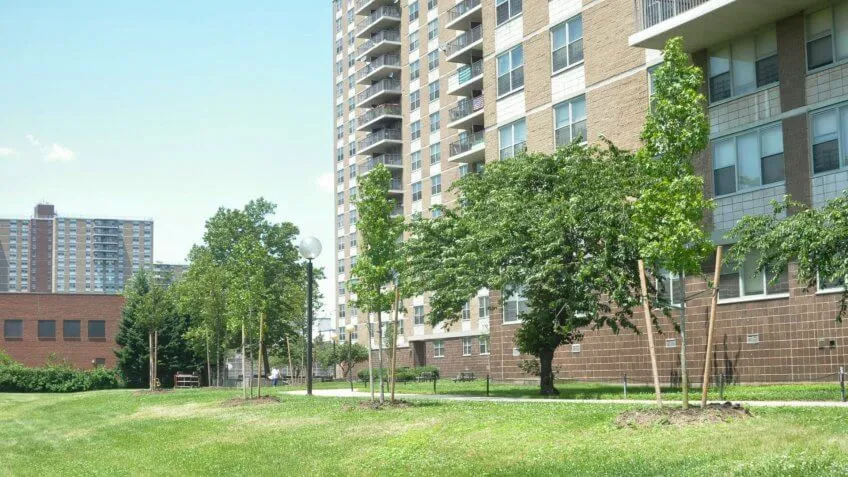 Community Environmental Center / Flickr.com
Spring Creek Towers, Brooklyn, N.Y. — $1 Billion
His 4 percent ownership stake isn't significant, but the overall value of Spring Creek Towers makes it one of the priciest properties in the Donald Trump real estate portfolio. Acquired by Trump's father Fred, his portion of the Brooklyn, N.Y., apartment complex is valued at $25 million.
Formerly known as Starrett City, the government subsidized apartment complex has been home to low and middle-income families since 1974. The 46-building complex is the largest public housing rental development in the U.S.
Consisting of 5,881 apartments, Spring Creek Towers describes itself as a self-contained community. Lush with open-air space, 84 percent of the 153-acre spot features outdoor recreational facilities, including parks, bike paths and playgrounds.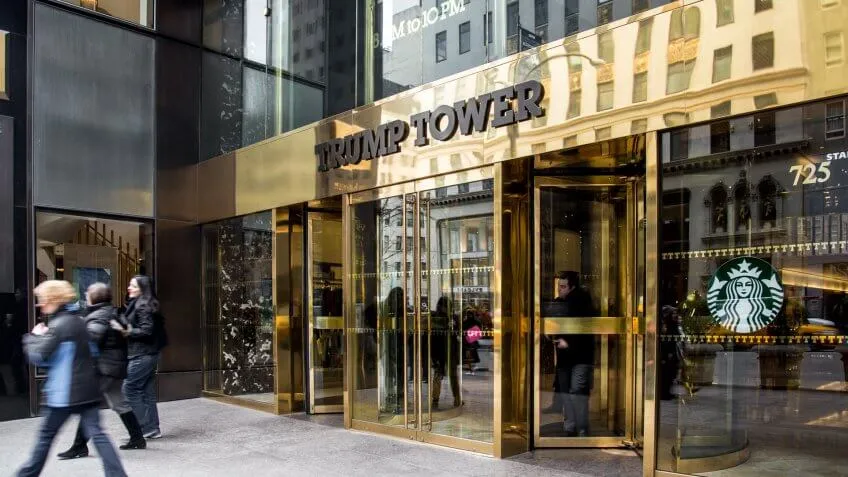 littleny / Shutterstock.com
Trump Tower, New York City — $471 Million
Trump Tower, perhaps the most famous of all properties named after Trump, presides over prestigious Fifth Avenue in Manhattan. Valued at a total of $471 million, the president-elect's 244,000 square feet stake in the skyscraper is worth an estimated $371 million.
Originally an 11-story building, Trump purchased the property in 1979 and transformed it into a 68-story mixed-use building. The skyscraper serves as The Trump Organization headquarters, the site of the famed boardroom on "The Apprentice" and the home of Trump himself.
Worth an estimated $100 million, Trump shares his three-story penthouse — encompassing floors 66 to 68-- with his wife Melania and youngest son Barron. Reportedly designed to resemble the Palace of Versailles, it's just as lavish as you'd expect.
"GOAT: A Tribute to Muhammad Ali" — a limited edition book worth an estimated $15,000 — graces the coffee table, Melania has a nearly $10,000 Louis Vuitton jewelry case and Barron has a personalized toy Mercedes. The luxurious apartment also features a gold and diamond front door, an array of classical art, elegant candelabras and Louis XIV-inspired chairs — just to name a sampling of the extravagant décor.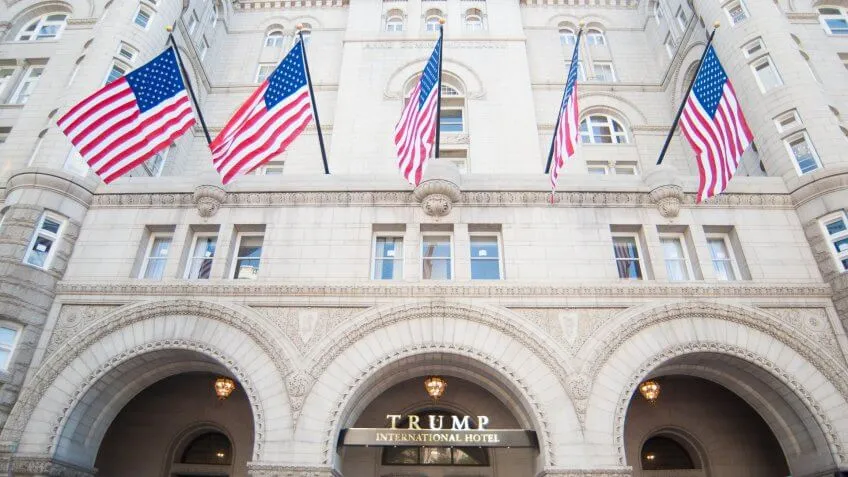 Rena Schild / Shutterstock.com
Trump International Hotel, Washington, D.C. — $229 Million
One of the most recent sites to join the family of Donald Trump properties, Trump International Hotel Washington, D.C., opened in September 2016. Located in the Old Post Office building — a historic landmark since 1973 — the five-star hotel has already become a hot spot among foreign leaders and conservative groups.
Trump owns the ground lease for the building through 2075, ensuring he'll maintain a presence in the city long after he's out of office. Forbes estimated the total value of the building at $229 million.
This luxury hotel has been booked for inauguration week festivities since at least early December, so if you don't already have a reservation, you're out of luck. If you can't wait to see the results of the building's $200 million restoration, grab a drink at the Benjamin Bar & Lounge or book an appointment at The Spa by Ivanka Trump.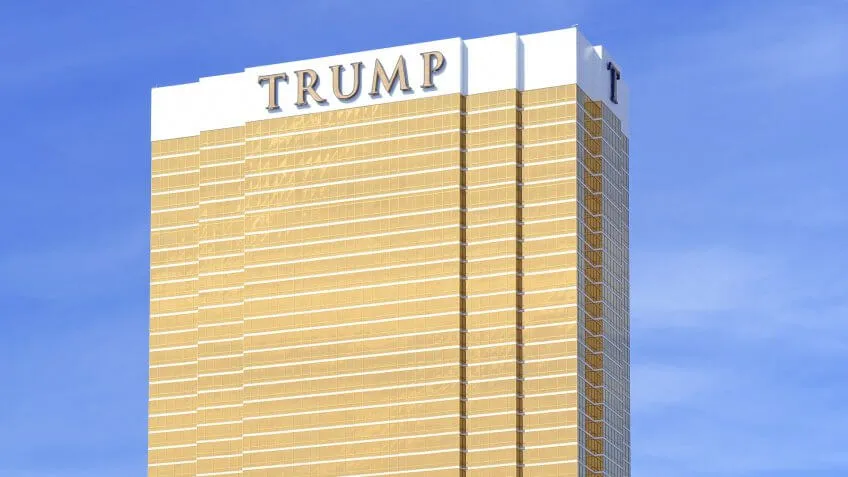 robert cicchetti / Shutterstock.com
Trump International Hotel, Las Vegas — $156 Million
Opened in 2008, Trump International Hotel Las Vegas towers 64 stories above the famed Las Vegas Strip. According to the Trump Organization, the majestic five-star hotel is wrapped in 24-karat gold.
Worth an estimated $156 million, Trump has a 50 percent stake in his Las Vegas namesake, bringing his total ownership value to $69 million. The sprawling property includes 1,282 luxury hotel and condo suites, ranging in size from studios to three-bedroom suites.
The property features many luxury amenities, including an 11,000-square foot spa and a roof deck pool with air-conditioned cabanas. Prices for rooms at the hotel average $129 to $400, according to TripAdvisor.
Keep Reading: 50 Splurges of the Filthy Rich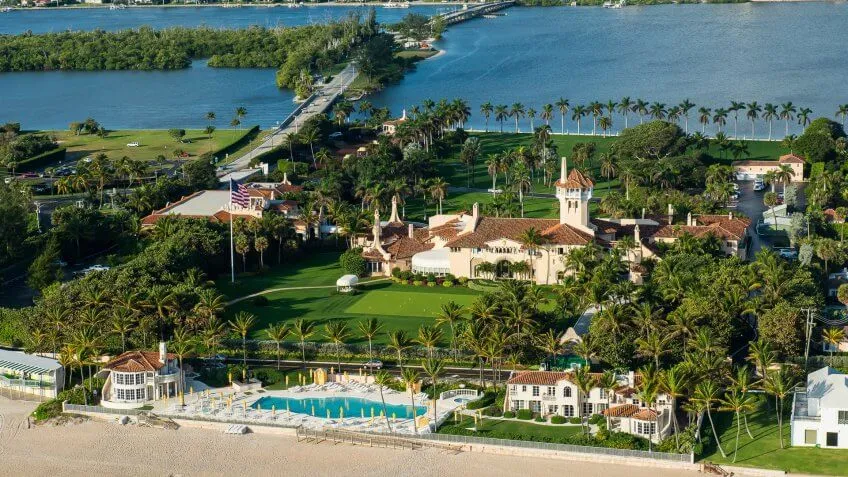 FloridaStock / Shutterstock.com
Mar-A-Lago, Palm Beach, Fla. — $150 Million
Once a presidential summer vacation spot owned by the federal government, Trump's Mar-A-Lago will soon become a getaway for the commander-in-chief once again. Now a private club, the property joined the ranks of Trump buildings in 1985, when he purchased it for $5 million.
Valued at $150 million, Trump owns 100 percent of the 20-acre property. Membership to the exclusive club comes with a steep price tag — a non-refundable $100,000 initiation fee, annual dues of $14,000 and required minimum $2,000 annual food and beverage spend.
A property with special meaning to the family, Trump and his sons Donald Jr. and Eric held their weddings at Mar-A-Lago. Trump maintains a private residence at this tropical enclave.
Read: Barack Obama's Net Worth as He Leaves the White House
All prices listed are estimated values from Forbes.