A Recession + 'Market Mayhem' Could Come if US Defaults on Debt, Says Goldman Sachs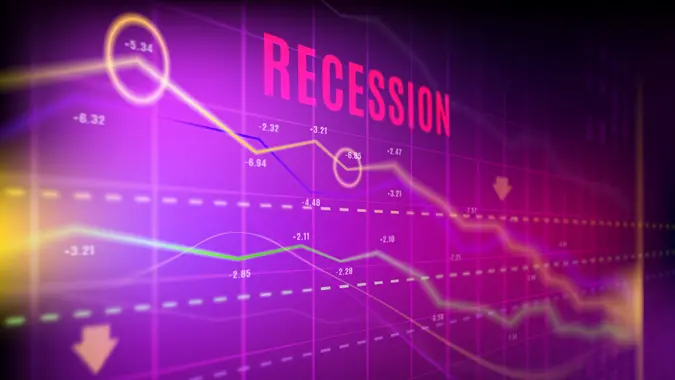 seamartini / Getty Images/iStockphoto
The fate of America's financial future is at stake now that the country reached its $31.4 trillion debt ceiling limit as of Jan. 19. And unless Congress acts to raise the debt ceiling by June 5 to avoid total default, the outlook will not be good, according to many financial experts.
See: 2023's Housing Correction Could Be the Largest Since Post-WWII
Read: Protect Your Financial Future With Gold and Silver
Find: How 2023 Recession Will Differ From 2008 and How You Should Prepare Differently
In addition to a report from Moody's earlier this week that warned there could be 6 million jobs lost and a possible 7% unemployment rate, now financial giant Goldman Sachs has offered their take on what will happen later this year if the U.S. defaults on debts. Goldman Sachs experts believe there could be a full-blown recession and "market mayhem" in such an event.
"If there were any doubt about the U.S. government's ability or willingness to make interest and principal payments on time, that could have very, very adverse consequences," Goldman Sachs chief economist Jan Hatzius told CNN.
Hatzius said payments on U.S. Treasuries are "maybe the most important asset in the global economy," though he was a bit more optimistic on the idea of a recession. Hatzius said that any recession would likely happen after the 2024 presidential election — if it does at all — however, not tackling the debt ceiling will add to the probability of it occurring.
Make Your Money Work for You
Though Hatzius also noted that if Congress does reach a deal to handle the looming debt crisis, then he believes we could avoid the prospect of recession altogether. The Goldman Sachs economist placed the chances of recession at 35%, as compared to Wall Street more broadly offering up a 65% chance of such a scenario, per CNN.
Hatzius Remains Optimistic On Recession Odds
And even though Goldman Sachs has laid off employees, following a trend of major tech companies handing out pink slips, Hatzius believes the country won't lose mass jobs on a monthly basis — and that the labor market will have "gradual" shifts. He also pointed to the fact that inflation has "pretty clearly peaked" as another sign the U.S. economy could be okay, as long as Congress works together to pass measures to tackle the debt ceiling.
So far, Republicans and Democrats are at an impasse, as GOBankingRates previously reported. While Democrats are largely in favor of raising the debt ceiling limit, Republicans are seeking negotiations with the Biden administration over the matter — generally seeking some cuts to discretionary spending in return for their support.
Discover: Take Our Poll: How Do You Think the Economy Will Perform in 2023?
More: Manchin Proposes 'Easiest' Social Security Fix In Response to Debt Ceiling — Would Biden Agree?
As CNN noted, Congress usually does end up reaching a deal — though usually at the last minute — which may put some anxious minds at ease.
Make Your Money Work for You
More From GOBankingRates
Make Your Money Work for You