Stimulus 2024: How a Trump Election Could Impact the Future of Stimulus Checks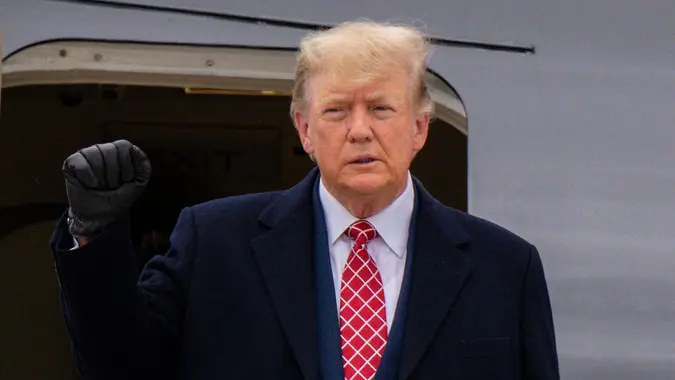 Stuart Wallace/Shutterstock / Stuart Wallace/Shutterstock
The potential return of Donald Trump in the 2024 presidential election has ignited discussions about the future of stimulus checks, a pivotal economic relief measure initiated during his first term.
Trump's previous advocacy for substantial stimulus checks has led to speculation and consideration about whether he would reinstate or modify said payments if re-elected.
Trump's Advocacy for Substantial Stimulus
During his presidency, Trump played a crucial role in the implementation of stimulus checks, emphasizing the need for substantial financial relief for Americans. In December 2020, he advocated for increasing the amount of stimulus checks from $600 to $2,000, highlighting his association with this economic relief measure, per Vox.
Trump was vocal about his desire to provide more substantial relief to the American people, stating, "I have told congress that I want far less wasteful spending and more money going to the American people in the form of $2,000 checks per adult and $600 per child," as reported by Newsweek. He continued to emphasize the inadequacy of the $600 payments, asserting, "$600 is not enough," and urging for immediate approval of the $2,000 payments.
This advocacy was not without its challenges, facing pushback within the GOP-controlled senate. Despite the resistance, Trump continued to push for stimulus checks of $2,000 for most Americans, emphasizing the urgency with tweets like "$2,000 ASAP!" However, the 116th Congress would adjourn without passing such a measure, according to USA Today.
Make Your Money Work for You
Speculations and Economic Considerations
The discussions surrounding the potential impact of a Trump election on stimulus checks are inherently speculative due to the absence of explicit proposals or statements from Trump regarding his intentions or plans for future stimulus payments.
However, the economic conditions and the overall financial stability of Americans will be crucial factors in determining the need for additional economic relief measures.
It should be mentioned that Trump's previous advocacy of heavy stimulus payments came about at the height of the COVID-19 pandemic, and conditions today are quite dissimilar.
Expert Opinions
Economic experts and political analysts have weighed in on the stimulus more broadly in recent years. According to FiveThirtyEight, Tara Sinclair, a professor of economics at George Washington University, commented on the positive impact of the stimulus checks, saying, "I hope we don't forget how awesome it was that we supported people so well and that we recovered as quickly as we did."
However, there are concerns regarding the inflationary impact of such substantial stimulus measures. Thomas Philippon, a professor of finance at New York University's Stern School of Business, highlighted the role of stimulus checks in creating excessive demand and subsequently, inflation. "The demand boost was very large in the U.S., and the stimulus checks were a large part of it," Philippon stated during his interview with FiveThirtyEight.
As the publication detailed, "There is also evidence that the stimulus, especially the last round [referencing 2021 payments], likely stoked higher and higher prices for the very people it was intended to help," ushering in an era of soaring inflation.
Trump Election Win, Potential Stimulus Remains Guesswork
The prospect of Trump's return to the presidency in 2024 brings with it a myriad of speculations and discussions about the future of stimulus checks. While his previous stance and actions regarding stimulus payments provide a basis for consideration, the lack of concrete proposals and the changing economic and political landscapes leave little but guesswork on the table.
Make Your Money Work for You
Editor's note: This article was produced via automated technology and then fine-tuned and verified for accuracy by a member of GOBankingRates' editorial team.
More From GOBankingRates