Summer Gas Prices: How the Unrest in Russia Could Impact What You Pay at the Pump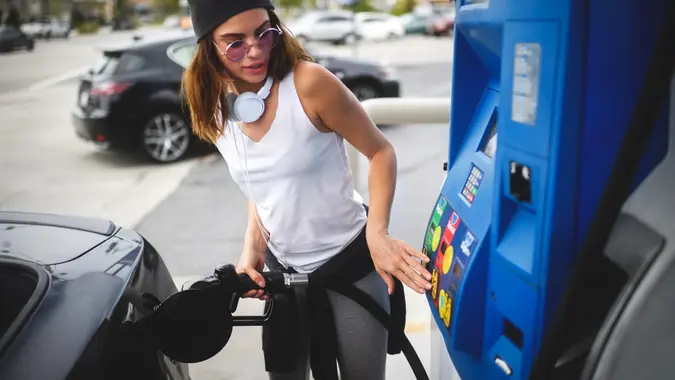 EXTREME-PHOTOGRAPHER / iStock.com
Despite Western sanctions imposed in the wake of its full-scale invasion of Ukraine in February 2022, a slumping Russia remains one of the biggest suppliers of energy to global markets, including China and India. However, continued unrest in the country could have economic consequences globally, and for Americans in particular, at the gas pumps this summer.
U.S. crude oil prices are down by almost 14% this year to just under $70 a barrel, per CNN. Brent crude, the international benchmark, is down about 7% as of July 5, closing at $76.25 on July 4.
However, oil and natural gas prices climbed after the short-lived Russian insurrection at the end of June, and although the challenge to the 23-year rule of Vladimir Putin seems to have ended, it sparked debate over whether further turmoil could disrupt supply and inflate prices.
"This seemingly attempted coup only brings uncertainty, which could be reflected through into higher prices," said Kpler lead Americas oil analyst Matt Smith after the Wagner Group rebellion that began on June 23.
"Such upheaval and uncertainty as we have seen in recent days could bring support to prices given the potential for supply disruptions — and the fear of them," Smith added.
There is still much to be resolved in the Russia-Ukraine conflict, with both sides promising offensives and retribution this summer. These actions could fall directly in line with peak seasonal consumption and pricier summer gas blends.
Make Your Money Work for You
Add in supply affected by depressed oil inventory levels, ongoing OPEC-initiated oil production cuts and the lifting of COVID restrictions by China, and Americans could be looking at a series of surprisingly expensive trips to the gas station over the next couple of months.  
Andy Lipow, of Lipow Oil Associates, explained the dichotomous nature of the oil market's future path to Yahoo Finance, saying, "The events in Russia lead the market to consider how much Russian oil production and exports could have been affected if Wagner took more territory or if Russia fell into a civil war."
"A contrarian view is that this is bearish [for] the oil markets because Putin will try to export every bit of Russian oil he can sell in order to raise money to pay off his supporters and keep the army on his side," he added.
A Russian collapse or an end to the war in Ukraine in the near future could provide some stability and hope to a volatile energy market that has been turned upside-down since Putin launched his invasion last February. Further unrest, on the other hand, could seriously impact oil and gas prices this summer, when demand is expected to outpace supply.
https://www.gobankingrates.com/category/money/economy/