Nearly a Third of Americans Could Lose Their Homes if They Got Laid Off, Survey Finds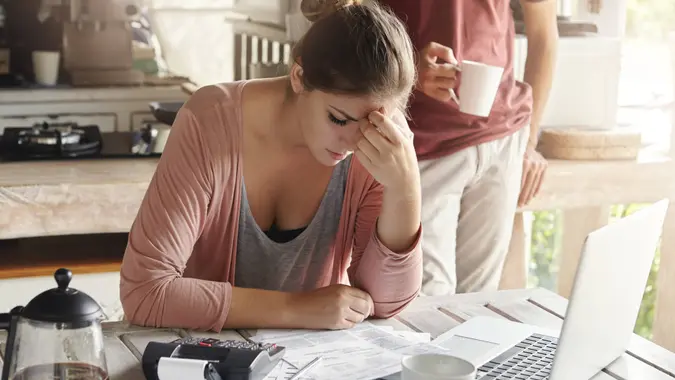 WAYHOME studio / Shutterstock.com
Housing affordability is a significant problem in the United States. This situation has only worsened in the past few years. A recent GOBankingRates survey found that nearly one-third of Americans surveyed (32.56%) are most worried they wouldn't be able to pay for housing if they got laid off. That figure is second only to the more general concern of being unable to pay bills (36.63% of respondents).
Check Your $2 Bills: They Could Be Worth Upwards of $4,500
With a Recession Looming: Make These 3 Retirement Moves To Stay On Track
Many factors are contributing to the worsening affordability crisis in the U.S. An increase in demand, fewer listings, and higher homeownership rates are among the key factors. We'll look at each factor and how the picture looks going forward.
The Housing Affordability Crisis
Americans' fears about being unable to pay for housing are not unfounded, as housing prices are surging. According to Pew Research, the national median sale price for a single-family home increased by 25%, from $327,100 in the fourth quarter of 2019 to $408,100 in the fourth quarter of 2021.
Make Your Money Work for You
"Banks will approve you for more mortgage than you can reasonably afford (up to 43%+ of gross income) when we should all strive to keep our housing less than 1/3 of our take-home income," said Jay Zigmont, PhD, CFP, founder of Childfree Wealth.
But spending that much of your income on housing is an issue, Zigmont says. "If a couple spends 43%+ of their gross income on housing, and one person loses their job, they can't afford it anymore and must make drastic choices."
The problem extends to renters, too. Pew notes over the past five years, rents have increased by 18%, which has outpaced inflation. And in 2020, 46% of American renters spent 30% or more of their income on housing, including 23% who spent at least 50% on housing. The Department of Housing and Urban Development (HUD) notes that any household that spends more than 30% of their income on housing is considered "cost-burdened."
Take Our Poll: Are You Planning To Buy or Sell a House This Year?
Contributing Factors
There are many reasons housing costs have risen so much in recent years. First, demand has increased. This has led to a decrease in the number of homes for sale.
Make Your Money Work for You
According to Pew, there were 408,922 active listings on the market. That number is less than half the approximately one million homes for sale in February 2020, near the start of the pandemic. It also notes that homeownership rates increased slightly in 2020 to 65.8%, which was up from 65.1% a year earlier.
The State of Housing Insecurity
Housing insecurity is a serious issue affecting millions of Americans. According to the National Alliance to End Homelessness, on any given night in 2020, over 580,000 people were experiencing homelessness in the U.S.
This number has steadily increased in recent years, and the COVID-19 pandemic has only exacerbated the issue. In addition to those experiencing homelessness, many more Americans are housing insecure. HUD says that "housing insecure" is an umbrella term encompassing many housing problems, including affordability, safety, quality, insecurity and loss of housing.
Job loss can be a substantial contributor to housing insecurity. The COVID-19 pandemic led to widespread job loss, with millions of Americans losing their jobs or experiencing reduced hours. Without a steady income, many individuals and families can't make rent or mortgage payments and may face eviction or foreclosure. This helps explain the worry some have about being able to pay rent or a mortgage if they were to lose their job.
Make Your Money Work for You
Another cause of housing insecurity is the lack of affordable housing. According to the National Low Income Housing Coalition, there is a shortage of over 7 million affordable and available rental homes for extremely low-income renters. Many low-wage workers spend much of their income on housing, leaving little room for other necessities like food and healthcare.
Potential Solutions
The housing market is highly complex with local and national trends. With so many groups of people involved, there isn't one single solution that will solve our problems without housing. However, we must address the problem.
"We must find ways to make housing more affordable and encourage people to buy a house only when they are truly ready," Zigmont said. "Being ready to buy a house (safely) means that you should be out of debt, have a 6 month emergency fund and 20% to put down. While having no debt and an emergency fund won't stop you from losing your job, it will provide a safety net if you do."
Many low-wage workers struggle to afford housing. Raising the minimum wage could increase their ability to make rent or mortgage payments. Also, an increase in the supply of affordable housing can help address housing insecurity. Government investment in affordable housing programs or incentivizing developers to build more affordable units could help make this a reality.
Another potential policy solution is to provide more comprehensive rental assistance programs. These programs can help individuals and families make rent payments and avoid eviction, providing a crucial safety net during financial hardship.
Community-based solutions can also play a role in addressing housing insecurity. Community land trusts, for example, allow residents to own land and housing collectively. This can provide affordable housing options and promote communal ownership. Cooperative housing, in which residents collectively own and manage a housing unit or building, is another community-based solution that can provide affordable and stable housing options.
Bottom Line
Housing affordability is a problem in America, affecting millions of individuals and families nationwide. Many low-income and even middle-class households struggle to afford housing due to the high cost of rent and mortgages.
In some cases, families spend more than half their income on housing. This leaves little left for necessities like food, healthcare, and education. This can lead to increased debt, homelessness, and a cycle of poverty that is difficult to break.
Addressing this issue requires policy solutions and community-based initiatives. Policymakers can invest in affordable housing programs and rental assistance, while community land trusts and cooperative housing provide alternative affordable and stable housing models. By working together, we can ensure all Americans can access safe and affordable housing.
More From GOBankingRates
Make Your Money Work for You