Walmart CEO Warns Consumers Can't Keep Up With Inflation — 5 Economic Factors To Blame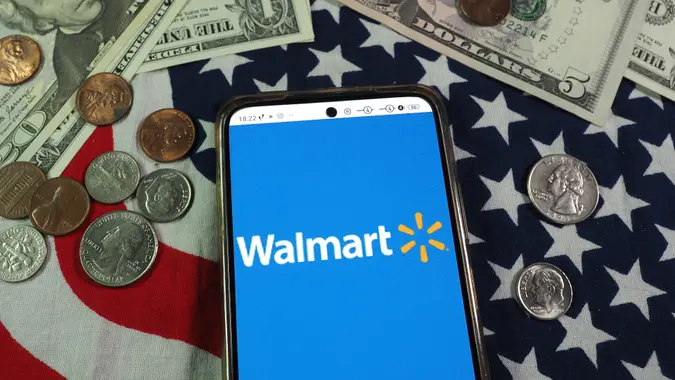 Igor Golovniov / SOPA Images / Shutterstock.com
For several months, the U.S. Federal Reserve and financial experts, alike, have been wondering when consumer spending would slow. On a recent episode of the YouTube show Minority Mindset, Jaspreet Singh commented, "Spending can only go up for so long. If Americans keep digging deeper into their cash, then they start digging deeper into savings, and then they start digging deeper into their credit, eventually they hit a breaking point."
Some experts believe that breaking point has arrived. While final sales figures are not yet in for Amazon Prime Deal Days and Target and Walmart's big sales, former Walmart U.S. CEO Bill Simon recently told CNBC's Fast Money, "Overall, I think for the first time in a long time, there's a reason for the consumer to pause."
Simon, who currently serves on the Board of Directors for Darden Restaurants and Hanesbrands Inc., cited a variety of factors that are making consumers feel insecure about their finances. "Consumers had an incredible 10-, 12-year run," Simon told Fast Money. "Markets were buoyant. Interest rates were low. Money was available."
Although he said there is still some good news on the financial front, namely low unemployment rates and higher wages, an accumulation of pressures point to a slow-down in consumer spending. What factors are to blame?
1. High Interest Rates
When interest rates rise, money becomes more expensive to borrow, which often leads to a tightening of spending. This hasn't necessarily happened in the past year, as consumers continue borrowing on their revolving credit lines and dipping into savings to afford what they want.
Make Your Money Work for You
But Simon said he sees that shifting now, with consumers becoming "wary."
Likewise, economists at Interactive Brokers have predicted consumer spending is set to decelerate sharply this fall. "Consumer sentiment has also been weakening during the last three months, signaling that consumers may be nearing the end of their shopping spree," wrote IB's senior economist Jose Torres.   
2. Inflation
Inflation may finally begin to impact consumer spending habits. Simon pointed out that Amazon and other retailers advertised their recent sales in the form of percentage points, rather than the actual cost of a product. "You use percentages when you're not real proud of your price point. I think you've got inflation pushing the relative price points up," he told CNBC.
3. Student Loan Repayments
Meanwhile, the return of student loan payments for as many as 44 million borrowers may see many American households tightening their purse strings to afford payments. The average student loan payment is between $200 and $299 monthly, according to U.S. Federal Reserve data.
In an economic landscape of rising prices across the board, that $200 or more will put a pinch in many Americans' budgets.
4. Global Tensions
After Hamas attacked Israel, launching the region into war, it emphasized the overall global instability right now. Simon mentioned global tensions as another factor making American consumers uneasy right now.  
5. Political Contention
An upcoming U.S. election that promises to be "contentious," as Simon said, as well as the government's failure to pass a budget or even elect a new Speaker of the House, adds to the economic uncertainty in the U.S.
Make Your Money Work for You
Final Note
In recent years, retailers have launched big sales in the fall as an early kick-off to the holiday shopping season. While July's Amazon Prime Day 2023 was the largest sales day in the company's history, it remains to be seen if this week's sales will stack up.
Will spending slow just in time for the holiday season or can consumers keep up the pace into 2024?
More From GOBankingRates