What Economists and Financial Experts Are Expecting From the Second Half of 2021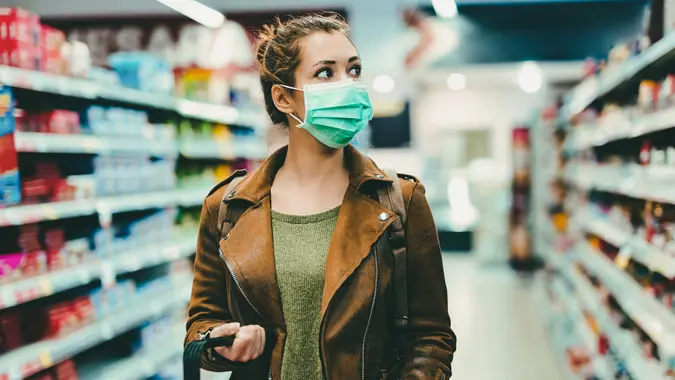 Drazen Zigic / Getty Images/iStockphoto
2020 couldn't end soon enough, and as recent as the fresh start of 2021 might feel, the new year isn't so new — in fact, it's almost half over. So far, 2021 has witnessed the inauguration of a new president and the changing of the political guard in Congress. Hundreds of millions of Americans have been vaccinated, restrictions have been loosened and the masses are booking summer travel and vacation plans.
Small Business, Big Love: Don't Miss Out on Nominating Your Favorite Small Business To Be Featured on GOBankingRates — Ends May 31
That was the start of the year — but what's on deck for summer, fall and the beginning of winter? 
To get an idea of what to expect from the back end of 2021, GOBankingRates talked to a variety of experts from a range of backgrounds and asked them to share their prognostications. The result is largely optimistic, although you should get used to paying a little more for a few of the things that all of us buy.
Make Your Money Work for You
See: All You Need To Know About the Economy and Your Money
Your Supermarket Tab Might Get Bigger
With the economy expanding, unemployment falling and stimulus checks fueling new spending, it's only natural that a wave of new demand for goods and services of all kinds would cause prices to increase. The supermarket is probably one of the first places you'll feel that pain, according to both the most recent USDA price outlook and experts who watch the industry.
Pad Your Wallet: 16 Ways To Save Money on Food
"The price of groceries will definitely increase, especially meat, chicken, beef and pork," said Tommy Gallagher of TopMobileBanks. "And the price of fruit and vegetables will also increase quite significantly due to suppliers having to go further afield to get produce. Other items due for a price increase are eggs, oils, and fats, toilet paper and alcohol."
You Might Pay More at the Pump
Craig J. Lewis is the founder and CEO of Gig Wage, a payroll system for the gig economy. He believes that a rise in gas prices is linked to bigger bills at the grocery store — supermarkets, after all, get their deliveries by truck. 
Make Your Money Work for You
"The stay-at-home orders across the country in 2020 caused a steep drop in demand, which at one point took the price of a barrel of oil negative," Lewis said. "Since then, there have been two factors at play: low supply because producers globally produced less when the prices were unprofitable, and also, a bounce-back in demand for gas — think people driving to work again — as the country recovers from the pandemic. It is likely gas will cost more, at least through June. It will probably stabilize in the back half of the year as supply and demand balance out. This is obviously very important to the gig economy and much of the on-demand workforce that fuels it."
See: 10 Supply Shortages That May Happen Again This Year
A Lumber Crisis Could Send Home Prices Skyward
Many experts have predicted dramatic changes in the housing market as interest rates are expected to rise as the economy improves. But the real reason home prices could soar might have more to do with a tiny invader causing big trouble. 
Make Your Money Work for You
"One of the biggest things that will define the second half of 2021 is astronomical house prices," said Thomas Jepsen, CEO of dream-home consulting and planning firm Passion Plans.
"The mountain pine beetle is killing massive amounts of forests in Canada, which is the place the United States imports 80% of its lumber."
Learn: What Homes Will Be Worth in Your State by the End of 2021
A report from Bloomberg backs him up. The tiny beetle, smaller than a grain of rice, is thriving as temperatures continue to rise. The pest has destroyed 15 years' worth of log supplies in British Columbia alone — enough for 9 million single-family homes. 
"There's already a massive housing shortage, with 2 million houses needed per year to steer off massive inflation in house prices," Jepsen said. 
Peace-of-Mind Products Will Continue Their Run
Jamie Hale is the CEO and co-founder at Ladder, an award-winning insurtech firm. His company has enjoyed impressive revenue growth — but it's not just Ladder. Companies in the insurance industry, or that support the industry, have been on fire throughout the pandemic — and there's no end in sight. 
Read: How To Find the Best Life Insurance Policy for You and Your Family
"Consumer investment into products that protect their people and assets will continue to accelerate into the second half of 2021," Hale said. "Last year, the insurtech industry, and life insurance in particular, saw record growth as Americans reflected on the potential consequences of the pandemic. We predict this trend toward financial resiliency will continue through the second half of 2021 and beyond." 
Some Long-Dormant Industries Will Likely Bounce Back
It's no secret that COVID-19 was far crueler to some industries than to others. Businesses in some segments of the economy have been in a state of forced hibernation since early last year. Finally, approaching the second half of 2021, they might finally be seeing some daylight. 
"We're already seeing signs of life in travel, manufacturing, construction and food services," Lewis said. "Traditional hospitality industries like hotels and cruises, and the industries that support that growth, will likely experience the most long-dormant effects. Regardless of the time frame, we know it's felt like an eternity for workers and their employers in those industries and are mindful of that daily."
More From GOBankingRates
Last updated: May 10, 2021
Make Your Money Work for You