The Debt Ceiling Debate: How An Increase Could Affect You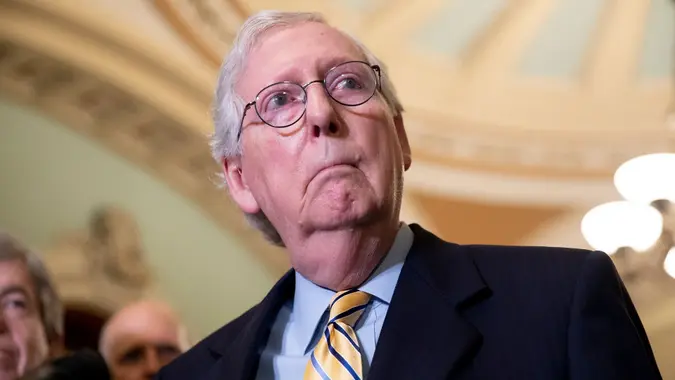 MICHAEL REYNOLDS / EPA-EFE / Shutterstock.com
The current debate in the nation's capital over whether to increase the federal debt ceiling might sound like so much partisan bickering to the average American, but the way it plays out could have a big impact on your life and finances.
See: Debt Ceiling Partisan Feud Brews, Treasury Secretary Yellen Takes 'Extraordinary Measures'
Find: Interest Rates Likely to Increase by 2023, Says Fed Vice Chair Clarida
Yesterday, House Democrats passed a spending bill that would fund the government through December and raise the limit on borrowing through 2022, according to the New York Times.
The bill is on shaky ground as it goes to the Senate, however. Sen. Mitch McConnell (R-K.Y.) has warned that support from Republican leaders is not forthcoming — and without 10 Republican senators voting to raise the borrowing limit, the bill will not pass and the U.S. will default on its loans.
"We will not support legislation that raises the debt limit. Democrats do not need our help," said McConnell.
Make Your Money Work for You
As GOBankingRates reported, U.S. Treasury Chair Janet Yellen has stressed the importance of raising the debt ceiling, discussing the impact it would have on Americans.
"In a matter of days, millions of Americans could be strapped for cash. We could see indefinite delays in critical payments. Nearly 50 million seniors could stop receiving Social Security checks for a time. Troops could go unpaid. Millions of families who rely on the monthly child tax credit could see delays. America, in short, would default on its obligations."
So how does the debt ceiling affect everyday Americans? Critics of raising it say doing so could lead to higher taxes that would be needed to help finance some of Biden's programs, including the $1 trillion infrastructure bill that just passed the Senate.
See: Senate Passes $1.2 Trillion Infrastructure Bill by 69-30 Vote
Find: 5 Significant Aspects of the Infrastructure Bill That Could Lead to Lasting Impact
But if the ceiling is not raised and the government ends up defaulting, the worst-case scenario is that many Americans will not get their Social Security payments or veterans' benefits and federal workers might not get paid.
Make Your Money Work for You
Another risk is that U.S. credit ratings would be downgraded, which could devalue U.S. Treasury bonds. This, in turn, would increase borrowing costs, CNBC noted — including credit cards, car loans and mortgage rates, which are typically pegged to yields on U.S. Treasury notes.
Neil Bradley, executive vice president and chief policy officer at the U.S. Chamber of Commerce, is urging politicians to pass the bill. According to The Hill, he shared, "The United States of America defaulting on its obligations is not an option; we are counting on Congress to take the necessary steps to address the debt limit."
Even the fear of default could create volatility in the stock markets and hammer the economy, experts say.
More From GOBankingRates
Make Your Money Work for You