What Rising Energy Costs in the EU Could Mean for Americans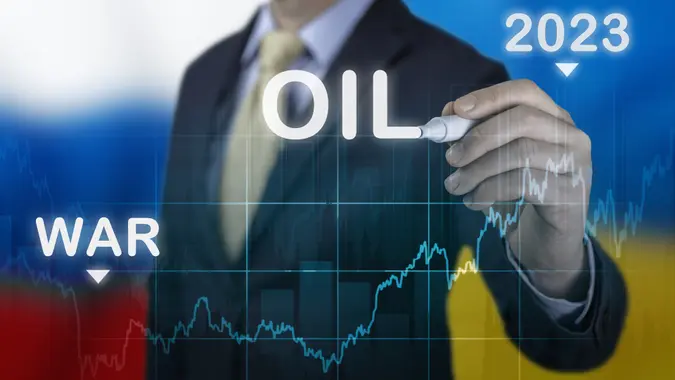 Pavel Muravev / Getty Images/iStockphoto
The price of energy in Europe, like other places in the world, has been on the rise for a while now. Much of Europe's energy is imported, and the unprecedented rise in import costs between December 2020 and December 2021 affected both consumer and producer prices for energy, according to data from the Council of the EU and the European Council.
Holiday Spending: Get Top Holiday Shopping and Savings Tips
Take a Look Back: 2022 Year in Review
Additionally, after years of supplying Europe with natural gas for heat and power needs, Russia cut off its natural gas flows to Europe in the third quarter of this year — right before winter. Meanwhile, the demand for natural gas remains high globally.
Read on for more about the energy crisis in the EU and how its rising energy costs could affect Americans.
Europe's Energy Crisis
The stage was set for trouble even before Russia invaded Ukraine. At that time, it had already reduced its natural gas supplies to Europe to approximately 20% of the agreed-upon amounts. Then, at the end of August, Russia completely halted all natural gas supplies to Europe, throwing the continent into an energy crisis, which was seen by European lawmakers and energy analysts as a move to weaponize energy by Russia.
Make Your Money Work for You
Around the same time, the Kremlin announced that once Europe lifts its economic sanctions against Moscow, gas supplies will be resumed. This move effectively created a deadlock between the two because Europe has said it won't lift the sanctions until Moscow reaches a peace agreement in its ongoing war with Ukraine.
Now, Europe is in the depths of an energy crisis. Although Europe has managed to bring its gas storage facilities to 95% full as of the end of November, thus making the economic outlook less bleak, the demand for natural gas is still there, along with rising inflation.
Take Our Poll: How Has Inflation Impacted Your Holiday Shopping Plans?
What's Happening With Natural Gas Demand?
According to the U.S. Energy Information Administration, demand for natural gas is expected to remain high despite high prices for the commodity. In the U.S, 46% of households rely on natural gas for heat. 
Additionally, EIA Administrator Joe DeCarolis said that options for replacing natural gas right now are limited. "We expect electricity producers — particularly in Europe — will have to generate some electricity from oil-based fuels this winter."
Make Your Money Work for You
What's Happening With Natural Gas Prices in the US?
"The price of oil is global," said Laurence Kotlikoff, professor of economics at Boston University, president of Economic Security Planning and a New York Times best-selling author.
"So what we experience is what Europe experiences and vice versa. Gas is a different story. Its main supplier — Russia — is being embargoed or is embargoing itself. And there are only so many tankers and LNG terminals in Europe. Hence, we could see U.S. gas prices fall and European gas prices rise. We may be seeing that already. But prices are low compared to six months ago in both regions now due to a warm fall and increased supply from different sectors."
Even though prices are lower than they were earlier in the year, the U.S. Energy Information Administration expects natural gas prices to increase until early 2023.
It said, "We expect natural gas prices to increase from November levels as a result of both higher winter natural gas demand and rising LNG exports … We expect natural gas prices will begin declining after January as U.S. storage levels move closer to the previous five-year average, largely as a result of rising U.S. natural gas production. However, the possibility of price volatility remains high."
Make Your Money Work for You
In other words, if your household runs on natural gas, your heating bills will likely be higher this winter.
More From GOBankingRates
Make Your Money Work for You