What a Trump Win in 2024 Could Mean for Your Long-Term Savings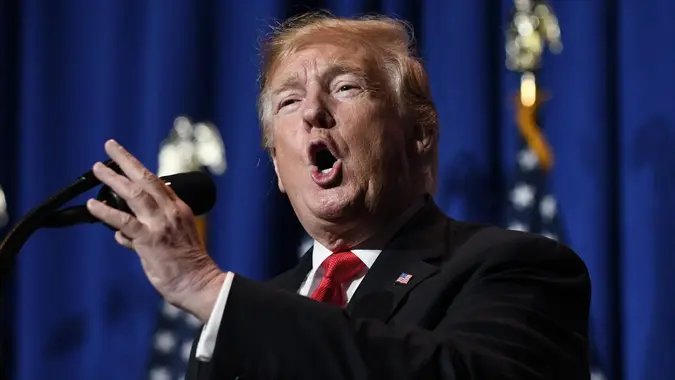 Olivier Douliery/POOL/EPA-EFE/Shutterstock / Olivier Douliery/POOL/EPA-EFE/Shutterstock
In February, approximately 40% of Americans told pollsters from ABC News and Washington Post they are "worse off financially" since President Joe Biden took office. This represents the highest number of Americans claiming they are worse off since the news organization started the poll 37 years ago. Only 16% of Americans say they were better off at the start of 2023.
Additionally, in a separate poll from Quinnipac University, 47% of Americans say they had less money in savings in November 2022 than they did a year prior, while 33% had about the same amount. Only 17% said they had more in savings.
However, a Donald Trump presidency in 2024 may not improve things financially for the vast majority of Americans, according to some news sources.
That's because Trump's expected foreign policies are likely to spark increased inflation, according to Bloomberg. Just as the Fed's policies and interest rate hikes started to slow inflation, a Trump presidency could lead to tariffs on foreign goods entering the country.
Trump may also try to abandon the North American Free Trade Agreement (NAFTA) with Canada and Mexico, Bloomberg reported. "It would further push the US in a very different direction from the way the rest of the world is working," Chad P. Bown, a senior fellow at the Peterson Institute for International Economics, told Bloomberg.
Make Your Money Work for You
On the other side of the coin, however, Trump could use the money from tariffs to fund tax reductions and extend 2017 tax cuts for businesses, which are set to expire.
In 2018 and 2019, Americans were saving at the highest rate since the Great Recession. Some economists believe this was a direct result of Trump's 2017 tax cuts, according to Axios.com. In 2018, savings outpaced spending and investing in the U.S.  
If Trump picks up where he left off — with similar trade and tax policies — some businesses and taxpayers could start padding their savings accounts again. But middle-income earners might not see the same benefits if prices continue increasing due to inflation.
More From GOBankingRates