Why Rental Vacancies Continue To Rise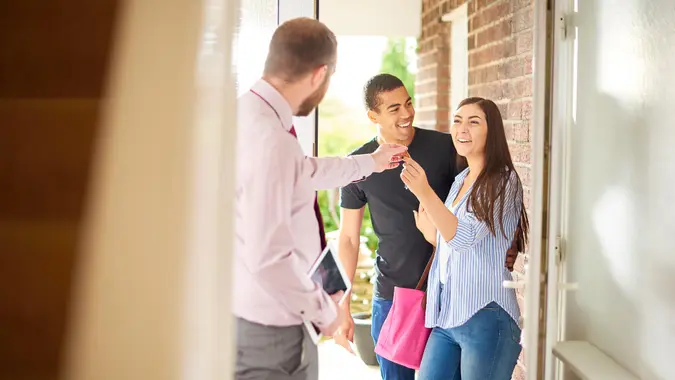 sturti / Getty Images
Rents typically rise in the spring, but according to Redfin, the median asking rent dropped by 0.2% in April. That trend is good news for anyone looking to sign a new lease but bad news for landlords — and it's nearly a year in the making.
Redfin data shows that rent growth cooled for the 11th straight month in April as demand continues to fall. On May 3, the U.S. Census Bureau reported that rental vacancies hit 6.4% in the first quarter of 2023, the highest vacancy rate in two years.
So, why are landlords lowering their asking prices to lure tenants, and what's driving the decrease in demand? Several forces are at play.
Supply Caught, Then Outpaced, Demand
The Redfin report named oversupply as the primary culprit. A 15-year homebuilding boom chipped away at an inventory deficit until there were enough units to meet demand — and then continued until there were more units than renters.
In March, housing completions in buildings with five or more units rose by 60% year-over-year.
"There has been an increase in the number of buildings being built, leading to a larger supply of rental units available," said Sarah Momsen, CTO of Jit Home Buyers. "This has caused an imbalance between demand and supply, resulting in more vacancies."
According to Reventure Consulting and the Census Bureau, more than 1 million units remain in a construction backlog — both as building permits and housing starts — a significant figure that's 60% higher than pre-pandemic levels. The country hasn't had so many apartments under construction since the early 1970s. They'll be arriving this year and 2024 in a market where vacancies are already more common.
Make Your Money Work for You
Economic Concerns Convinced Some Renters To Stay Put
The Redfin report also cited economic anxiety as a primary driver. High interest rates, the rising costs of goods and services and fears of an impending recession have convinced more people to put off moving.
"The economic uncertainty created by the pandemic has led to many renters choosing to stay in their existing homes rather than risk moving into a new home," said Momsen. "This further contributes to the increasing rental vacancies."
In Many Markets, Sky-High Rents Are Still Out of Reach
The Sun Belt has been the epicenter of the trend toward falling rents. With the rise of remote work, people flocked there from across the country in search of fair weather and affordable housing. The new migration pattern stoked a building boom that sent inventory soaring and, eventually, rents falling across the southern states.
But in many other parts of the country, already high rents just kept climbing as the expensive loans forced new landlords to raise their rates.
"In my experience, housing vacancies are occurring in this market because a lot of rental rates are too high for families to afford," said Travis Wells, owner of Exclusive Housing.
According to Redfin, rents rose by double digits in cities like Providence, Rhode Island, Cleveland, Ohio, Raleigh, North Carolina and Indianapolis. Rents rose last year across most of the Midwest, preventing prospective tenants from competing for available units.
"Over the past several years, rental rates have significantly increased, in some markets by more than 25%," said Bruce Ailion, attorney, realtor and president of the RE/MAX Ailion Team. "The lack of affordable options has caused tenants to double up or move back to their parents' home."
Make Your Money Work for You
The Airbnb Effect
Redfin backs up Ailion's statement about more people moving back in with their parents or taking on roommates to cope with rising costs. But there's another dynamic at play.
According to Redfin, "an oversaturation of Airbnbs and new restrictions on hosts" has caused a dramatic cooling in the short-term rental market. The ripple effects have depressed prices in the wider rental market and contributed to a rise in empty units.
End of Pandemic-Era Protections Added to the Pile-On
At the end of 2021, real estate syndication platform GowerCrowd reported on a flood of evictions and pending evictions nationwide as landlords were able once again to legally evict tenants who had fallen behind on rent.
Waves of units opened up across the country just as the building boom was reaching its pitch.
"The recent eviction moratorium reduced vacancies," said Don Chambers, founder of Real Estate Adventurer and a rental real estate expert who owns more than 70 properties. "Landlords could not remove non-paying tenants, and renters who wanted to move had few choices. That is over now, and the result is a glut of vacancies."
More From GOBankingRates
Make Your Money Work for You