How You Voted on the Biggest Money Topics of 2021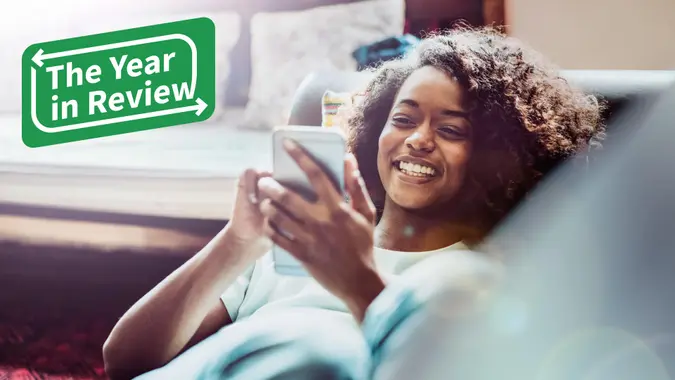 Portra / Getty Images
It's been one heck of a year when it comes to your money and how it's spent. But which topics were you so invested in that your opinion simply needed to be expressed via poll response?
Learn: From Need to Desire, How the Side Hustle Changed in 2021
Explore: Top Side Hustles To Supplement Your Social Security
Below are all the money topics from 2021 that clearly meant something to you, as over 1,000 loyal GOBankingRates readers responded to every one of them. So buckle up for a blast from the not-too-distant past, because your year in review starts now:
Should Minimum Wage Be $15?
With over 5,000 responses from loyal GOBankingRates readers, the overwhelming answer to whether or not America should up the minimum wage to $15 was a resounding … not quite. While 29% were in favor of the boost, the largest percentage of respondents (31%) thought $10 or $11 would suffice. But don't let that sway your opinion, as another 16% think $15 is still too low.
Make Your Money Work for You
How Are You Spending Your Stimulus Checks?
Over 100,000 responses later, an overwhelming majority of GOBankingRates readers (57%, to be exact) put their stimulus checks to use paying bills. Not bad considering that was sort of the point. Meanwhile, rounding out the #2 and #3 most common responses (13% each) were paying rent/mortgage and spending on food/other necessities, respectively.
Are Federal Tax Increases a Good Idea?
It may not come as a shock that out of 11,000+ respondents to a question centered on raising both corporate taxes and income taxes of those making $400,000 or more annually, the winner went to the "nays" (54%). The "yays" were a not too distant second at 22%, followed by those only in favor of federal hikes that tax the rich (11%).
How Should the U.S. Tackle Student Loan Forgiveness?
Student debt is something millions of young Americans are burdened with after college. And they can wind up paying it off for decades. The pandemic only exacerbated the situation, leading to the debate over whether or not it should be canceled entirely. Just over 4,500 GBR readers responded to how the nation should tackle the issue, with an overwhelming 52% opting for blanket loan forgiveness for all borrowers. Meanwhile, 17% said the federal government should stay out of loan forgiveness entirely, and 15% were at least in favor of loan forgiveness for low income/high debt individuals.
Make Your Money Work for You
Was the American Families Plan Worth Its $2 Trillion Tax Bill?
Americans aren't too keen on tax hikes, as we've previously mentioned. However, when asked whether or not President Biden's proposed American Families Plan (which included the Child Tax Credit) was worth its cost, almost half (49%) of our nearly 3,000 respondents were completely in favor. Meanwhile, 33% were not for it at all, leaving a wishy-washy 14% to their "some of the benefits are worth it, but not others" response.
Related: Goldman Sachs Lowers US GDP Forecast Following Manchin's Build Back Better Opposition
What's Causing the Nationwide Labor Shortage?
As we close out the year, stimulus checks and subsidies to unemployment have largely dissipated. But that wasn't the case back in May when we originally asked what's behind the labor shortage, as 43% of the nearly 2,000 respondents believed those same government incentives were the root cause. Just 33% said job wages for many occupations are too low, followed by 10% who believed people were simply re-evaluating their jobs/careers in response to the COVID-19 pandemic.
Make Your Money Work for You
Should There Be a Minimum 3% Cost-of-Living Adjustment (COLA) to Social Security Each Year?
Social Security's COLA jumps a whopping 5.9% in 2022, but that's not always the case. Historically, this is the largest increase since the 5.8% adjustment in 2008. But seeing as how factors like inflation and Medicare costs often offset the COLA, 92% voted an exuberant 'Yes' on a set minimum, with the remainder saying 3% is too much or that the current system for which COLA is calculated is fine the way it is.
Is Buying a Home During a Housing Bubble Money Well Spent?
As mortgage rates hit historic lows over the summer, the question of whether the housing bubble was an opportune time to buy was a topic on many people's minds. But as it turned out, an overwhelming majority (55%) of the 3,000+ respondents thought that rising prices and short supplies weren't enough of an incentive to offset the low rates. Just 21% thought they were, while 23% weren't quite sure how to proceed in the current market.
Did You Experience Payment Delays If You Filed for Unemployment in 2021?
Considering that Department of Labor data showed that only 58% of those receiving unemployment insurance from January to June received their payments on time, we kind of knew where this one was going right out of the gate. Sure enough, 82% of our nearly 1,900 respondents experienced similar delays. Just 9% hadn't, while the remaining respondents either hadn't applied for UI during the pandemic or preferred not to say.
See: Supply Chain Problems in 2021: How They Impacted the Economy and What's Next?
Find: 2021's Competitive Housing Market: How Pricing, Inventory and More Changed Over the Year
What Matters Most to You on the Topic of Social Security?
We know that Social Security is a major topic of interest on GOBankingRates. A survey of over 2,000 respondents found that among our dedicated readership, 27% believe that ways to maximize their benefits and/or live off Social Security alone are most important. Another 25% see COLA as what matters most, followed by when Social Security may run out (19%). Fortunately, 0% found the topic of Social Security not interesting at all, so plan on plenty of fresh content on the matter in the coming year.
Results were collected through articles published on GOBankingRates.com via embedded CivicScience polls. Percentages do not always sum to 100 due to rounding.
More From GOBankingRates
Make Your Money Work for You