Doing Something That Scares You Could Help You Build Your Wealth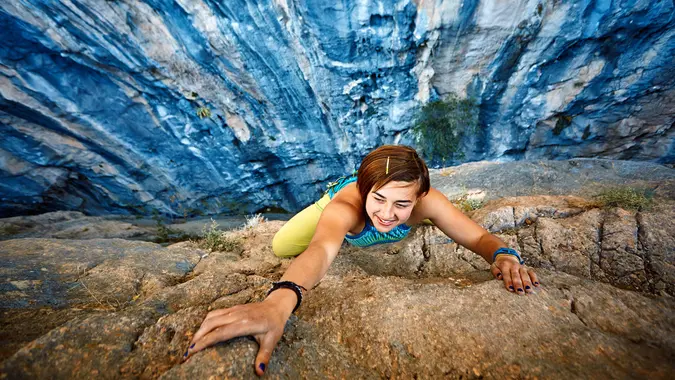 Jen Sincero knows the best way earn more money is to step outside of your comfort zone. She is a No. 1 New York Times best-selling author, success coach and "motivational cattle prod" who has helped countless people transform their personal and professional lives via her products, speaking engagements, newsletters, seminars and books. Her book, "You Are a Badass: How to Stop Doubting Your Greatness and Start Living an Awesome Life," has sold over 2 million copies, is available in more than 20 languages and continues to grow in popularity around the globe.
Her follow-up, "You Are a Badass at Making Money: Master the Mindset of Wealth," also a New York Times best-seller, is written with the same sass, down-to-earth humor and blunt practicality that made "You Are a Badass" a best-seller and Sincero a celebrated voice in the world of self-development — all with a focus on managing money and growing wealth.
Click to find out how mental shifts, like reciting a positive money mantra, helped the Best Money Expert nominee grow her net worth, so you can too.
What is your money mantra?
I love money, money flows to me easily and freely.
Before achieving financial success, what was your biggest obstacle? How did you overcome it?
My biggest obstacle was freaking out over the thought that financial success was impossible for me. I basically had a lifetime of proof that I sucked at making money and zero idea how I was going to turn that around, and I let these thoughts paralyze me. I overcame it by finally making the decision to get rich anyway, to not be a victim [of] my circumstances and to become the kind of person who creates the reality she desires. What this did was propel me past the point where I usually stopped — when I was faced with doing things that were too hard, too uncomfortable, too risky, too expensive … I kept going instead of looking for excuses to bow out. I read books on making money, I went to seminars, I hired coaches and I surrounded myself with people who had healthy relationships with money.
Make Your Money Work Better for You
What advice would you give your younger self about money?
If you say you can or can't get rich, you're right. You can make whatever amount of money you set your mind to. Worrying is basically praying for what you don't want, so stop worrying about money and place your focus on what you DO want.
What is the best piece of advice you received along your financial journey?
Done is better than perfect, so get started now. I was a master procrastinator "control freak" who was hiding behind my need for everything to be perfect. In reality, I was terrified to make any radical changes in my life — which is why I remained broke into my forties. When I finally couldn't take my own BS anymore, I started my own business, put up my website, took on clients and started making money. I figured out what needed to be fixed and upgraded as I went along instead of never getting started until it was all figured out.
What is the best thing you did to boost your net worth?
Take risks. Lots of them and all the time.
Click to read more about Sincero's top money tips.
What tips and tricks have helped you to build your own net worth?
Hire people — coaches, business advisors, financial advisors — who are skilled at helping people make and grow their money. Educate yourself on money. Consciously choose thoughts, beliefs and words that support your desire to get rich. Be grateful for all you have and all that's coming to you. Surround yourself with wealth conscious, kick-ass people who believe anything is possible. Do things that excite and terrify you.
How do you define financial security, and how has it contributed to a fulfilling, meaningful life for you and your family?
Make Your Money Work Better for You
I define it as having the options and freedom to do whatever I want. Being financially secure has allowed me to focus more on giving back instead of focusing on how I'm going to pay my rent. It's also allowed me to have a hell of a lot more fun.
Click to read more about the Best Money Experts.