How This Former Israeli Intelligence Officer Fights Cyber Fraud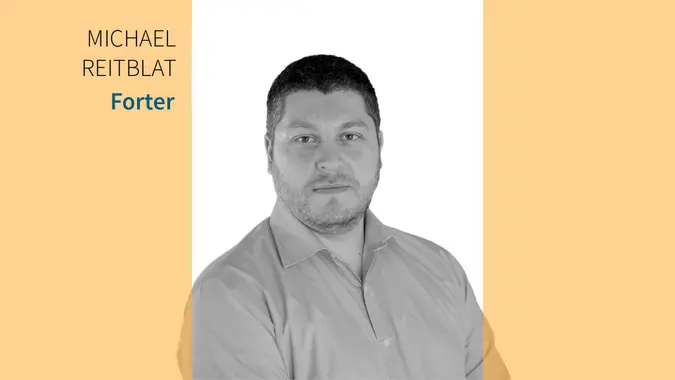 Before co-founding Forter — which uses automation to eliminate fraud for online merchants and marketplaces — Michael Reitblat served in the cyber intelligence unit of the Israeli Army, and later joined Fraud Sciences, which was acquired by PayPal in 2008. In 2013, Reitblat and his co-founders channeled their experiences with intelligent technology to start Forter. The company now processes more than $100 billion in transactions annually and has been named one of Forbes' Fintech 50 for both 2018 and 2019 — and one of Fast Company's most innovative companies of 2018. 
Each week, GOBankingRates sets out to discover what makes the people behind top companies tick. We like to call this series "Best in Business" — and Reitblat really is one of the best. He told us how he grew his company from a small office above a gas station into an international multimillion-dollar business, why moving fast is the key to success and ways that you can find (or build) your own dream job, too. Below, find our favorite moments from the story of how Reitblat launched his business.
Related: 15 Tips for Starting a Business From People Who've Been There
His Company Started as a 'Tiny, Unnoticed Blip on the Radar'
My fascination with online fraudsters began as a teenager. This innate curiosity continued to evolve as I went on to serve as an intelligence officer in the Israeli Cyber Command, where I got a very concrete view of what malicious activities look like in cyberspace. During my training, I grew to truly understand how vast the fraud landscape is, and the importance of diligent online protection.
Following my service, I was very fortunate to play a role in building one of the first companies to specialize in online payment fraud, Fraud Sciences. After the business was acquired by PayPal, our team helped define and develop the successful fraud prevention system that the payments giant used for many years — but we were still determined to make our own vision of a fraud-free e-commerce available to all merchants, regardless of the payment ecosystem, which is why we decided to start Forter in 2013.
Make Your Money Work Better for You
Be Aware: 20 Mindless Ways You're Putting Your Identity at Risk Every Day
When Forter first started, my co-founders and I operated out of a small office on top of a gas station. In the early development phases, it was incredibly humbling to realize that despite our big dreams for the industry and best-in-the-world technology, we were a tiny, unnoticed blip on the radar. However, in looking back at all of our growth and success since Forter's founding, it's evident that this stage was simply our starting point — which is a scary time for any entrepreneur. While the odds were against us, we kept pushing forward and innovating to surpass our goals, and we continue to do so to this day.
His Muses Include Warren Buffett and a World Champion Chess Player
One of my favorite [phrases] to live by, spoken by the longest-reigning World Chess Champion Emanuel Lasker, states that "without error there can be no brilliancy." As a young entrepreneur fearful of making just one wrong step that could send years of hard work into upheaval, this is a difficult mentality to adopt. However, I eventually grew to understand the truth of this statement and stopped fearing failure. Like any startup, our road to success was paved with many errors, but these tribulations were essential to our growth. Entrepreneurs should be ready to fail and should encourage their team to also take risks in order to truly innovate.
Make Your Money Work Better for You
This is the same mentality that drives Forter's business model. Forter's fraud prevention solution is powered by machine learning, which is informed by both successes and errors. Because of this, our growing merchant network continually becomes smarter by automatically factoring in fraud attack information from all of our clients, powering a coalition of retailers that effectively fight fraud together without sharing customer data.
See: 15 People Who Turned Their Brilliant Ideas Into Profitable Businesses
I've learned that while many companies are initially built on the foundation of bold vision and passion, this alone is not enough to achieve success. Regardless of how good you may be at thinking on your feet, the value of both building and executing a solid plan that your team can rely on is essential in order for growth. In addition, the process of starting my own company has taught me and my co-founders to live by Warren Buffet's immortal words: "It is not necessary to do extraordinary things to get extraordinary results." In order to achieve success, we've remained hyper-focused on both long-term strategies as well as tactical execution, and it's made all the difference.
Being in the Army Shaped the Way He Runs His Business — but Not in the Ways You Might Think
Early in my career as an army officer, my commander at the time got wind that a project I was working on was failing. While he didn't know any more details than that, he let me and everyone on my team know that he had my back despite the outcome. His faith in me was invigorating, making me work even harder and eventually resulting in the successful completion of the project. As a CEO, I try to apply that same leadership mentality at Forter. It's essential for leaders to maximize the strengths of their team without being too concerned about their weaknesses, all while expressing encouragement every step of the way.
Make Your Money Work Better for You
[I didn't want to be] the leader that thinks that he knows it all and has all the answers. No one individual has the abilities or capacity to do it all, and this must be recognized in order to form a successful business. I cannot overemphasize the importance of building a smart, resilient team that can accentuate your strengths, and makes up for where you are lacking. At Forter, the growth we've achieved would not have been possible without innovative and intelligent employees standing behind us.
Find Out: 5 Ways to Be a Leader at Work, No Matter What Your Position
He Learned That Time Is More Valuable Than Money
There is a common misconception that startups fail when they run out of money, but I believe that startups actually fail when they run out of time. As the market continuously evolves, startups must adapt to changes in technology, customer expectations and the performance of their competitors fast, or else they'll miss out on critical opportunities. In looking back at my own entrepreneurial journey, every time I've sat on a decision too long, it caused frustration for my team. So I strongly advise individuals starting their own business to act as fast as seemingly possible to avoid making the same mistakes.
Why? This Founder Says the Secret to Business Is Saying No
He Believes Success Is Sweeter When It's Unexpected
Since our founding in 2013, we've surpassed many goals, and the bar is constantly being raised. We've matured into the leading e-commerce fraud prevention company that works with Fortune 100 retailers, top travel companies and digital disruptors. In the past 12 months alone, we tripled our customer base and sextupled our transaction volume, now processing more than $100 billion in transactions annually. That led to a very successful $50 million Series D funding, bringing our total financing to $100 million. We've also recently announced expansion into Europe with the opening of Forter's first U.K. office in London, and are continuing to grow a management team and client base in the region.
Make Your Money Work Better for You
Ultimately, to me, the biggest sign that we are building something important and successful is hearing our customers explain to their peers how Forter is helping them realize their goals.
Try It: How to Set Career and Financial Goals You'll Actually Achieve
To me, success only means that you have managed to achieve and surpass your own expected potential, and this is true for companies and individuals alike. Success has no single point in space or time that you can get to and then rest on your laurels. One of the hardest achievements in my life was ascending to the top of the 20,000-foot-high Mount Kilimanjaro. While I later found out that my guide had told the rest of the group that he doubted my abilities in making it to the top due to poor shape, I did — though what happened on the way back down is a different story. And having achieved something I wasn't supposed to makes it so much sweeter.
Similarly, when we started Forter, I heard another new reason every day about why we would fail, which makes where we are today, and the road that led us here, so much more meaningful. When the odds are against you, as long as you keep pushing forward to the best of your abilities, you are guaranteed to find your success.
Keep reading to take a look at these inspiring entrepreneurs you should follow on social media.
More on Entrepreneurship
This interview has been edited and condensed.
Make Your Money Work Better for You