How an Entrepreneur Grew Her Net Worth With an Old School Bus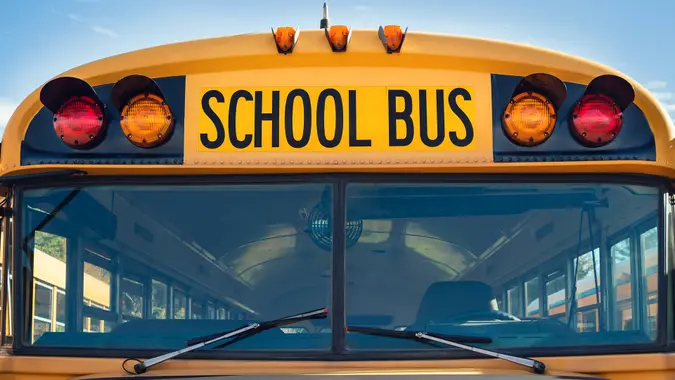 leekris / iStock.com
Marsha Barnes founded The Finance Bar — the first financial education mobile hub on wheels that visits college campuses and corporations — because there's no telling where or when you'll have a financial question.
Barnes' ingenious use of an old school bus to create a mobile business resonated with readers like you, who voted for her to become GOBankingRates' Best Money Expert in the Building Net Worth category.
"Teaching others and watching them be able to move from financially existing to financially thriving is what keeps me motivated every single day," she said. "I have committed my life to serving as a cheerleader and money mentor to those that are on a financial journey. Being honored as the Best Money Expert in this category serves as another reminder of the charge and responsibility that I have to support others as they work to solidify financial success."
After successfully launching her mobile financial educational hub, Barnes expanded The Finance Bar brand to include an expense manager mobile finance app that teaches users how to simplify their budget, as well as a virtual platform to educate and inspire women to take action with their finances.
Barnes also serves as a financial coach for clients, in person and virtually. Additionally, she hosts "My Finances are Beautiful," a bimonthly, in-person event where she teaches women about personal finance strategies and answers their diverse finance questions.
Click to find out her best advice for building wealth.
What is your money mantra?
I am 100 percent responsible for reaching my financial goals.
Before achieving financial success, what was your biggest obstacle? How did you overcome it?
Make Your Money Work Better for You
Before achieving financial success, I thought my job title and career path should be associated with a certain look. I carried the myth that "success" has a look.
Click to learn more about The Finance Bar.
What advice would you give your younger self about money?
No one will care about your financial success as much as you will. Learn as much as you can today.
What is the best piece of advice you received along your financial journey?
Keep a dollar and save a dollar.
Click to read more about how Barnes took an old school bus and turned it into a business.
What is the best thing you did to boost your net worth?
I became super aggressive with paying debt off.
What tips and tricks have helped you to build your own net worth?
Consistently saving and investing a specific percentage of my income.
How do you define financial security, and how has it contributed to a fulfilling, meaningful life for you and your family?
I define financial security as having a level of confidence to create your own streams of income and being creative enough to think beyond traditional ways of earning. Personally, I was able to accomplish this by flipping a school bus and turning it into a business. Being brave in my pursuits increased the level of flexibility that I now have to spend more time with my family. My life feels more whole, joyful and fulfilling.
Make Your Money Work Better for You
Click to read more about the Best Money Experts.