I'm an Entrepreneur Making Big Money Using AI — Here's How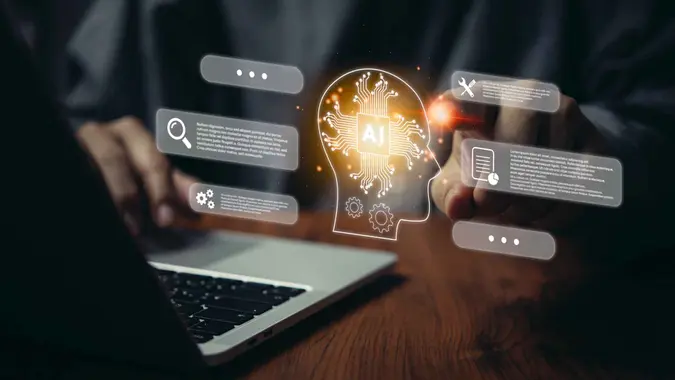 hirun / Getty Images/iStockphoto
Most people with an internet connection are by now probably aware of ChatGPT. Whether or not they've ever actually used it, they likely know that it can simplify online search by responding to questions and prompts with clear, concise and remarkably human feedback.
Its responses give users the information they need without forcing them to drudge for answers website-by-website the way they would with an old-school Google search, and breaking down even large, complex subject matter into conversational language that's easy to understand.
But some people have gone a step further — they're using AI to make money.
The following is a look at how three ambitious and creative entrepreneurs leveraged this exciting emerging technology into their businesses to streamline operations, increase sales and, of course, make more money.
A Video Pro Uses AI To Automate Without Losing the Human Touch
Cristian Stanciu is a video editor and the founder of Veedyou Media, a digital agency that specializes in offering remote video editing services for customers like podcasters, B2B clients, YouTubers and production companies. For him, the arrival of AI was a before-and-after moment in his career.
"We integrate AI into our video-editing processes by automating repetitive operations such as video organization and classification with AI," said Stanciu. "Also, AI-powered tools help us with sophisticated editing methods like object tracking and automatic color grading."
He founded Veedyou Media in 2017 to meet the rising demand for high-quality outsourced video content, and there were plenty of obstacles to overcome.
Make Your Money Work Better for You
"Recruiting a capable team of video editors who could handle the demands of our growing clients was one of the early challenges I experienced," said Stanciu. "Finding the ideal balance between automation and human creativity presented another problem as we sought to use AI technologies without sacrificing the creative side of video editing."
But as the technology advanced, the clever use of artificial intelligence bridged the gap.
"Through the thoughtful application of AI tools and technology, we have significantly increased our financial growth, yielding yearly sales between $200,000 to $500,000," said Stanciu. "AI has been essential in improving our productivity, which has contributed to our ongoing success."
AI Saves a Publishing Startup Thousands per Month
A professional with more than 15 years in the digital publishing industry, Maurizio Petrone is the founder and CEO of Must Read Quotes, a remote-first digital media startup.
"Thanks to AI, our business has been transformed significantly," said Petrone. "AI proved to be a game-changer for our venture, and it has helped us redefine the way popular quotations are consumed and shared."
He uses AI to assist his team, streamline operations and increase productivity in three ways:
Classify and cluster quotes into topics
Fill in authors' biographical data
Find design inspiration for picture quotes
"Initially, getting started was a challenge," said Petrone. "Finding the right AI solution for accurate text analysis and design assistance required a lot of trial and error."
But after his team got the hang of it, there was no going back.
"Leveraging AI has not only increased our efficiency but also resulted in cost savings," said Petrone. "Although we are still in the getting-traction phase and not yet generating significant revenue, the use of AI has allowed us to save north of $3,500 per month. This is a huge benefit for a bootstrapped business like ours."
Make Your Money Work Better for You
A Lending Entrepreneur Uses AI to Fine-Tune Her Finance Firm
Lauren Mendoza is the founder of Bank Standard, a business loan marketplace that pairs lenders with commercial borrowers. She has implemented ChatGPT throughout her sales and operational processes.
"We use OpenAI's APIs to streamline processes and enhance customer service," said Mendoza. "With the use of machine learning algorithms, we're able to predict borrowing trends and customize our services accordingly."
Her journey into AI started with a desire to better understand her customer base and offer a personalized, seamless borrowing experience.
"We leveraged our existing data, partnered with a tech firm and built AI models to predict financial behaviors and trends," said Mendoza. "The adoption wasn't overnight. It was a systematic and strategic integration that we honed over time."
Given the sensitive nature of the financial information that her business model relies on, ensuring data integrity and security was the most significant challenge she faced.
"We invest heavily in top-tier encryption and data protection measures to prevent breaches," said Mendoza. "Additionally, fine-tuning our algorithms to provide accurate and useful predictions proved to be a formidable but necessary task."
In the end, the effort paid off.
"While I can't disclose exact revenue figures, AI has resulted in significant financial growth for us in 2023," said Mendoza. "Our AI-driven funding model has enabled us to make smarter lending decisions, manage risk more effectively, and substantially increase our customer base."
More From GOBankingRates
Make Your Money Work Better for You