Dallas Ranks Among the 10 Best Cities to Start a Business, Study Finds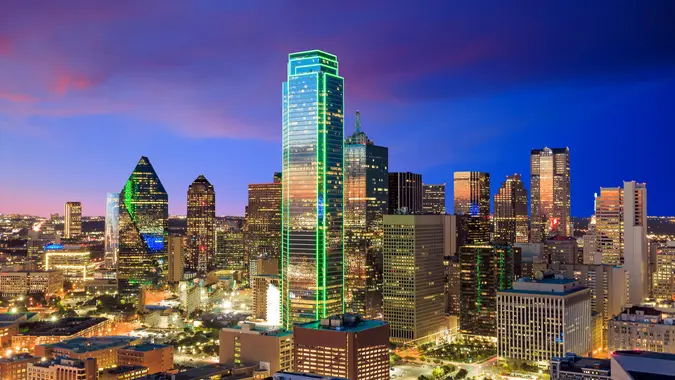 f11photo / Shutterstock.com
If you're thinking about starting a business in Texas, consider opening up shop in Dallas.
In two recent studies — 20 Best Big Cities to Start a Business and 20 Cities Where Small-Business Owners Are Thriving — GOBankingRates analyzed the largest cities in the U.S. in terms of their conditions for starting and owning a business. There were a number of patterns that emerged from both of these studies, but one city stood out among the rest: Dallas, which ranked among the 10 best big cities to start a business and the No. 3 best city where small-business owners are thriving.
Read on to find out what makes Dallas such a great city to start a business — and how you can use this information to identify great cities near you.
Click to See: 20 Best Small Towns to Start a Business
Why You Should Consider Starting a Business in Dallas
Dallas has several features that make it particularly attractive for starting a business. First of all, Texas is a tax-friendly state for business owners and employees. GOBankingRates evaluated Dallas using the Tax Foundation's Business Tax Climate Index, which measures all 50 states in terms of corporate tax, individual income tax, sales tax, property tax and unemployment insurance tax. Texas ranked No. 15 out of the 50 states for the best business tax climate. And because Texas doesn't have an individual state income tax, your employees could potentially keep more of their paychecks.
The economy in Dallas has been prospering, which is a good sign for business owners. Out of the 392 metro areas tracked by the Bureau of Labor Statistics, the Dallas-Fort Worth-Arlington metro area ranked 40th overall for year-over-year growth in employment from December 2017 to December 2018, adding approximately 116,400 jobs — which is equivalent to a 3.2 percent increase.
Make Your Money Work Better for You
The GOBankingRates study also utilized the Kauffman Indicators of Entrepreneurship, which assesses places by a series of business criteria. Below is a breakdown of the indicators for Dallas, followed by explanations for what they measure:
Indicators of Entrepreneurship
Year
2015
2016
2017
Rate of New Entrepreneurs
0.30%
0.33%
0.37%
Opportunity Share of New Entrepreneurs
78.0%
79.1%
85.2%
Rate of Startup Growth
n/a
56.3%
77.4%
Share of Scaleups
n/a
1.98%
2.06%
High-Growth Company Density
n/a
137.4%
120.8%
Also See: How the 50 States Tax Small Businesses
The rate of new entrepreneurs is a metric that measures the number of new entrepreneurs for every 100,000 adults in the metro area. The Dallas metro area has shown impressive year-on-year improvement in this regard. In 2015, the rate of new entrepreneurs was 0.30 percent, or 300 new entrepreneurs per 100,000 adults. By 2016, it increased to 330 new entrepreneurs per 100,000 adults. And by 2017, Dallas' rate of new entrepreneurs reached 370 per 100,000 adults in the metro area.
Another critical factor is the opportunity share of new entrepreneurs, which measures the percentage of new entrepreneurs driven primarily by "opportunity" as opposed to "necessity." On the low-end, the opportunity share is 67.53 percent in the metro area of Milwaukee and up to 95.99 percent in the Cleveland metro on the high-end. In the Dallas metro area, the opportunity share of new entrepreneurs is 85.18 percent, meaning that roughly 85 percent of entrepreneurs open their business driven by opportunity, rather than necessity. Like the rate of new entrepreneurs, the opportunity share also has grown year-over-year: 78 percent in 2015, 79.06 percent in 2016 and 85.18 percent in 2017.
In other business factors, Dallas continues to improve year-over-year. The rate of startup growth — a metric that measures the average employment growth of startups during their first five years of operation  — has increased markedly year-over-year. In 2016, the rate of startup growth was 56.3 percent, before jumping to 77.4 percent in 2017.
Make Your Money Work Better for You
And the share of scaleups measures the percentage of firms 10 years old and younger that began operations with fewer than 50 people and expanded to at least 50 by the 10 -year mark. The Dallas area stands out in this metric too, increasing its share of scaleups from 1.98 percent in 2016 to 2.06 percent in 2017.
Click to See: 14 Business You Can Start for $10,000 or Less
Tips for Choosing a City to Start a Business
If you don't live within range of Dallas, or even in Texas, you can find similar strong cities for starting a business. Dallas ranked 10th best, but there are more places that are very conducive to entrepreneurs. Plus, if you know what factors and features to look for, you can identify potential cities wherever you are.
In addition to the criteria above, the city's cost of living is an important factor to consider when evaluating a city to start a business. In general, the vast majority of cities in the study have a cost of living that's higher than the U.S. overall. However, there's a big difference between Dallas' cost of living index — 107.7, according to Sperling's Best Places, which equates to living being 7.7 percent more costly than the U.S. average — and San Francisco's cost of living index of 304.7, which implies a cost of living that's over three times the U.S. norm. Cities in the South and Midwest tend to have lower costs of living compared to the Northeast and West Coast.
Make Your Money Work Better for You
Click through to see the best and worst cities to start a small business in America.
More on Starting a Business
We make money easy. Get weekly email updates, including expert advice to help you Live Richer™.