How To Make Money on Instagram in 2021: 3 Strategies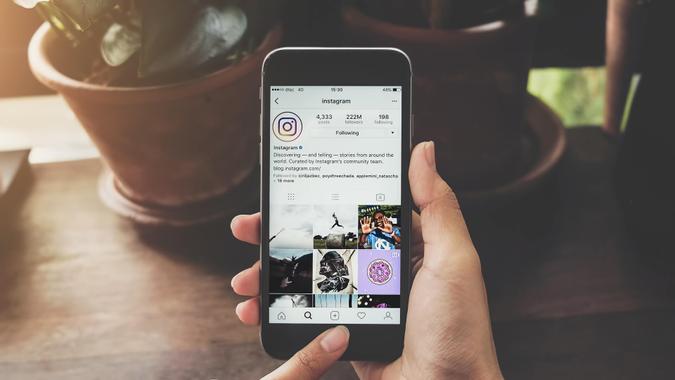 Jirapong Manustrong / Shutterstock.com
Most of us use social media apps, and there are a lot of stories around about how much money people can make being "social media influencers." But what exactly does that mean? How much can you make on Instagram? How many followers do you need? Here's what you need to know about how to make money on Instagram in 2021.
How Many Followers Do You Need To Make Money on Instagram?
Many celebrity social media influencers have hundreds of thousands, or even millions, of Instagram followers. But the number you need to make money could be much fewer.
If you have a niche that you can tie to a specific product category that's big on Instagram, you may be able to be an influencer with just 10,000 followers — or even fewer. Fashion, fitness, and food and popular categories.
Having followers that are engaged is also key to being an influencer. If your followers frequently like, reply to, and share your posts, they're more valuable than those who just scroll on by.
Make Your Money Work Better for You
Increasing your followers should be an important part of your Instagram plan, so make sure you're always engaging with your current followers and seeking new ones.
Related: How Much Do Twitch Streamers Make? 2021 Top Earners
How To Make Money On Instagram
Here are 3 ways you can make money on Instagram:
1. Become a Brand Ambassador
Once you've built a following on Instagram, look to see if you can become a brand ambassador for companies who want to reach your followers. According to Influencer Marketing Hub, Instagram users with more than 100, 000 followers, can make around $700 to $900 for each post they create. This price can be even higher for users with at least 500, 000, earning between $2, 000 and $3, 000 for creating sponsored content.
Snapfluence helps Instagram influencers who can engage followers to learn how to connect with brands. You can learn how to market yourself as an influencer and how to protect yourself when dealing with big brands.
There are other similar "influencer" and ambassador programs out there — just ask around and do your research. But be aware that some programs might only offer free merchandise instead of cash for promoting campaigns and products on Instagram. Still, the extra exposure could lead to more opportunities down the line, which could translate to cash.
Make Your Money Work Better for You
2. Promote Your Business, Products or Services
If you have a service, product or skill to share, you could turn your followers into customers. For example, use Instagram to advertise your tutoring, makeup or freelancing services. If you're skilled at making handcrafted items or clothing, take pictures of those products and put them on Instagram.
Running ads on Instagram is a good way to increase exposure for your products and services, and it doesn't have to cost you a bundle. Instagram has a comprehensive advertising guide on its site to help you get started.
No matter your product, business or skill, you can market yourself to your followers and earn money. Post pictures of whatever it is you're trying to sell, and let your followers know how they can contact you for more information.
Make Your Money Work Better for You
3. Get Paid for Your Instagram Photos
Maybe you don't have a business you want to promote or products and services to offer, but perhaps your Instagram photos are jaw-dropping. If so, you could make a ton of cash on Instagram by selling your photos for a fee.
Try selling your photos independently, like Daniel Arnold. The photographer was struggling for money a year ago, but he made thousands of dollars in one day by offering an Instagram sale of his photographs, reports Forbes. He had users email him screenshots of the 4×6 prints they wanted to buy from his Instagram archive for $150 each, and the response was overwhelming — he received almost $15,000 worth of requests.
Good To Know

As an influencer, you can charge for posts based on the number of followers you have. According to Influencer Agency, you can expect to earn between $800 and $1500 per post if you have 25,000 to 50,000 followers. You can expect to earn $1,500 to $2,000 per post if you have 50,000 to 100,000 followers. If you have over a million followers, you can charge $10,000 per post or more.
3 Ways to Build Your Instagram Following
In order to start making money on Instagram, you'll want to increase your number of followers. Start by connecting with people you know, then branch out to similar users and watch your audience grow. Here are a few ways you can attract and retain followers:
1. Post images catered to a specific audience.
Your pictures should be interesting and relevant to people who fit within the target demographic you want to reach. For example, if you want to represent products related to home decor, you should start by posting pictures of your home, household items or products you love. If you want to sell sporting goods and athletic brands, post pictures of yourself, friends and others being active and using the related products.
2. Add hashtags to your photos.
Hashtags can extend your reach by guiding people to your photos on your Instagram page. Research your desired brand, industry and audience to learn what hashtags people are searching for and add them to your photos. You can even go back to past photos and add hashtags in the comments section.
3. Improve your photo quality.
The higher-quality images you post, the more attention your photos will receive. Take the time to learn some photography skills. You could invest in a professional camera, but if that's not an affordable option, download an editing app. For example, Perfect 365 can produce "flawless" selfies, and Snapseed is great for retouching and improving the quality of photos.
Instagram Isn't Paying You
Remember that Instagram users don't get paid by Instagram, and the platform itself does not pay for posts, likes, or shares. If you want to make money from Instagram, it's up to you to post the content the people want to see and share, and to make relationships with companies that will pay you to bring their message to your followers.
Making Money Guides
Up Next: How To Make Money on TikTok: 7 Effective Ways
Karen Doyle contributed to the reporting for this article.
Our in-house research team and on-site financial experts work together to create content that's accurate, impartial, and up to date. We fact-check every single statistic, quote and fact using trusted primary resources to make sure the information we provide is correct. You can learn more about GOBankingRates' processes and standards in our editorial policy.