Amazon No-Rush Credits: How To Earn and Use These Rewards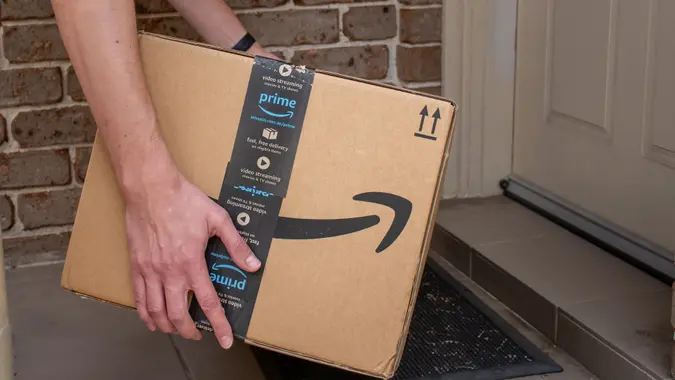 Daria Nipot / iStock.com
One of the biggest perks of Amazon Prime is the shipping options it includes.  Prime members get free two-day shipping on most purchases, but you can also decide if you want to opt for a longer delivery window in order to earn some No-Rush Shipping rewards. If you are not on a time crunch to receive the items you just ordered, this can be a great way to save some money or earn some digital credits to put toward future purchases.
See: How To Get Cash Back on Your Everyday Purchases
What Is No-Rush Shipping on Amazon?
No-Rush Shipping credits are aimed at Prime members who are willing to wait longer than two days for delivery. If you have an Amazon Prime account and don't mind your package coming within six business days, you can select that option at checkout and earn some digital rewards. These rewards are posted to your account in the form of credits to be used on future purchases or for discounts on Amazon digital products. 
You can follow these steps to enjoy the rewards of free No-Rush Shipping for Prime members:
Select No-Rush Shipping when you go to checkout.
Get discounts instantly or collect rewards after your order ships.
Enjoy your rewards and put them toward Amazon digital or Prime Video purchases.
Opt Out of 2-Day Shipping To Earn Amazon No-Rush Credits
Though two-day shipping is nice, if you opt for a longer delivery window, you can earn No-Rush credits. These credits will show up in your account once the item you ordered has been shipped, and they will accumulate in your credit balance until you use them. Be aware that credits expire and you can view the expiration dates in your No-Rush Rewards Summary dashboard to be sure to use them while you can.
Make Your Money Work Better for You
How You Can Use Amazon No-Rush Credits
Rewards are automatically applied at checkout for eligible items. Though the offer may vary depending on your purchase or the item you order, your rewards can typically be applied toward digital products such as the following:
Instant video downloads
Kindle purchases
E-books
Digital Music
Amazon Appstore apps
Final Take To GO 
Amazon No-Rush credits can be a nice way to shave off a few dollars on your next e-book or movie night at home. Two-day delivery is dependable and convenient, but if you can live with getting your package within a week instead, you could rack up some serious credits for your digital purchases. 
FAQ
Here are some answers to frequently asked questions about Amazon No-Rush credits, how to earn them and where to use them.
What is No-Rush Shipping on Amazon?

No-Rush Shipping on Amazon is geared toward Prime members, and it is when you opt for a longer delivery window than the two-day delivery for the chance to earn credits toward future purchases.

What can I use Amazon No-Rush credits for?

In general, Amazon No-Rush credits are applied at checkout and can be put toward digital product purchases, including but not limited to instant video downloads, Kindle, e-books, Digital Music and Amazon Appstore apps.

How do I use No-Rush credits on Prime Video?

If you have credits posted to your account, if you go to rent or buy a movie or TV show in Prime Video, the credits will automatically be deducted from your total. Besides Prime Video purchases, you can also put these promotional credits toward other digital purchases such as Kindle books, e-books, Digital Music or Amazon Appstore apps.
Editorial Note: This content is not provided by any entity covered in this article. Any opinions, analyses, reviews, ratings or recommendations expressed in this article are those of the author alone and have not been reviewed, approved or otherwise endorsed by any entity named in this article.