Are You Funding Your Parents' Retirement? 5 Ways To Get Prepared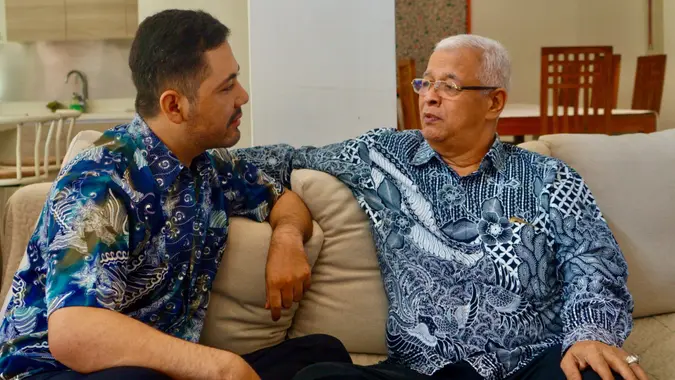 America's population is aging. At the same time, young adults are striving for financial independence. Caught between baby boomers — approximately 8,000 Americans turn 65 daily — and millennials and Gen Z (adults in school or entering the workforce) — is the "Sandwich" Generation. Also known as Gen X, these 43- to 58-year-old adults find themselves caring for multiple generations, often at the expense of their own financial stability.
According to the Pew Research Center, 48% of adults aged 40 to 59 provide financial support to at least one adult child as well as one or both of their parents aged 65 or older.
Middle-aged parents are either supporting their children in school or continuing to help their adult children after school, thanks to the Great Recession of 2008 and the resulting sluggish economic recovery since. While a typical Gen X household makes higher wages than previous generations, the increased cost of living plus expenditures on consumer goods means the Sandwich Generation finds itself hard-pressed to save and more in debt than other generations.
Sue Zanayed, an independent health insurance agent with Ultimate Care Insurance in Anaheim, Calif., meets many clients who discover, upon retiring, that their savings will not be enough to care for their needs. Many of these retirees were affected by the 2008 housing crisis.
Make Your Money Work Better for You
Plus, Social Security is not enough to cover household expenses and increasing healthcare costs. Zanayed shared her own story, describing how she became her stay-at-home mother's caregiver after her working father passed away. To help her mother with expenses, Zanayed elected to move into her mother's house.
"I know several clients who get financial help from their adult children or who move in with their adult children," Zanayed said.
Long-term care insurance can help, but she advises to start in your 30s, if possible. Same with life insurance policies: It pays to start early.
Zanayed also pointed out that life insurance policies have riders where you can designate a portion exclusively for your later, long-term care needs. Speaking to a licensed health insurance agent helps a family understand options in order to plan for a financially viable future.
In addition to considering long-term care and life insurance, here are five steps you can take today if you find yourself among the Sandwich Generation. These steps take time, not to mention an emotional toll, but they will help you help your parents and be an example for your children about how they should be thinking about the future. Ultimately, action leads to peace of mind.
Start With a Financial Assessment
Talk to your parents about their monthly expenses, including ascertaining outstanding debts. Review any income sources, such as Social Security, pensions and annuities. 
Create a Budget
For most families, this is already part of planning. With your parents, discuss a budget that includes essentials such as housing, food and healthcare. Prioritize needs over wants.
Make Your Money Work Better for You
Plan For Housing
This can be a tough one, but it is essential to figure out whether your parents' current housing situation is tenable in the long run. Consider downsizing or relocating to a more affordable area, if necessary. 
Investigate Income or Job Opportunities
Even as middle-aged adults plan to care for their parents, it's important to continue to save for retirement by contributing to a 401(k) or IRA or invest in diversified assets to build savings over time.
Additionally, if your retired parents are willing or able to work, even part-time or freelance opportunities can supplement their income and ease your burden a little. The connection formed by having a place to go and a job to do is priceless.
Educational Resources
AARP offers valuable information on retirement planning, insurance and more. The National Council on Aging provides resources for seniors grappling with economic security. The non-profit, Justice In Aging uses the power of the law to fight senior poverty.
Helping your parents is a laudable desire. But it is important to keep your financial well-being in mind. Seek professional advice when navigating complicated financial matters. Have open conversations with your parents about their needs, preferences and expectations. Every situation is unique, so tailor these tips to your family's needs and circumstances. And remember: You are not alone.
More From GOBankingRates
Make Your Money Work Better for You