I'm a Dietitian: These Are My 12 Favorite Grocery Deals at Aldi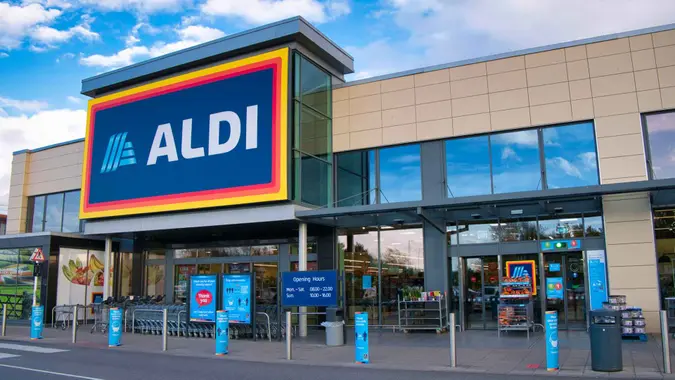 Alan Morris / Getty Images
With inflation driving grocery prices higher, many shoppers are seeking bargains at discount chains like Aldi. While known as a budget retailer, Aldi also offers an array of healthy (and delicious!) foods if you know what to look for.
A couple of dietitians recently scoured the aisles to uncover Aldi deals that provide quality nutrition on a budget. Here are 12 of their top healthy Aldi finds.
Fremont Fish Market Bay Scallops
Finding affordable fresh seafood can be challenging, but dietitian Lauren Manaker stocks up on frozen Fremont Fish Market scallops from Aldi. "These frozen scallops are a source of high-quality protein, DHA omega-3 fatty acids, and vitamin B12," she said. The certification label also provides sustainability assurance.
Tuscan Gardens Artichoke Hearts
For quick nutrient boosts, Manaker grabs Tuscan Gardens Artichoke Hearts. "These artichoke hearts give my dishes a boost of antioxidants and fiber in seconds, and they elevate pasta, chicken, and grain dishes in a simple way. I love keeping this jarred veggie option on-hand for a quick and simple vegetable addition to my dishes."
Park Street Deli Red Pepper Hummus
Pre-portioned Park Street Deli Hummus Cups make Manaker's list for their portability. "Having pre-portioned hummus cups can make mid-day snacking incredibly easy," she said. She pairs the antioxidant-rich dip with veggies or whole grain pretzels for an energy lift.
PurAqua Belle Vie Sparkling Flavored Water
Dietitian Kelly Springer stocks PurAqua Sparkling Waters for clients seeking lower-sugar drinks. "I have also recommended these drinks to my patients who need a tasty soda alternative, which comes in grapefruit, lime, blackberry, and strawberry flavors," she said. The natural flavors get high marks.
Make Your Money Work Better for You
Earth Grown Extra-Firm Organic Tofu 
"Tofu is a nutrient-dense, plant-based protein food that is versatile enough to star in a variety of different dishes, appropriate for all ages, and robust enough to anchor a meal," said dietitian Malina Malkani. She highlighted its fiber, vitamins, minerals, and cancer-fighting isoflavones.
Cherub Grape Tomatoes
"I toss them in my salads to boost the vitamin C and fiber at my meals," said dietitian Joan Salge Blake of these sweet grape tomatoes. Their sweetness makes them a produce aisle steal.
Friendly Farms Nonfat Greek Yogurt
Jim White, registered dietitian nutritionist, recommends Friendly Farms Nonfat Greek Yogurt for its high protein content and gut health probiotics. "The high amount of protein can help build lean muscle and also offer gut friendly probiotics," he said.
Avocados
"Avocados are also nutrient dense, providing heart-healthy monounsaturated fat, which also helps with the absorption of fat-soluble vitamins (A, D, E, K)," explained dietitian Toby Amidor. Their creaminess makes them a family favorite.  
Simply Nature Organic Creamy Peanut Butter
With its sweet nuttiness, peanut butter adds flavor and nutrition from healthy fats, protein and vitamin E. Aldi's organic kind impresses for a fraction of premium brand prices. "I add it to pancake batter, smoothies, oatmeal, or just on crackers for a deliciously filling snack," said Amidor.
Dakota's Pride Kidney Beans  
Amidor keeps these on hand because canned beans are shelf-stable and can be used in a wide variety of dishes. "Most Americans don't meet their daily recommendations for fiber, and adding ½ cup of these babies adds 32% of your daily recommended amount of fiber," he said. Rinsing them reduces sodium too. 
Make Your Money Work Better for You
Northern Catch Chunk Light Tuna in Water
"Canned tuna is another shelf-stable must-have in my pantry full of omega-3s and protein," said Amidor. "Grab one when you're in a pinch and make a quick tuna salad, or top over a green salad." This tuna also meets responsible sourcing standards for sustainability.
Season's Choice Berry Medley
This colorful blend of berries is packed with antioxidants, fiber and polyphenols to support heart health and digestion. "Whip it out for an easy smoothie mixed with Greek yogurt and 100% cranberry or pomegranate juice," said Amidor. "They can also be defrosted and used in muffin and pancake batters."
Aldi proves discount grocery shopping doesn't have to mean sacrificing healthy choices. With the right know-how, even budget shoppers can fill carts with quality nutrition.
More From GOBankingRates