7 Financial Challenges Your First 10 Years of Retirement Will Bring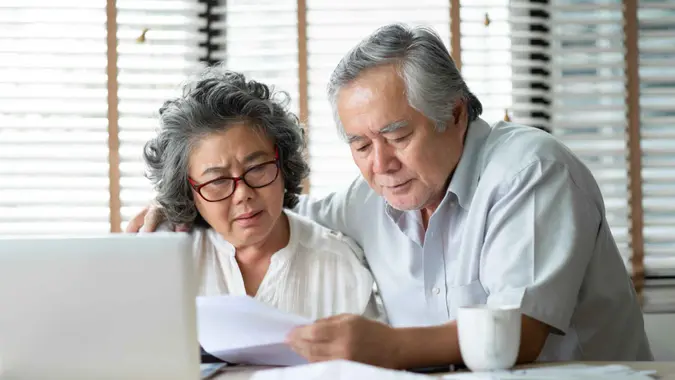 eggeeggjiew / Getty Images/iStockphoto
Retirement is something most Americans look forward to, perhaps imagining it will enable them to spend more time doing what they love outside of work, including spending time with family and traveling. It absolutely can be all you dreamed of, but retirement can also come with some bumps, especially when you first sail into it.
See: 10 Best Canadian Cities To Retire on a Budget of $2,500 a Month
Find: 3 Ways To Recession-Proof Your Retirement
Let's consider seven financial challenges your first decade of retirement can bring.
Adjusting to a New Income Stream
How you receive income will dramatically change once you seal the deal and retire. Instead of getting a bimonthly paycheck (or whatever you're used to), you'll be receiving allocations from your retirement investments and, possibly, taking Social Security benefits. Most retirees don't make as much as they did in their working years, so you'll have to acclimate to this new normal and manage your cash flow accordingly.
Downsizing
A great way to save money in retirement is to downsize, which involves moving to a smaller home, possibly in a more affordable location. This is a surprising challenge, however. Though it can save you big bucks in the long run, downsizing can sometimes be difficult to pull off — largely due to the fact that when interest rates are as high as they are now, people are less willing to buy homes. So, your home could potentially sit on the market for longer than you'd like.
Additionally, if you're purchasing your next home (as opposed to renting), you will also be slammed with high interest rates that could make the move awkward.
Make Your Money Work Better for You
Planning for Big Buys
Before retirement, you may have relied on bonuses from work (or working overtime) in order to build up a nest egg for big buys, like new furniture or home renovations. But in retirement, you'll likely be relying on a fixed income and won't have the same financial wiggle room that you had while employed. A simple splurge could come with complex financial consequences and you'll need to be extra efficient with your budgeting.
Filling the Days
Most employees have a pretty rigid schedule. You get up, go to work, spend numerous hours there, and then come home. Free time often appears during evenings and on weekends, but not always. In retirement, you'll be presented with a vast array of free time — and free time can be deceivingly expensive. You may want to eat out more frequently, indulge in mini vacations and do other activities that cost money. You'll likely find that budgeting your time will become as important as budgeting your money, lest you risk dipping into your more-important-than-ever-before savings.
Balancing Risk in Your Portfolio
Retirement doesn't mark the end of managing your investments, but it can (and should) alter your investment strategy. You'll want to continue to diversify your portfolio, balancing between growth and income investments. You'll also want to move away from risk, instead opting for a less aggressive approach than the one you may have been able to safely execute in your working years.
Dealing with Taxes
Sadly, taxes don't go away once you quit the workforce, but they do change in nature. To do right by yourself and the IRS, you'll have to navigate if and when to do Roth conversions, when to withdraw from your IRAs and, if applicable, pension plans. You'll also need to determine the right time to begin collecting Social Security benefits.
Make Your Money Work Better for You
Getting and Staying Educated on Finance
Hopefully by the time you retire, you have a deep understanding of personal finance and your situation, specifically. But even if you do, you'll need to stay educated. This means reading books and listening to trusted podcasts on managing your money in retirement, as well as enlisting the invaluable guidance and insights of a financial advisor or retirement planner.
More From GOBankingRates