First Year of Retirement: The Key Money Tasks That'll Set You Up for Long-Term Success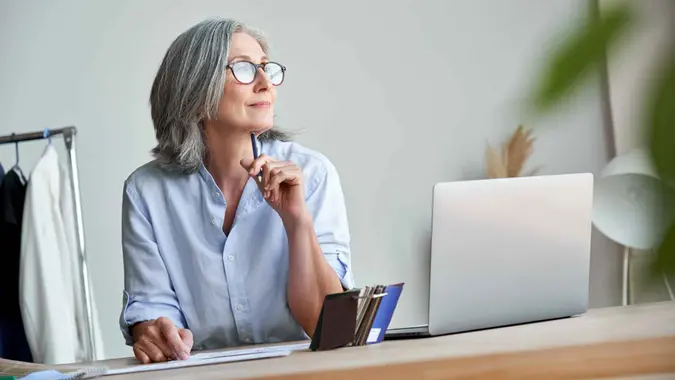 insta_photos / Getty Images/iStockphoto
You worked hard your entire adult life, and now you're finally retired. This is a major life change, so congratulations are in order.
As you settle into retirement, you're eager to create a financial plan that supports your new lifestyle. To get you started, here are 10 money moves you'll want to make that'll set you up for a bright retirement.
Create a Withdrawal Strategy
Proper money management is crucial in retirement. You need to focus on both how much to take out of your accounts and which accounts to withdraw from, said Stephen W. Chang, MD, MBA, managing director at Acts Financial Advisors.
"How much can be a simple percentage — e.g., the often mentioned 4% safe withdrawal rate — or can be as complicated as a guardrail strategy that adjusts based on how much you spent in the previous year," he said. "Which accounts you withdraw from could range from a simple strategy of taking out money proportionately from every account to a more tailored strategy of withdrawing from certain — e.g., taxable — accounts before others."
He said a qualified financial advisor can help you navigate these decisions.
Get Medical Insurance
"Nothing puts a damper on retirement like having high, unexpected medical expenses," Chang said. "Make sure you have the appropriate level of medical coverage in place, whether it's through a marketplace exchange, Medicare, or from a private insurer."
Make Your Money Work Better for You
He said you could also meet with a health insurance broker to explore your options.
"Choosing the right care that is both comprehensive enough for your anticipated needs and cheap enough can be a confusing task," he said.
Find Ways To Reduce Expenses
Now that you're no longer working, Kimberly 'Kim' Gattis, senior vice president, senior financial planner at UMB Bank, recommended finding ways to cut costs, such as dining out and commuting.
"This is also a good time to evaluate your current insurance coverage — life, health, property — to make sure it is meeting your new needs," she said.
Consolidate Debt
Many people have a goal of being debt-free in retirement, but Gattis said this actually might not be the best financial move.
"Talk with your financial advisor to see where you can sensibly use debt — even in retirement," she said.
Be Strategic With Social Security
You might think the beginning of retirement is the obvious time to start receiving Social Security benefits, but Gattis said that isn't necessarily the case.
"Carefully choose when you start receiving Social Security or pension payments," she said. "The decision on when to start receiving these payments should be based on your unique financial needs and can be made with the help of a financial advisor."
Understand Where Your Money Is Coming From   
"One of the biggest issues I see during retirement transition is worry and stress over where the money is coming from," said Laura Redfern, a certified financial planner and certified financial transitionist at Shadowridge Asset Management, LLC. "This is totally understandable — it's a big shift from receiving a paycheck from your employer to receiving money from a pension, 401(k) or other source."
Make Your Money Work Better for You
To alleviate this stress, she said it's important to understand where your money is coming from and how the process works. This includes finding out what could cause your income to fluctuate.
"Even pensions, annuities and Social Security have hidden levers," she said. "Knowing what to expect can help ease some of the worry."
Give yourself plenty of grace, as this is uncharted territory for you.
"Basically, you've got a new income machine," she said. "Read the owner's manual for a better experience."
Track Your Budget
"Sometimes retirees imagine they are going to go broke at any moment," Redfern said. "Others underestimate their expenses and end up having to go back to work."
She said having a clear budget tracking system will allow you to see where your money is going.
"Some expenses will change significantly, and the best move is to be aware of this, rather than fearful or uncertain," she said. "For example, transportation costs could go down because you no longer have to drive across town to work, but prescription drug costs could go up because you have a different health insurance plan."
She said getting a handle on your spending will give you the power to make adjustments as needed.
"This can be as simple as using your bank's website to categorize your expenses or using apps like Mint or EveryDollar," she said. "There are lots of options out there — pick one that you will actually use." 
Make Your Money Work Better for You
Establish an Emergency Fund
"Put aside a savings cushion of at least three months' worth of expenses so if something unexpected comes up, you are not blindsided," Redfern said. "This means a separate savings account that you don't rely on for day-to-day expenses."
She suggested putting your emergency fund into a short-term CD, so it's available, but you are less tempted to spend it.
"Having some liquid savings you can see can help to lower your anxiety about moving into a retirement lifestyle," she said.
Adjust Your Investments
"You're moving from contribution years to distribution years, so adjustments should be made," Redfern said. "But don't pull everything out of investments — you still need some growth," she said.
She recommended creating a "retirement distribution waterfall" strategy inside your investment accounts.
"You create three buckets — one that supplies one to two years of reliable income — cash — one that maintains account value — stable [and/or] conservative investments like bonds — and one that continues to provide growth — equities [and/or] growth funds," she said. "The growth bucket feeds the maintain bucket, which feeds the income bucket."
"Portfolios can weather storms if they are built with an eye for both safety and resilience," she said.
Be Open to Change
"Retirement is a time of transformation, and it will probably feel weird for the first one to three years," Redfern said. "Realize you will likely change your mind during this time and that's okay."
Make Your Money Work Better for You
She said your financial plan might sound brilliant one day, and anything but the next.
"Having a thought partner to check in with during the first year of retirement can be truly valuable," she said. "This can be someone who is just a few years ahead of you, like a retired friend you trust or someone who can be empathetic and objective — like a financial planner or financial transitionist." 
No matter what, she said it's important not to go through this process alone. Finding someone to lean on can make all the difference.
More From GOBankingRates