Gift Scams, Taxi Scams and More Travel Scams Tourists Need To Be Aware Of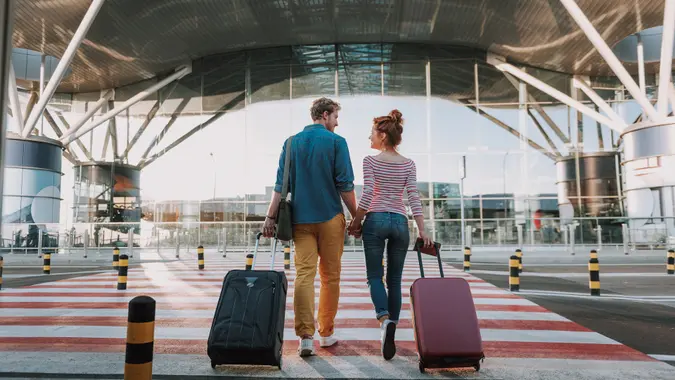 YakobchukOlena / Getty Images/iStockphoto
Taking a vacation abroad often requires careful financial planning and budgeting. Unfortunately, that budget can get derailed if you fall victim to a scam.
The next time you're on vacation, be on the lookout for these common travel scams so that you know what to avoid.
Gift Scams
In some popular tourist areas, vendors will give you a "gift" but then demand payment. One well-known example of this is the "friendship bracelet scam," which is common in the Montmartre area of Paris.
"Street vendors will approach and tie a bracelet around your wrist, claiming it's a gift or tradition. Once it's on, they demand payment," said Justin Albertynas, travel industry expert and CEO of the hotel booking site Ratepunk.
To avoid this scam "firmly say 'no thank you' and keep walking," Albertynas said. "Don't let them begin tying the bracelet."
Taxi Scams
This scam involves taxi drivers who refuse to turn on the meter and quote an above-market flat rate for the ride. Albertynas said that this scam is particularly common throughout Asia.
"Always insist on using the meter," he said. "If they refuse, find another taxi."
Currency Switch Scam
If you are exchanging money in a foreign country, watch out for this money scam. Albertynas said that he has encountered this scam in Southeast Asia in particular.
"When you hand a larger note, the person might quickly switch it with a smaller note, insisting you gave them the wrong amount," he said. To avoid this scam "always be attentive during money exchanges. Confirm the denominations out loud when handing money over."
Make Your Money Work Better for You
Photo Favor Scam
If a seemingly friendly local offers to take your photo at a popular attraction, be wary.
"Once you hand over your camera, they demand money to give it back," Albertynas said of this scam, which is rampant near tourist attractions in Rome.
"Politely decline offers from strangers to take your photo or ask someone whom you approached first," Albertynas said.
Fake Police Officer Scam
"In this scam, criminals impersonate police officers, often approaching tourists on the street or at popular tourist attractions," said Edmund Jenkins, travel expert at Time To Backpack. "They claim to be conducting random checks or investigations and ask to see your passport or wallet. They may accuse you of a fictitious offense and demand a fine or bribe, threatening arrest if you refuse."
While this can be a scary situation, it's best to remain calm. Jenkins recommends asking for identification and if they refuse, calmly walk away, as this is a strong sign that they are not really police officers.
More From GOBankingRates