How Big Is the Average Social Security Check of a Middle-Class Retiree?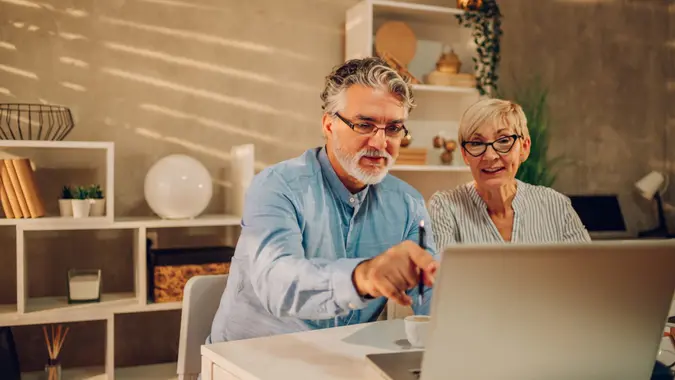 Leaving the workforce and entering your golden years is a major life change. Whether you're planning to take the leap soon or decades from now, being financially prepared is a must.
Therefore, you'll want to know how much you may receive in Social Security benefits each month. This can help you determine the amount of additional savings you'll need to maintain a comfortable lifestyle.
Your lifetime earnings and the age at which you decide to retire are the main factors that define the size of your monthly Social Security check. Benefits are also adjusted annually to reflect any cost-of-living increase, as measured by the Consumer Price Index.
Generally speaking, the average Social Security check is $1,706.98 per month. However, this number doesn't specifically address retirees who earned a middle income during their time in the workforce.
Average Monthly Social Security Benefit of a Middle-Class Retiree
As of 2022, the median household income in the U.S. was $74,580, according to the U.S. Census Bureau. Assuming a middle-class retiree earned this salary and retired at age 65 — specifically 65 and 11 months — their Social Security benefit would be $1,867 per month.
Notably, this number is just $160.02 more than the average benefit for all retirees.
However, if they waited to retire until age 66 and six months, their benefit would increase to $1,985 per month. Waiting even longer until age 70 would allow them to receive a monthly benefit of $2,696.
Make Your Money Work Better for You
Of course, these numbers are just estimates. You can get a better idea of how much your monthly check might be by using the Social Security Administration's benefit calculator.
Defining Middle Class
While the number of people who consider themselves middle class is shrinking, it is still the group the majority of Americans feel they fit into.
Since 2012, roughly half — 52% — of Americans have identified as middle class, according to a 2022 Gallup poll. This includes 38% who consider themselves strictly middle class and 14% who classify as upper-middle class.
Generally speaking, the number of people who identify as middle class has declined since the great recession in 2008. Specifically, 61% of people considered themselves middle or upper-middle class from 2002-2008.
Interestingly, people living in the West were most likely — 65% — to identify as middle class from 2002-2008. However, this shifted to 52% from 2012-2022, serving as the region with the second-lowest level of this group. Overall, the East realized the lowest drop in residents who identify as middle class. From 2002-2008, 61% of people in this region described themselves as middle class, compared with 54% from 2012-2022.
Can You Survive on a Middle-Class Social Security Check?
If you're planning to live solely on your Social Security income, this probably isn't the best idea. Retirees need approximately 70-80% of their pre-retirement income to uphold their standard of living, and this benefit only replaces around 40% of that, according to the Social Security Administration.
Make Your Money Work Better for You
Most — 87% — people ages 60 and up have at least some retirement savings, according to the Federal Reserve. However, only 52% believe their retirement savings strategy is on track.
Among retirees age 65 and up, 92% cite Social Security as a source of income. Two-thirds receive a pension, nearly half collect interest, dividends or rental income, one-quarter rely on wages, salaries or self-employment and 7% get cash transfers other than Social Security.
As for living expenses, the average rent in the U.S. is $1,702, according to Rent Café. It's also worth noting that the average apartment size is just 897 square feet. Medicare Part B premiums will cost at least $174.70 per month in 2024, but could be more depending on your income. This will accompany a $240 annual deductible, along with an average of 20% of general costs for Medicare-covered services. When it comes to groceries, men age 71 and up can expect to spend around $79.50 per week on a moderate-cost food at home plan, according to the U.S. Department of Agriculture. Women can plan for a slightly lower bill of $71.70 per week.
When you add the anticipated cost of rent, healthcare and groceries together, the average Social Security check of a middle-class retiree doesn't cut it. This of course doesn't include any other expenses, such as entertainment, clothing, transportation and travel.
Simply put, your monthly Social Security check will provide you with money that can help pay the bills. However, you'll need supplemental forms of income to enjoy the comfortable and relaxing retirement you deserve.
More From GOBankingRates
Make Your Money Work Better for You