How Much Money You Need for Every Year Past Age 75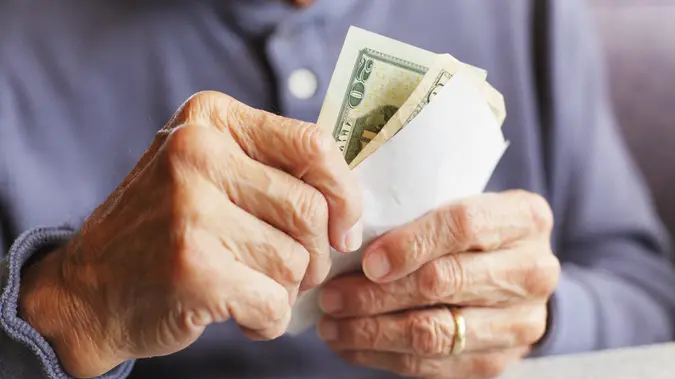 There's plenty of data about how much money people are likely to spend in retirement overall compared to life during their earning years.
"According to the Bureau of Labor Statistics, the average retiree spends around $52,000 annually for every year past age 65," said Alan Porter, certified financial fiduciary and owner of Strategic Wealth Strategies.
But most people don't even reach full retirement age until 67 and, in terms of annual expenditures, the early years tend to be much more expensive than the later ones. Most people see their expenses drop dramatically around the time they turn 75 — and today's retirees have to plan for another decade beyond that. Between 1970 and 2020, the expected retirement length jumped from 12.8 years to 18.6 years for men and 16.6 years to 21.3 years for women.
In the modern era of extended retirement, age-based planning is essential to make sure you don't outlive your money. That means accounting for changes in spending that take place farther out into post-career life. Here's how you can expect your retirement income needs to change once you reach 75, 80 and beyond.
A 20% Decline Is a Safe Bet, but Not All at Once
According to NewRetirement, people typically spend 20% less in retirement than they do during their working years — but they scale back incrementally.
The Employee Benefit Research Institute estimates that spending falls by 5.5% in the first two years of retirement, then 12.5% in Year 3 or 4 before slowing down. 
That, however, is only the first of the first three distinct retirement-spending phases — and keep in mind that the SSA issues annual cost-of-living adjustments (COLAs) to ensure benefits keep pace with inflation, which means that most people spend less as they age even though their monthly Social Security checks grow with time.
Make Your Money Work Better for You
Slowing Down: 3 Phases of Retirement Spending
In Porter's experience, spending typically tapers off with age across a trio of distinct stages.
"Retirement is typically broken up into three phases: your go years, slow-go years and slow years," Porter said. "During these years, your spending is like a bell curve." 
Here's how Porter describes the three stages that exist within that bell curve:
"In your 'go years,' you are early in retirement and probably still relatively healthy," he said. "You will spend a lot more money enjoying all that retirement has to offer, such as travel, dining out or visiting family."
"During your 'slow-go' years, typically age 80 to 90, your expenses will begin to slow as you physically cannot do as much with your time and money." 
"Slow years generally begin around age 90, when you are not spending much discretionary income, but you are paying a lot of money for healthcare needs."
Spending Wanes Faster in Some Categories Than Others
According to SoFi, the average retiree aged 65 to 74 spent $53,916 annually between 2016 and 2020,  but those 75 and older spent just $41,637.
While you can expect your expenses to moderate as you mature, you shouldn't assume spending will fall evenly across the board. 
"As you age in retirement," Porter said, "your spending will decrease in certain areas."
Here's how average annual retirement spending declines with age across five common categories — except for one where it doesn't:
Housing
65 and older: $16,880
65-74: $18,027
75+: $15,281
Transportation
65 and older: $7,062
65-74: $8,497
75+: $5,073
Healthcare
65 and older: $6,583
65-74: $6,583
75+: $6,583
Food
65 and older: $6,207
65-74: $6,864
75+: $5,274
Entertainment
65 and older: $2,527
65-74: $3,080
75+: $1,749
Late-Life Spending Contractions Are Often Involuntary 
Porter argues that expenses fall in later retirement starting around age 75 because physical decline necessitates a slowdown in activities and therefore spending.
Make Your Money Work Better for You
There's undoubtedly some truth to that, but there's also evidence that many older retirees spend less as they age because that's when they start running out of money. 
Data from the Center for Retirement Research at Boston College shows that, on average, the wealthiest third of Americans change their spending habits very little throughout the entirety of their retirement.
The study found that for ordinary earners, spending decreases by an average of 0.7% to 0.8% annually, but after 20 years — roughly ages 85-87 — spending falls by 12% or more compared to the early days of retirement.
However, for the highest-earning third of households, the average decline is just 0.3% per year, meaning that most older retirees probably rein in spending not because of nature, but because of necessity.
More From GOBankingRates