Men Are 10% More Confident in Their Retirement Savings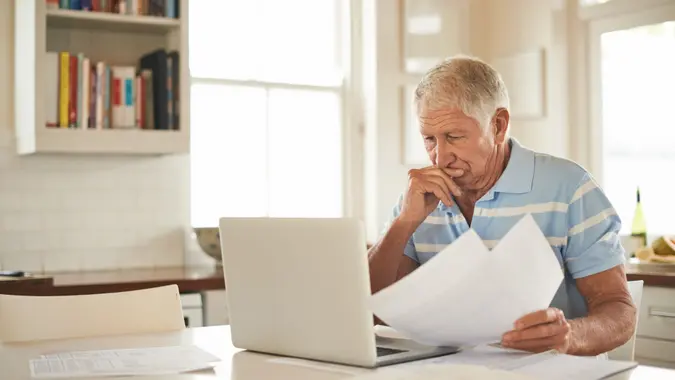 AJ_Watt / Getty Images
GOBankingRates conducted a survey of 1,037 adult Americans in early September 2023 asking 15 questions about various aspects of retirement and saving. One of the most noteworthy findings was the difference between the sexes regarding confidence in retirement savings. The survey responses raised additional questions, such as why these differences exist and what they mean for both men and women.
Here's a look at the survey responses to this question and how confidence in retirement savings can be increased.
Difference in Confidence Levels Between Men and Women
One of the 15 questions asked in the survey was: "How confident are you that you will have saved enough to afford retirement?" Of the male respondents, 28.13% indicated they were "very confident," 38.96% said they were "somewhat confident," while 32.92% responded that they were "not confident."
For women, only 19.21% were "very confident," with 41.47% and 39.32% replying that they were "somewhat" or "not confident," respectively. 
This means that while more than two-thirds of men were "very" or "somewhat" confident, just under 61% of women felt the same way. The difference was especially pronounced in terms of those who were "very confident," with men nearly 10% more confident in their retirement savings. 
Potential Reasons
Part of the reason for women feeling less confident in their retirement savings may be the historical patterns of employment in America. According to the U.S. Bureau of Labor Statistics, men have always had higher labor force participation than women. As a result, men in general have had longer and greater experience with saving for retirement, particularly through workplace 401(k) plans.
Make Your Money Work Better for You
Another factor may be the reality that women on average still don't earn as much as men, even if they are performing the same job. With less income, it's simply harder to save for retirement. Smaller savings balances, in turn, often result in lower levels of confidence. While some women may lack confidence because they aren't very experienced with retirement plans, others may not be confident simply because they aren't earning enough to build a sizable nest egg.
Of course, how confident one feels doesn't necessarily translate to how prepared or successful they are. According to a New York Times article by Jeff Sommer, men are generally more overconfident than women, for better or worse. In the words of the head of Vanguard Investment Counseling and Research, "There's been a lot of academic research suggesting that men think they know what they're doing, even when they really don't know what they're doing." The gist of these two statements is that even without factoring in workforce representation or higher earnings, men might just be more confident regarding their retirement no matter what.
Ways for Women To Become More Confident in Their Retirement Savings
Generally speaking, people become more confident when they do something over and over, and do it well. The same is true with personal finance. So, women may gain confidence in their retirement savings with more experience in the workforce, especially at employers that offer retirement plans. But perhaps an even more important way that these women can boost their confidence is to either find a higher-paying job or to fight for a better salary at a job that they enjoy. With a higher income, it's easier to sock away more money into a retirement plan. As women see their account balances growing, it's only natural that they can gain additional confidence that they can reach their retirement funding goals. 
Make Your Money Work Better for You
The Bottom Line
It's hard to make definitive judgments based on the results of a single survey. But it's clear from the responses to the GOBankingRates study that men are more confident when it comes to their retirement savings. While the gap may never be closed — at least anytime soon — increasing pay for women and representation in the workforce may help narrow it.
More From GOBankingRates