5 Signs You Are Wasting Too Much Money on Social Media Shopping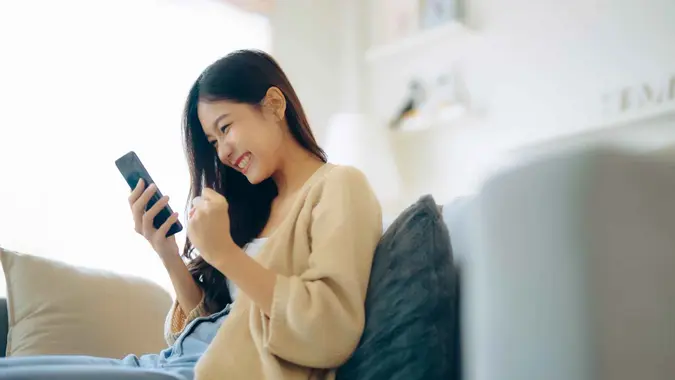 marchmeena29 / Getty Images/iStockphoto
TikTok has launched a new service designed to separate shoppers from their money. TikTok Shop allows users to click a "buy" button to purchase products directly through the platform.
Instagram and Facebook also have shopping features as part of the user experience, although earlier this year Instagram moved its Shop tab from the main navigation bar.
Last year, Americans spent an average of $3,768 on unplanned, or impulse, purchases in stores and online, according to Statista.com.
If you have ever come home to a pile of Amazon packages, a growing credit card bill and a feeling of regret, you're not alone. Dave Ramsey's State of Personal Finance study found that 45% of Americans said they struggle to avoid impulse shopping.
The report found that clothing, household goods, food, and groceries are the most likely culprits for impulse buys. That means TikTok Shop can be another easy avenue toward impulse spending.
Here are five signs you may be spending too much online.
You Have Clothing In Your Closet with the Tags Still On
When a cute dress pops up on Instagram or a Facebook ad entices you with stylish boots, do you click "buy now" without a second thought? If your new clothes are piling up faster than you can wear them, you may want to slow your spending.
One way is to not store your credit card information in your phone. This can also help to prevent credit card fraud. If you need to pull out your credit or debit card and enter the digits, it will cause you to think twice and perhaps avoid the impulse to buy.
Make Your Money Work Better for You
You Often Buy Multiple Sizes of Clothing and Fail to Return the Ones That Don't Fit
Amazon's easy returns policy means you can purchase clothing you like in multiple sizes and then return the ones that don't fit to your nearest Kohl's retail store, an Amazon store, Amazon Hub Counter or Hub Locker — and even Whole Foods.
But if you find you never make it to the return center, you're wasting money. That dress you bought for 50% off isn't a deal if you purchased two and never wore one of them.
You Don't Meal Plan or Write a Grocery List
You might think that you're avoiding impulse purchases by shopping for groceries online. After all, if you're not physically strolling grocery store aisles, you won't be tempted by the sights and scents.
But it's just as easy to overspend online when you click the "people also buy" button or browse broad categories of products — or the sales pages — on sites like Instacart or Costco.com.
And when TikTok shopping experts now wave the latest deals right in front of your face, it will be even harder to resist.
Make a meal plan weekly and use that to create your shopping list. Try to place an order once a week. Multiple online shopping excursions, just like daily trips to the grocery store, can wreak havoc on your food budget.
You Often Use Credit Cards To Pay Bills or Buy Groceries
More than half of all baby boomers (56%) polled in Dave Ramsey's State of Personal Finance survey said they use credit cards on a regular basis for things like groceries and bills. Additionally, 44% of Gen Xers and 34% of millennials also use credit cards for everyday spending.
Make Your Money Work Better for You
If you're using your credit cards to collect rewards and paying the full balance at the end of the month, this isn't a problem. But if you're carrying a balance, take a closer look at your spending habits. It might be smart to shift to cash or debit card payments while you catch up and pay down debt.
You Have Missed a Credit Card Payment
While only 23% of zoomers said they use credit cards for groceries and bills, they are also one of the demographics most likely to miss a payment. Only 8% of boomers said they had a past due balance, while 36% of Gen Z respondents paid a credit card bill late recently.
The Bottom Line
Impulse spending can feel good in the moment as you experience the thrill and anticipation of that package arriving on your front steps. But that excitement will fade as you open your mailbox to a growing credit card bill.
If you don't have a monthly budget, that's a good place to start taking control of your spending.
When you feel tempted to stop the scroll and shop, have a plan in place. You can text a friend for some moral support. You might take a walk, or even look around your home and see if you already have an item that will fill the same need.
As a last resort, put the item in your cart and wait 24 hours. If it's still tempting you, and — most importantly — it fits into your budget, make the purchase without as much regret.
Make Your Money Work Better for You
More From GOBankingRates